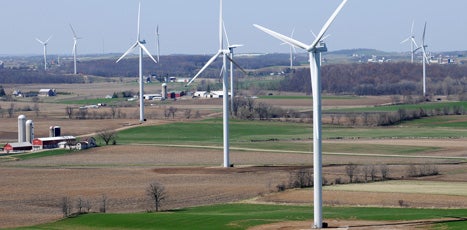 Vestas has secured a service and maintenance renewal contract, covering 309MW of wind turbines, from We Energies in the US state of Wisconsin.
Under the four-year contract, Vestas will provide the services for 180 wind turbines for the Glacier Hills, Blue Sky Green Field and Byron power plants in Wisconsin.
Together, the three wind farms are capable of generating enough electricity for over 80,000 homes.
The service contract extension includes Vestas' Active Output Management (AOM) 4000 maintenance programme, which guarantees turbine availability, said Vestas.
The contract also requires the Danish manufacturer to offer its VestasOnline surveillance system to remotely control and monitor the turbines, and predict potential maintenance issues.
The new contract extends a relationship between Vestas and We Energies that dates back to 1999, when the company first supplied two V47-660kW turbines in Byron.
Vestas provided 88 V82-1.65MW turbines for the Blue Sky Green Field project in 2008, and in December 2011, both firms completed the Glacier Hills wind park, which features 90 V90-1.8MW turbines.
We Energies executive vice president Allen Leverett said: "The service and maintenance Vestas will provide for the largest wind farms in Wisconsin is critical to the reliable production of renewable energy for our customers."
---
Image: The Blue Sky Green Field wind farm in Wisconsin. Photo: Courtesy We Energies.