With growing concerns over emissions from coal-fired power plants, countries across the world are aiming to reduce dependence on coal and switch to renewable resources and natural gas for power generation in order to achieve climate targets and reduce carbon emissions. Governments around the globe are also implementing strict regulations to meet this requirement.
Cumulative installed capacity from thermal energy sources was 4,483GW in 2021 and is projected to reach 4,774GW in 2026. Coal-fired power plants accounted for 2,160GW of the cumulative installed capacity in 2021, and gas and oil-fired power plants for 1,996GW and 327GW, respectively. By 2026, coal-fired power plants are expected to continue to contribute most of the global thermal cumulative installed capacity of 2,235GW, followed by gas and oil power plants with 2,218GW and 321GW, respectively.
By region, Asia-Pacific accounted for 49.5% of the global thermal cumulative installed capacity, followed by North America, Europe, the Middle East and Africa, and South and Central America with 20.62%, 15.26%, 11.63%, and 2.99%, respectively. For the global cumulative installed capacity of engines, Asia-Pacific accounted for approximately 29.7% in 2021, followed by South and Central America with 25.5%. The Middle East and Africa, North America, and Europe accounted for 19.5%, 13.2%, and 12.2%, respectively.
The major engine manufacturers include Wartsila Corp, Volkswagen AG, Caterpillar Inc, INNIO Jenbacher GmbH & Co OG, Rolls-Royce Holdings Plc, and Cummins Inc. These companies together held more than 85% cumulative share in the global engine market, with the remainder shared by local and other international engine suppliers.
Other significant engine manufacturers are Korea Shipbuilding & Offshore Engineering Co Ltd, Sulzer Ltd, General Electric Co, Langley Holdings Plc, Deutz AG, Niigata Power Systems Co Ltd, Mitsubishi Heavy Industries Ltd, Kawasaki Heavy Industries Ltd, and SEMT Pielstick.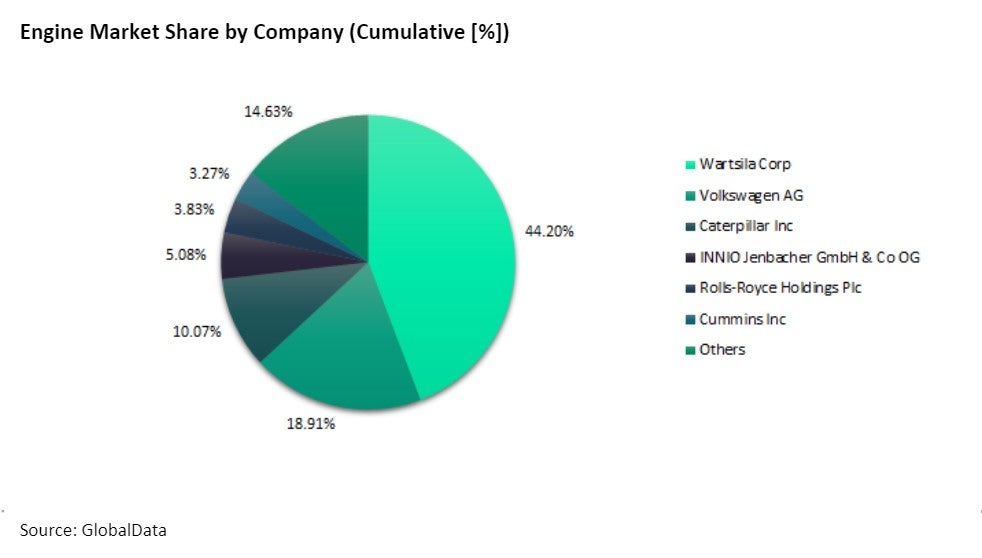 Finding the best engine supplier
Power Technology has listed leading engine manufacturers based on both its experience in the sector and research carried out by GlobalData.
The information contained within the download document is designed for production managers, procurement managers, maintenance managers, quality control managers, marketing managers, research & development managers, and supply chain managers, and the many other roles responsible for the purchase of engines.
The free Buyers Guide is available to download and contains detailed information on the engine suppliers and their product lines, alongside contact details to aid your purchasing decision.
Related Buyer's Guides which cover an extensive range of power equipment manufacturers, systems providers and technology, can also be found here.
Note: GlobalData, the leading provider of industry intelligence, is the parent company of Power-Technology.com and provided the underlying data, research, and analysis used to produce this article.