Over the past couple of decades, many countries have taken initiatives to significantly increase their share of electricity generated from renewables. Several policies have been formulated in different regions, notably in the European Union, the Americas, and East Asia. The global reliance on fossil fuels such as coal and oil, besides nuclear power, for electricity generation led to undesirable consequences such as global warming, oil spills, and severe environmental damage. It also resulted in fluctuations and increases in the price of electricity and jeopardized the reliability of electricity generation due to fuel supply risks. Renewable sources, such as wind, have become a viable and economic alternative for electricity generation due to declining prices and easy accessibility of technology.
The major factors behind the growth of the global wind turbine market include renewable energy auctions, growing concerns about the environment, increasing global demand for electricity, favourable government policies, feed-in tariffs (FiTs) and other financial incentives, turbines with increased efficiency, and declining operation and maintenance costs. However, challenges such as regulatory uncertainty and geopolitical conflicts, technological challenges and underdeveloped grid infrastructure, shortage of skilled workforce, and resistance from local communities continue to hinder the market growth.
According to GlobalData, the global wind turbine market was estimated to be worth $90.43bn in 2021, with the five largest wind turbine manufacturers accounting for 56.3% of the market. Vestas Wind Systems A/S was the leader with a market share of 17.7%. Xinjiang Goldwind Science & Technology Co Ltd and Siemens Gamesa Renewable Energy SA followed with estimated market shares of 11.8% and 9.7%, respectively, while. Envision Energy Ltd, GE Renewable Energy, China Ming Yang Wind Power Group Ltd, and Nordex SE had shares between 6% and 9%.
Other significant wind turbine suppliers are Shanghai Electric Wind Power Equipment Co., Ltd., Dongfang Electric Corporation Ltd, Zhejiang Windey Wind Generating Engineering Co., Ltd., China Shipbuilding Group Haizhuang Wind Power Co Ltd, CSR Zhuzhou Institute Co Ltd, Enercon GmbH, and Guodian United Power Technology Co Ltd.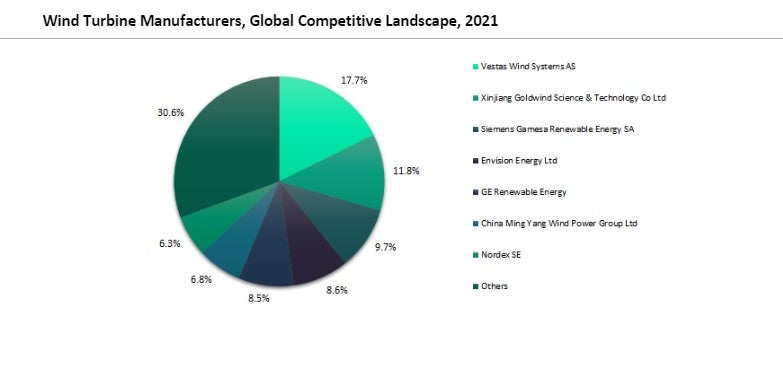 Finding the best wind turbine manufacturer
Power Technology has listed leading manufacturers of wind turbines based on both its experience in the sector and research carried out by GlobalData.
The information contained within the download document is designed for production managers, procurement managers, maintenance managers, quality control managers, marketing managers, research & development managers, and supply chain managers, and the many other roles responsible for the purchase of wind turbines.
The free Buyers Guide is available to download and contains detailed information on the suppliers and their product lines, alongside contact details to aid your purchasing decision.