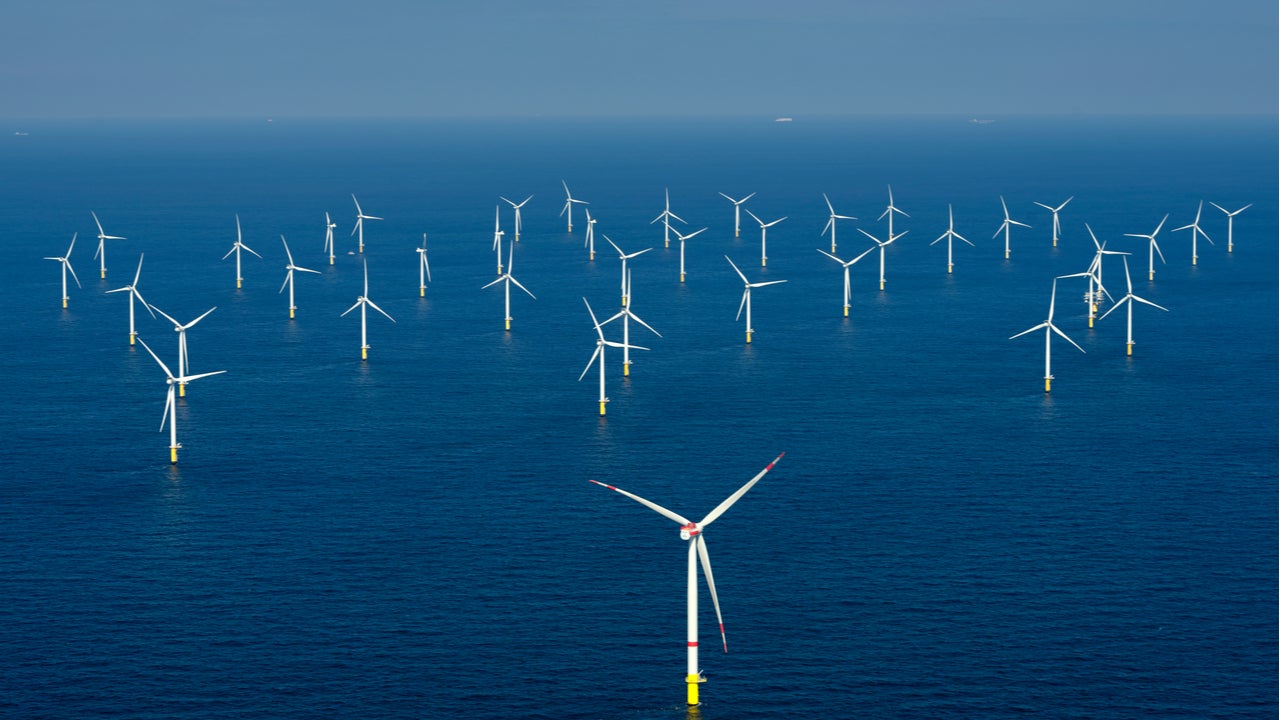 Renewable energy was prominent among the top tweets in Q3.The top tweets were chosen from influencers as tracked by GlobalData's Influencer Platform, which is based on a scientific process that works on pre-defined parameters.
Influencers are selected after a deep analysis of the influencer's relevance, network strength, engagement, and leading discussions on new and emerging trends.
The most popular tweets on power in Q3 2021: Top five
1. Assaad Razzouk's tweet on India crossing the 100GW renewable energy capacity milestone
Assaad Razzouk, CEO of renewable energy company Gurīn Energy, shared an article on India's installed renewable energy capacity surpassing the 100GW milestone, which excludes large hydropower capacity. Razzouk noted that India beat Japan in renewable energy capacity and is expected to overtake Germany.
The article highlighted that India aims to reach 450GW of renewable capacity by 2030. The Indian government is trying to reach 175GW of renewable capacity by 2022, which is a major challenge as it requires a significant expansion. India is focussing on renewable energy capacity expansion to achieve its decarbonisation goals, the article detailed. An International Energy Agency (IEA) 2021 report highlighted that India is the third largest global emitter of CO2, with its carbon emissions levels being well above the global average.
Experts believe that the country has the potential to scale its renewable energy capacity up despite the challenges, particularly in areas such as batteries and solar power, in the coming years. India is also expected to add about 20.2GW of wind energy capacity by 2025, according a report from the Global Wind Energy Council, a wind energy trade association.
India's installed renewable energy capacity just crossed the 100GW milestone, excluding large hydro, beating Japan and soon overtaking Germanyhttps://t.co/4eqGD81btw

— Assaad Razzouk (@AssaadRazzouk) August 13, 2021
Username: Assaad Razzouk
Twitter handle: @AssaadRazzouk
Likes: 99
Retweets: 288
2. Mike Hudema's tweet on Mexico setting a new world record by installing 18,990 solar panels in one day
Climate activist Mike Hudema shared a video on a new world record Mexico set by installing 18,990 solar panels in a single day. Mexico is constructing one of Latin America's largest solar parks, which is equivalent to the size of 2,200 football fields put together. The solar park will have more than two million solar panels that will be capable of providing electricity for 1.3 million homes.
The park is being built in the Chihuahuan desert in northern Mexico by gas and electricity producer and distributor Enel and is likely to be completed by the end of 2021. The project will help Mexico meet its green energy goals and generate 35% of its electricity from renewable sources by 2024.
Mexico is building a #solar farm to power 1.3 million homes. They set a world record installing 18,990 #solarpanels in one day. https://t.co/Wmbu1IP43I

We have solutions to the #climate crisis. The only thing missing is the political will to implement them.#ActOnClimate pic.twitter.com/JlJ4Yw3mNz

— Mike Hudema (@MikeHudema) July 5, 2021
Username: Mike Hudema
Twitter handle: @MikeHudema
Likes: 207
Retweets: 106
3. Mark Z. Jacobson's tweet on how cheaper offshore wind power is over nuclear
Mark Z. Jacobson, a civil and environmental engineering professor at Stanford University , shared an article that quoted Charlie Wilson's view on the $27bn Sizewell C nuclear power plant being built on the Suffolk Coast, UK.
An energy scientist, Wilson stated that the technology used in the nuclear power plant is outdated and cannot match even offshore wind technology, which can produce power quicker and cheaper.
Wind energy, for example, costs about $53.54 per MWh, compared to the estimated $123.82 per MWh of a recent nuclear plant being constructed at Hinkley Point C in Somerset, added Wilson who mentioned that new storage technologies have made wind and solar power as reliable sources of energy, according to the article.
According to electric utility company Electricite de France (EDF ), the Sizewell C nuclear power plant is key to fulfilling the UK's energy requirements and can create approximately 25,000 jobs apart from generating power for six million homes.
"Nuclear power has become 'outdated by technology' and offshore wind can produce power more quickly & cheaply"

"there was no longer a good case for a new £20bn Sizewell C nuclear plant on the Suffolk coast."https://t.co/B9PkbepeXS @BBCNews @ProfStrachan @BrianVad @ChristianOnRE

— Mark Z. Jacobson (@mzjacobson) September 25, 2021
Username: Mark Z. Jacobson
Twitter handle: @mzjacobson
Likes: 99
Retweets: 205
4. Ketan Joshi's tweet on Europe's renewables being unable to meet the energy needs
Ketan Joshi, a climate and energy communications expert, tweeted about an article on how Europe has been facing a shortage of both gas and power for several years due to its dependence on solar and wind power and reduced investments in fossil fuels. Joshi stated that media firms frame problems caused by fossil fuels as being caused by renewables.
The article stated that Europe could face widespread blackouts causing factories and businesses to shut down. A number of coal and nuclear plants have also been shut, which could have served as a backup in emergencies. The article further noted that electricity and gas prices are expected to be higher than those recorded in the previous 12 years as gas prices tripled in 2021, due to delivery curbs imposed by top supplier Russia.
Furthermore, North Sea fields are undergoing maintenance due to the pandemic and Asia has stocked up on liquefied natural gas (LNG) cargoes to meet the rising domestic demand. The Goldman Sachs Group has stated that Europe will have to control demand if the winter is severe, and the region is likely to face blackouts, the article highlighted.
It's worth paying extremely close attention to how media outlets frame problems caused by fossil fuels as being caused by renewables. Happens with blackouts, too. https://t.co/rT9LjQYRcQ pic.twitter.com/QT1hfBWhPj

— Ketan Joshi (@KetanJ0) September 20, 2021
Username: Ketan Joshi
Twitter handle: @KetanJ0
Likes: 57
Retweets: 146
5. Simon Evans' tweet on calls to phase out boilers to cut emissions in the UK
Simon Evans, deputy editor at Carbon Brief , a climate change analysis platform, shared an article on the calls for phasing out boilers by industry leaders and to help people install heat pumps to cut emissions from heating homes in the UK. The government has also been asked to change the levies that restrict heat pumps from being cheaper options for consumers, the article detailed.
About 15% of the UK's carbon emissions are contributed by homes, noted the article which added that there is an urgent need to phase out fossil fuel heating systems, especially gas boilers, to meet the UK's zero-carbon emission goals. The government has planned to build 600,000 new heat pumps a year to provide heating and hot water to homes by 2028, according to the article.
"Gas boilers have served us well but they're dirty, inefficient and break down a lot. Electric boilers, powered by heat pumps, are simply a better, more modern product." @ClemCowton https://t.co/JCCaz6ppvj

— Simon Evans (@DrSimEvans) July 5, 2021
Username: Simon Evans
Twitter handle: @DrSimEvans
Likes: 129
Retweets: 32