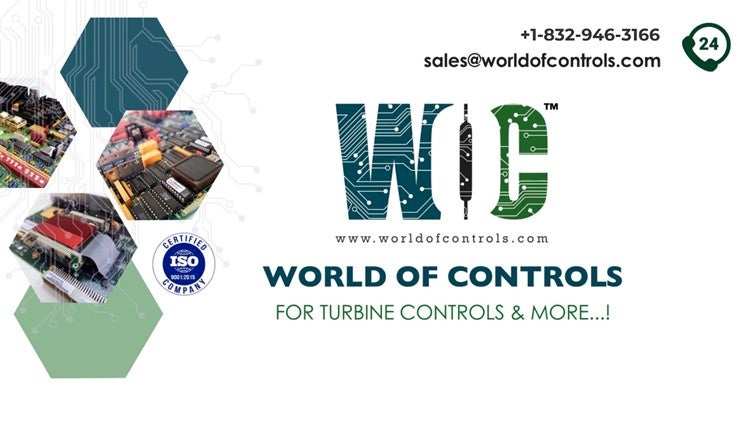 What is the benchmark for choosing an alternate supplier to provide spares for supporting your GE turbine control systems? Clients care about having access to genuine OEM and functional replacement parts for their systems backed by technical support, trusted warranty, and swift shipping. That being true, WOC is a perfect solution for such requirements. In this blog, we take the privilege of explaining why WOC is the preferred vendor for GE SPEEDTRONIC, EXCITATION, LCI, DRIVE and BENTLY NEVADA PARTS.
World of Controls experience
WOC is an ISO-Certified organisation recognised globally with years of reputation and experience in business covering all aspects with a largely maintained inventory of GE, Bently Nevada, and other industrial control spares. Our aim is to maximise effectiveness and reduce downtime for end users.
It is easy to work with us as we coordinate with end-users across the globe, thereby providing on-demand solutions based on years of expertise.
WOC's services
Stockists of genuine OEM GE Speedtronic, GE LCI, Drives & GE Excitation spares of running & obsolete control system models
Stockist of Bently Nevada probes, proximeters and modules
Test, repair and field services
HMI backup and upgrade
On-site and off-site training
Our services have been used across industries like generation, rigs, paper, pulp, polyester, sugar and many more. We have a proven track record as a preferred gas turbine control system spares supplier worldwide with quality services and de-risk performances.
Why choose World of Controls
Reliability
WOC is one of the most reliable service providers in the industry. Reliability being the cornerstone of any industry, our genuine OEM products, servicing and testing dependability will ensure durability for the system. The trust commended on WOC will never let you nose-dive.
So, for reliable operations trust in our:
Supply of wide-ranging genuine GE Speedtronic, GE LCI, GE Excitation, GE Drives, Bently Nevada control system spares and other industrial control systems.
Service/repair under the guidance of professional engineers allows you to maximise performance by enhancing the uptime and improving output.
Testing and repairing parts to ensure they are in perfect condition in a state-of-the-art lab.
Quality control procedures and checks on spares, as needed to ensure near-zero failure rates.
Safe handling and packing parts in anti-static bags and foam to protect the products from electrostatic charges. Our experienced staff meticulously packs the spares in an ESD box and ships them globally.
Stability
WOC believes in upholding stability for services delivered to end users by instituting new processes and mechanisms such as project review training, frameworks, and data flows for monitoring project performance and establishing structural and role accountability via periodic reviews at the field level.
So, for stable services trust in our:
Practices that deliver impeccable results for end-users in an ever-changing market.
Inventory Control management of critical spares to meet market demand.
Time management for delivery on time worldwide, capturing major markets such as Asia, Africa, North America, Antarctica, South America, Europe and Oceania
Support
WOC believes in breaking the communication barrier between us and our customers by providing a support desk which will maximise the value of your asset fortification by lowering the downtime in operations.
Key USPs of our support desk are as follows :
24/7 technical support and troubleshooting to fully managed supporting services ranging from probe tips to machinery health reports and everything in between, we ensure that your system is healthy, up-to-date, secure, and optimised.
Complete onsite support and the expertise you need to get your assets running safely and reliably in targeted sectors of Oil Refineries, Power Generation Companies, Coalfield, Mines, Aviation Industry, Marines, and other miscellaneous Industries such as sugar factories, Mining Industry, and metal factories such as steel, aluminium, paper, and fertilizer factories.
Help end users to test and certify their shelf stock at a nominal fee. This eliminates the risk of finding parts in their shelf faulty at the time of emergency requirements.
On-Site training
Repair and buy back
The worldofcontrols.com website provides 24/7 online access to the most up-to-date information on all their products. This includes spares for control systems that were obsolete years ago.
Conclusion
WOC reinforces Customer satisfaction by delivering above expectations. We strive for excellence, dedication, uncompromised service, and smooth operations.
It is a well-known fact that end users face challenges in sourcing genuine OEM parts at lead times that do not disrupt the smooth operations of the plant. It is in such situations that WOC comes to the rescue with their support for supply, repair, troubleshooting, and field service. Apart from supporting spares of obsolete legacy systems, we also deal with the current models of OEMs.
WOC is ready to adapt and serve the upcoming technology with our expertise. A flexible and home-grown approach to reform, which is supported by a strong will, and which allows for 'learning by doing', will be instrumental in determining the success of reforms.