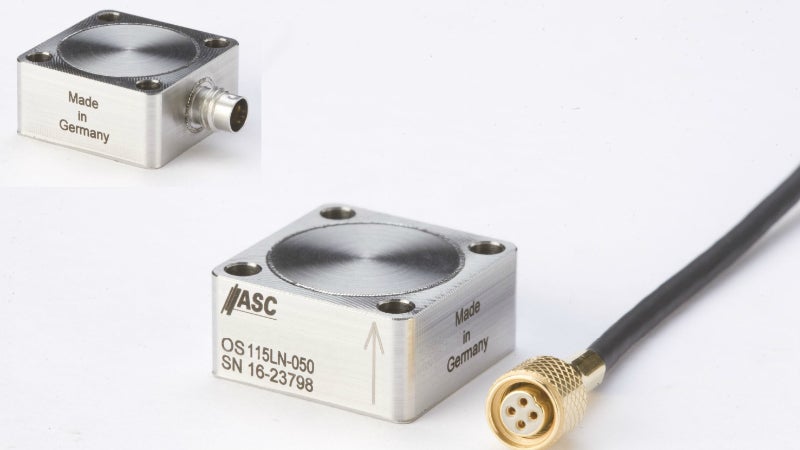 Advanced Sensors & Calibration (ASC) GmbH, one of the world's leading manufacturers of capacitive, piezoresistive and piezoelectric accelerome-ters, angular rate sensors (gyroscopes) and inertial measurement units (IMUs), has announced the introduction of a new range of industrial-grade MEMS (micro-electro-mechanical) inertial measure-ment unit (IMU), ASC IMU 7.X.Y.
It is a miniature 6-axis analog output sensor featuring the latest gen-eration of MEMS vibrating ring gyros and high-precision MEMS accelerometers. The IMU is targeted at low-cost navigation-aiding and pointing systems found in industrial, agriculture and automotive mar-kets, among others.
"With our newest products we offer our clients high-precision sensors for very special applications. ASC IMU 7.X.Y offers not just an excellent price-performance ratio but is also lightweight, compact and provides an extended selection of measurement ranges, both for acceleration and rotation rates. Moreover, users can choose either the ASC LN (low-noise) series or the ASC MF (medium-frequency) series accelerometers, thus customising the IMU to meet their individual application requirements," states Renate Bay, Managing Partner of ASC.
ASC IMU 7.X.Y can be customised with accelerometers from ±2g to ±50g and gyros from ±75°/s to ±900°/s. The IMU can be powered by a +5V to +40V DC power supply where the output voltage is independent of the supply. This mini-IMU is protected by lightweight anodised aluminium housing and features the industry-standard 12-pin connector with a detachable cable. The IMU is rated to IP65 and works from -40°C to +85°C.
ASC's IMU 7.X.Y has excellent temperature stability, low noise and immunity to mechanical shocks, all of which are vital, for instance in precision agricultural applications involving moving heavy machin-ery over undulating terrain or in applications that are size- and weight-constrained and require a small IMU to secure operations during GPS outage.
The new IMUs are especially suitable for testing applications. In the marine area they are used on ship models to simulate wave-induced motions in launch tests from platforms where heavy shocks are involved. During dynamic testing applications in the automotive sector, the IMU provides short-term orientation measurement to keep the car moving on a digital map when the GPS signal is lost, for example in tunnels.
Features
6-axis mini IMU
Acceleration range: ±2g to ±50g
Rotation range: ±75°/s to ±900°/s
Typ. spectral noise (accelerometer): 10 μg/√Hz
Bias instability (Gyro): 9°/hr
Shock limit: 500g (operational); 2000g (survival)
Weight: 26g
Typical Applications
Precision agriculture
Marine
Navigation system aids (dead reckoning)
Industrial & robotics
Sports and biomechanics (motion capture)
 Platform stabilisation