The Industrial Emissions Directive (IED) is looming with the new CO2 regulations enforcing a substantial cut in the level of carbon permitted to be released by power plants across Europe.
Energy companies throughout the industry are faced with key decisions on cutting pollutant levels while continuing to remain profitable, plant efficient and flexible.
The 8th annual ExPPERTS Europe promises to provide the industries most current and effective emissions reduction technologies and strategies that will be both cost effective and flexible while maintaining profitability in an ever changing power industry landscape. With keynote presentations in-depth discussions, cutting-edge case studies and substantial networking opportunities, ExPPERTS Europe 2013 becomes the power industry's must attend event.
With further developments and technological advancements, we will continue to build from the success of last year's conference and delve further into case studies from plants that have upgraded to SNCR technology for reduced NOx emissions.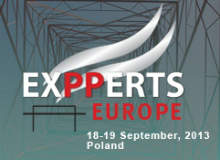 This will be the only conference where you will be able to hear firsthand about the commercial drivers that affect emissions reduction investments, the benefits of SNCR v SCR technologies and discuss the implications of the 2016 Industrial Emissions Directive.
Event programme
This year's conference features a case study packed agenda providing insight into the biggest challenges surrounding emissions reduction technologies and strategies, traditional power plant profitability and insight into upcoming regulations. Hot topics at the event include:
Recognising the specific targets and finer details of the IED in order to ensure compliance with the required levels of emissions reductions
Keynote presentation – 2013 BREF Draft
Analysing the economics of decision-making within the industry in order to ensure the most informed choices for a better chance at return on investment
Widespread round table discussions, led by the industry's largest decision makers, highlight a thorough networking package that will allow for attendees to participate and discuss crucial topics vital to the power industry. To view the full agenda for ExPPERTS Europe click here.
Presentations will be made by a vast collection of the industries leaders, including:
The full speaker lineup can be viewed here.
Special offer for Early Bird bookings
Arena will exclusively be offering up to €450 in savings for all delegates who book before 21 June 2013. If you are interested in attending the event please click here to visit the website for more details Quoting 'MK-KGPT' in the reference section.