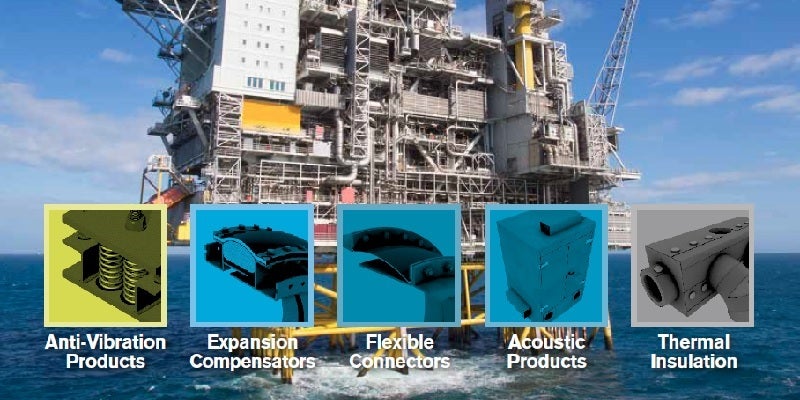 Isolated Systems Ltd (ISL) is a qualified supplier to many of the world's leading OEM turbine manufacturers and gas turbine 'package' manufacturers.
Products supplied to these partners include:
Fabric expansion joints
Typically employed in the exhaust system of a gas turbine installation and designed to:
1) Compensate for the expansion and contraction of the steel exhaust system during normal and cyclic turbine operation.
2) Isolate vibrations from the turbine to its exhaust system.
3) Minimise loads transmitted to the turbine outlet flange.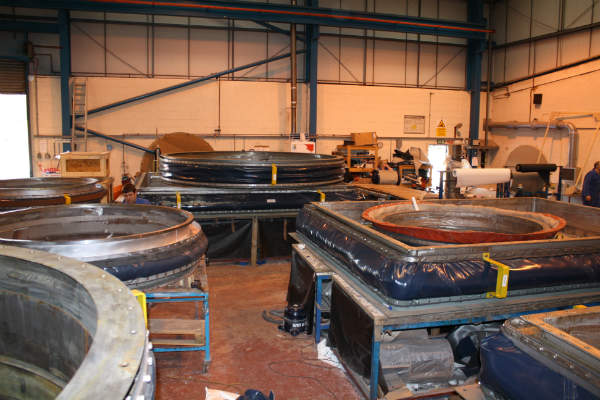 'Isoflex' expansion joints #1.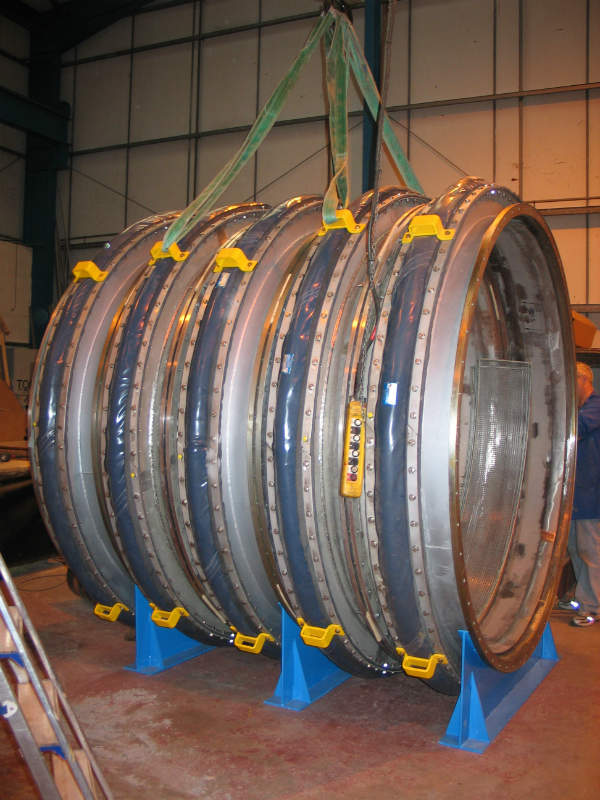 'Isoflex' expansion joints #2.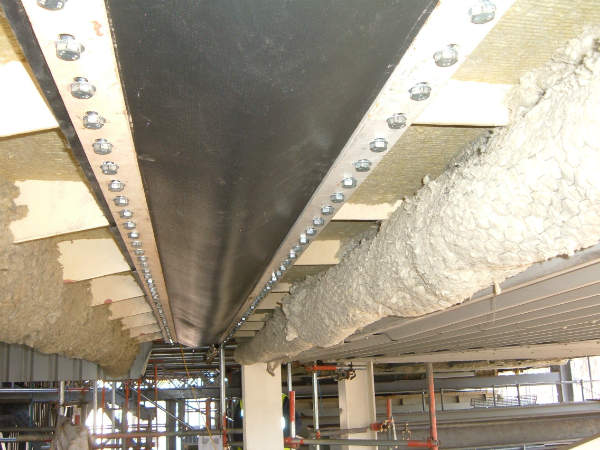 Flouroplastic expansion joint.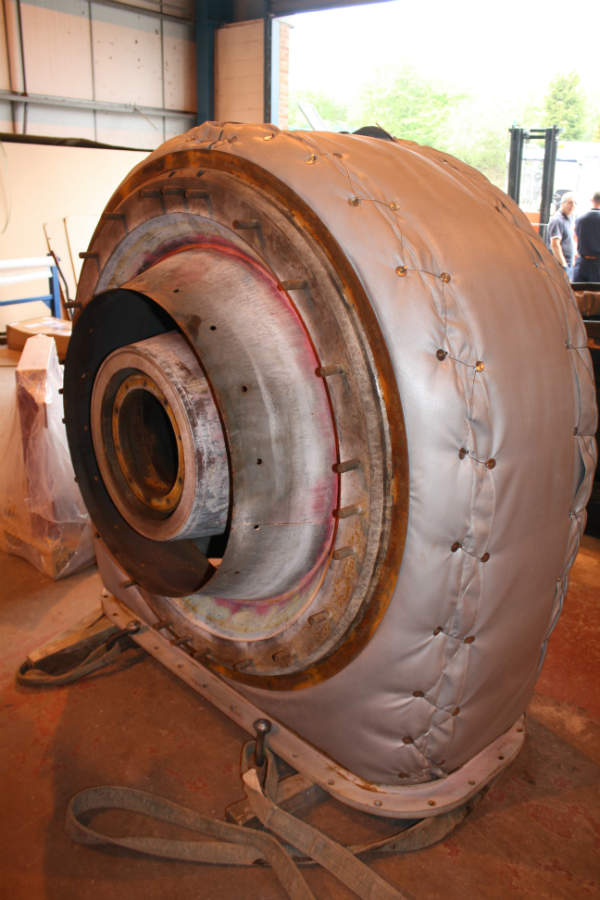 High-temperature thermal insulation.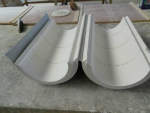 Calcium silicate thermal insulation.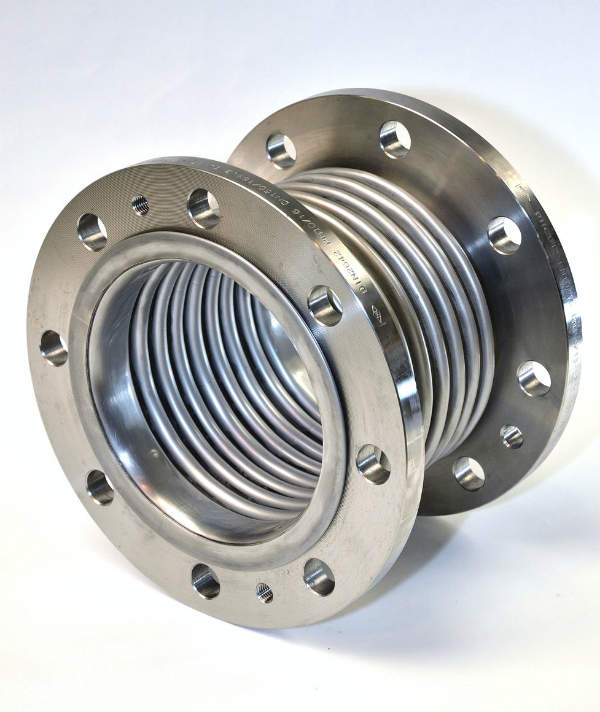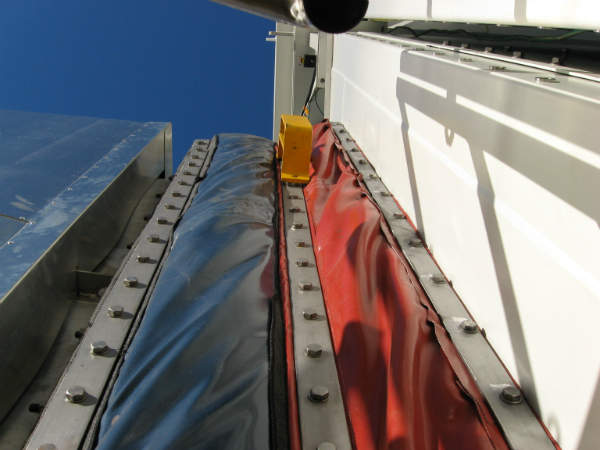 Steel expansion joint.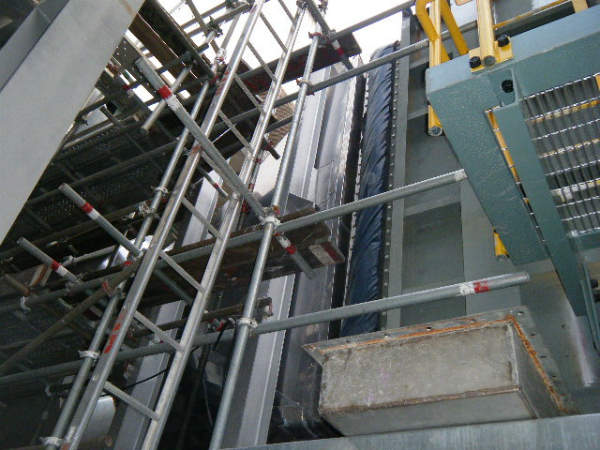 Site services #1.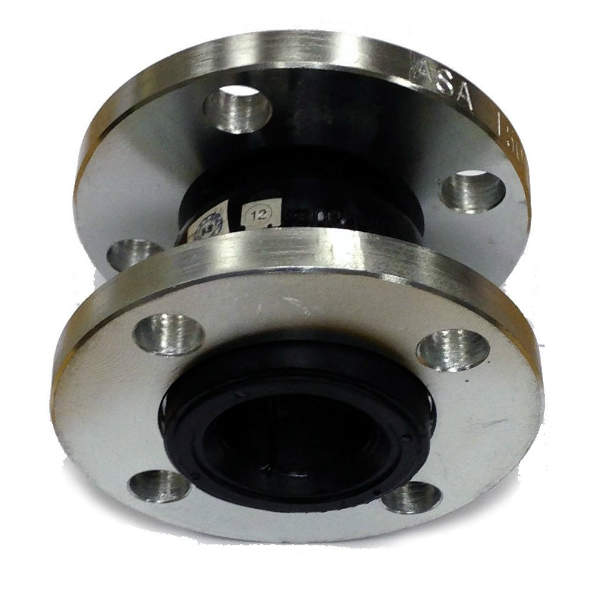 Site services #2.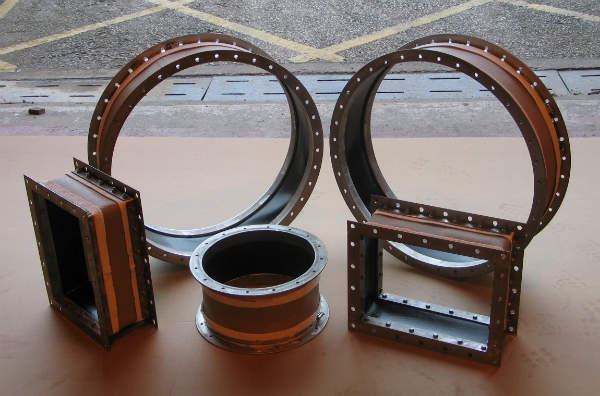 Rubber bellow.
A number of joints can be installed within each exhaust system.
Our range of expansion joints, (or compensators), are 'AO' rated as standard meaning integrity will be maintained for a period of sixty minutes in a cellulosic fire scenario.
Due to the very high temperature and extreme buffeting associated with gas turbine exhaust applications, stainless steel wire mesh is included within the construction. The mesh provides additional mechanical strength, and protection from the high velocity, turbulent gasses as well as maintaining the bulbous shape which further promotes expansion compensation.
In addition to our 'standard construction,' compensators can be designed to accept over-clad insulation for the purposes of heat recovery or personnel protection.
Compensators can be supplied as circular or rectangular geometries with either angle flange or flat flange connections depending on the mating parts.
'Over shrouds' can be included within the design where critical ignition temperatures on the surface of steel components must be avoided.
At design stage, we would evaluate and ensure compatibility of all components with respect to the interface of the gas turbine outlet flange and exhaust system flange. Consideration to their respective materials of construction and assessment of the supporting steel frame – this ensures an optimised solution.
Metallic expansion compensators
Metallic expansion compensators are installed within duct systems in order to compensate for changes in length due to temperature fluctuations. In addition, vibration isolation from rotating equipment such as pumps, motors, compressors or turbines and compensation for pressure pulsations within piping systems.
Axial, lateral or angular movements can also be compensated depending on the specific application.
Metallic compensators can be supplied as circular or rectangular geometries with either angle flange or flat flange connections depending on the mating parts.
Metallic compensators can be manufactured from a range of metals depending on the specific application including, carbon steel, stainless steel, inconel and hastelloy.
Rubberised expansion compensators
Rubberised expansion compensators are typically used to compensate for large extensions in axial, lateral or angular moments and to isolate noise and vibration associated with cooling water pipework, pumps, turbines and boilers within power stations.
Through careful material selection, they are particularly suited for use with aggressive media such as wet chemical service and flue gas desulpherisation plants, (FGD). In such applications, condensation of the gas media creates highly acidic liquor which is not compatible with our fabric expansion compensators.
In addition to the performance listed above, these items can also compensate for misalignment, seismic and wind loading induced movements.
Our joints are manufactured from a single elastomeric layer of material having laminated reinforcing layers.
Thermal insulation jackets
ISL's range of thermal insulation jackets provide a pre-shaped high temperature flexible wrap-around cover, constructed from the highest quality heat resistant materials to suit the specific application required.
Jackets can be employed for heat retention purposes, (to ensure maximum efficiency of associated heat recovery processes), and for personnel protection.
Thermal insulation jackets are fitted to turbine structures including the turbine body, diffuser, exhaust system, process pipework, valve bodies etc. and can also be used for diesel generator / engine exhaust manifolds and pipework for industrial and offshore industries.
Typical construction consists of an inner knitted stainless steel mesh and high temperature glass cloth with body soluble ceramic and glass needle matt insulation material. An outer grey silicone coated glass cloth sewn in stainless steel thread helps to repel fluid contamination. Fixings include straps with 'D' rings and steel lacing hooks.
Suitable for operating temperature of up to 1,100°C.
Calcium silicate high temperature pipe insulation
Calcium Silicate Insulation is commonly used as a safe alternative to Asbestos for high temperature insulation applications up to 1,000 Deg.C with the added benefit of reducing noise breakout.
It is ideally suited for industrial use in areas such as the petrochemical and power generating industries where energy conservation, process control, personal protection and fire protection are essential.
ISL's high temperature pipe insulation is supplied as pre-formed 'shells' designed to close around pipework straights, elbows, flanges and valves. Available in a wide range of standard pipe sizes from ½" to 24″.
To ensure durability, all Cal-Sil insulation features a silicone coated glass fabric outer weather cover which is both waterproof and UV resistant. Further cladding with steel enclosures is not necessary.
Site services
ISL have a large experienced team of factory based engineers skilled in the manufacture and assembly of all ISL products. A separate team of engineers, with particular skills related to our expansion joint products have been hand picked to form our site services team.
This team of engineers are fully trained to operate within offshore oil and gas platforms both in the UK and Norwegian sectors in addition to worldwide based operations including China and South Korea to name but two.
In the example of a routine 'outage' onboard an offshore platform, typically our engineers will make an initial visit in order to undertake a site survey. Detailed measurements and drawings are produced from which our quotation for the manufacture, supply and install is submitted. These operations take place in the months prior to the scheduled outage.
Our engineers are then mobilised at the appropriate time to undertake removal of the specified joint and installation of its replacement.
In addition to scheduled maintenance, both our factory production and site services team can respond very quickly to breakdown situations. Such is our flexibility and resource, we have previously manufactured a replacement joint within two days, (over a weekend period), and delivered the finished item to Aberdeen shore by the Monday evening.