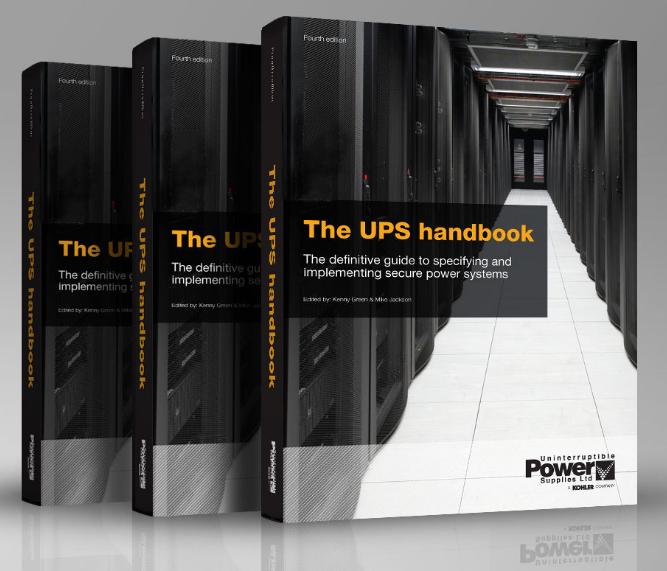 The UK's leading provider of critical power protection solutions, Uninterruptible Power Supplies Ltd, a Kohler company, today announced the launch of the fourth edition of The UPS Handbook, its independent guide to modern UPS and critical power protection solutions.
The latest edition, which has been extensively updated for 2014, details current and future uninterruptible power supply (UPS) technology and topology and sets the scene for the power protection industry over the next five years. The UPS Handbook is the power protection industry's most highly respected guide to understanding, designing and implementing UPS and power protection systems, having sold over 20,000 copies worldwide since the first edition was released over 15 years ago.
"Since the third edition of The UPS Handbook was produced in 2007, a great deal has changed in the UPS industry, and in society at large. The growth of big data, the increasing requirement for businesses to closely manage their energy efficiency and consumers' demand for 24/7 availability of services are all impacting the need for power protection solutions. Understanding the role the UPS plays in helping to achieve these corporate goals is essential and the new handbook offers answers to the vast majority of the most important questions," commented Kenny Green, co-editor of The UPS Handbook.
The handbook is an easy-to-read, invaluable reference tool. It outlines optimum configurations for implementing the most reliable systems, using the latest space and energy saving technology. It is the most up-to-date and informative guide on how to build versatile, powerful and reliable UPS systems in the marketplace today.
"This handbook is a must for any engineer, buyer or project manager involved in designing, implementing and maintaining UPS solutions," concluded Green.
Established in 1983, EDS UPS - also known as Engineering Data Systems - specialises in...