G&M Power Plant designs, manufactures, tests, installs, commissions and supports power-generation equipment for marine, industrial and military applications, including the utilities, telecoms and offshore sectors, and M+E contractors (who source products for construction projects). We also provide systems engineering, and manufacture and install all ancillary equipment and control systems.
We provide power-generation equipment from 40kW-2MW, from 50kVA-2,500kVA, of 50Hz/1,500rpm, of 60Hz/1,800rpm, and of 380V-460V LV, 3.3kV MV and 11kV HV.
Custom power-generation engines and alternators
G&M excels in the provision of both standard and bespoke equipment to meet our clients' exacting requirements.
G&M holds strategic relationships with a number of mainstream engine and alternator manufacturers, enabling us to offer customers the most cost-effective and technically compliant solution to meet their requirements.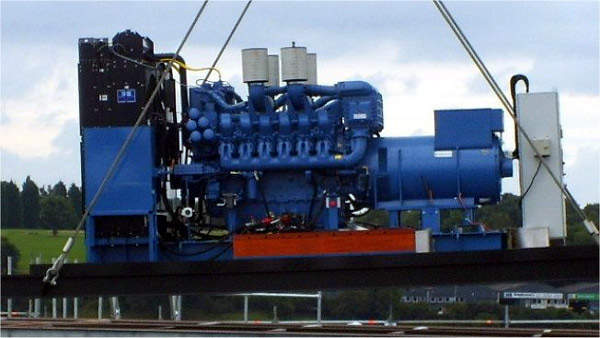 1,500kVA genset under contract lift for assembly at roof level into a 62dB(A) at 1m acoustic container.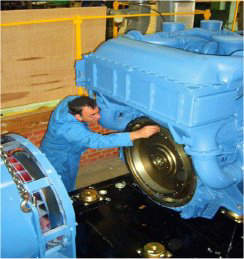 Accurate alignment of engine and alternator is critical to the balance and security of a plant.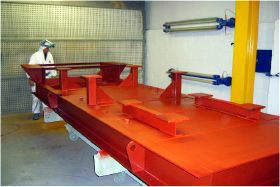 Mid-stage of painting for a 1,500kVA genset baseframe.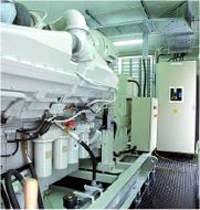 Internal view of a 900kVA containerised genset for a telecommunications application.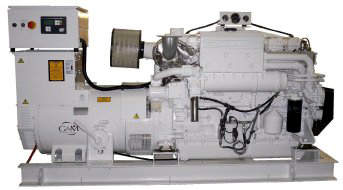 200kW fully class-approved DNV main generator set.
Diesel-engine-powered generating sets and plants
G&M Power Plant is a leader in the design, manufacture, testing, finishing, installation, commissioning and servicing of diesel-engine-powered generating sets and associated plants.
Heat-exchanger radiators and twin-bearing couplings
When approached with requirements for unique applications such as heat-exchanger cooling and remote radiators, twin-bearing couplings, torsional vibration analysis (TVA) restraints or operations within areas of high seismic activity, G&M is able to use its broad range of skills and expertise within the industrial sector.
Turnkey industrial generators, engines and alternators
We provide a turnkey service for your industrial power-generation equipment, covering pre-design, manufacture, project management / consultancy, transportation to site, installation and commissioning.
Power-generation equipment preparation and painting
Among our complete in-house capabilities for power-generation equipment are preparation (including levelling, de-burring / de-greasing and filling), and painting with filler, primer, intermediate and top coats.
Power-generation equipment finishing
Our power-generation equipment can be finished in a variety of styles, depending on its application. These include UK Ministry of Defence war-paint processing, an Awlgrip finish for marine applications, two-pack polyurethane, and chlorinated rubber.
Power-generation equipment inspection and testing
We provide a range of inspection and testing services for power-generation equipment, including:
UK Ministry of Defence war-paint processing
Testing of engines, alternators, controls and associated assembled equipment.
Full load / heat trials
Testing to specific customer requirements
Testing and presentation of witness tests / inspection
Testing of equipment for WIMES / petro-chemical applications
These tests are carried out to third-party / international inspection agency requirements, military and commercial standards, and NHS Trust HTM requirements.
Tests are usually carried out against a resistive load. When required tests can be carried out against our resistive/reactive load banks at a lagging power factor, including complete transient load test analysis and electronic display with printout of test results when necessary.
Final inspection includes:
Quality-of-finish review
Final inspection of on-set cabling and pipework
All documentation required for despatch / shipment
Fitting of warning and safety labelling as specified
We are national utility type registered for supplying UK National Grid products.
Marine diesel generating sets
G&M Power Plant is an acknowledged world leader in the design and manufacture of marine diesel generating sets and controls. We supply marine generators of 40kW-1,500kW in both standard and customer-specific forms.
Heat exchanger, keel or radiator-cooled generators
We provide both main and auxiliary generators supported by specialist skills in emergency generator packages. Our generator sets are designed to be heat exchanger, keel or radiator-cooled depending on requirements.
Main and auxiliary generators design and construction
We provide a full design, construction and after-sales service for main and auxiliary generators.
Radiator-cooled emergency generating sets
G&M manufactures radiator-cooled emergency generating sets to any classification society's requirements. These sets are also SOLAS-compliant.