MTU Maintenance Berlin-Brandenburg is renowned for excellent-value gas turbine maintenance. For a quarter of a century, the company has been a reliable partner for many customers in the power generation, oil & gas and marine sector. MTU offers a compelling choice of customized service packages and aims to repair rather than replace.
MTU Maintenance Berlin-Brandenburg is a wholly owned subsidiary of MTU Aero Engines. The parent company, located in Munich, is equipped with a technological background acquired from product and repair development as well as high standard production, which in turn is a direct benefit for MTU's customers. Not only is MTU manufacturing the disks in the high pressure turbine (HPT) section of the LM2500 but also developed an innovative laser process for shaped cooling holes applied to the latest LM6000 HPT blades for improved cooling characteristics.
The Maintenance shop in Ludwigsfelde, south to Berlin, is licensed level IV depot by GE and provides services for all versions of the following gas turbines:
GE LM2500
GE LM2500+
GE LM5000
GE LM6000
ON-SITE SERVICES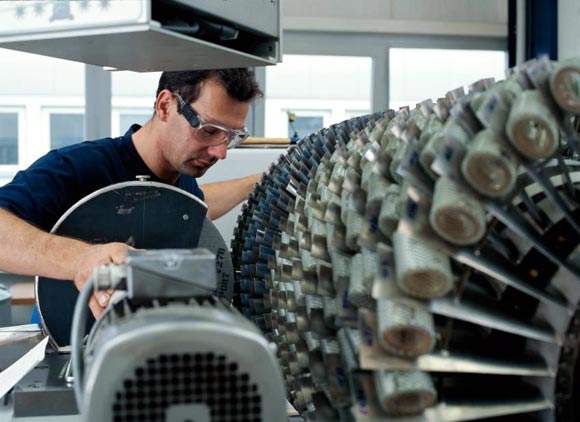 Grinding of an HPC Rotor.
Whether as part of a long-term service agreement or as a stand-alone mission, MTU Maintenance Berlin-Brandenburg offers the following on-site services:
Availability
24 hours/365 days
24-hours hotline for trouble shooting
Local field service representatives in North America, South America and Asia-Pacific
Inspections
Periodic inspections
Individual preventive maintenance concepts for reduced downtime
Spare parts supply and management
Complete range of GE LM-series spares available
Rotable units and tooling available
Vibration services
On-site trim balancing and vibration data analysis
Laser alignment
Combustor mapping and controls services
Combustion and emission surveys
Hardware upgrades / software updates
Controls services
SHOP SERVICES
The shop is one of the most modern facilities for maintenance, repair and overhaul of gas turbines. It provides a unique combination of the most advanced repair techniques, highest quality standards and well trained staff.
Assembly / Disassembly
Electronic piece parts tracking system
MTU proprietary stringent rotor stacking procedure and latest balancing technology for reduced vibrations
Quality system based on FAA-approved flight engine system – minimal tolerances and highest quality standards
MTU IN-HOUSE REPAIRS
80% of all gas turbines parts are repaired within MTU Maintenance
Grinding of entire HPC/HPT stator modules for minimal tip clearances on Trirex™ machine
Match grinding of stator and rotor for increased efficiency
Customized repair development for individual, cost-efficient solutions
TESTING
One of only two test cells worldwide using a 55 MW generator to perform a full and real load test
Proof of actual and true MW output
Testing under real package conditions
No restrictions in terms of availability of test slots and synchronization to the grid
Testing of all LM2500, LM2500+ and LM6000 versions including DLE
Extensive combustor mapping capabilities
Slave power turbine for LM2500 testing available
LPC booster trim balancing capabilities
Digital data recording of all relevant gas turbine parameters
Testing of LM5000 gas turbines on a jet engine test bed
Long Term Service Agreements
Customized Long Term Service Agreements (LTSA) with availability guarantee
More than 100 engines under LTSA contract
Approvals
GE-authorized shop
FAA- and JAA-/LBA-approved organization
DIN ISO 9000 and 9001:2000 Quality Management Certification
DIN ISO 14001 Environmental Management Certification
Registered supplier in FPAL, Achilles JQS, UVDB and UVDB Verify
Field service staff SCC-approved