Precision Gas Turbine is a leading provider of engineering, inspection and maintenance services, specialising in the FT8, V64, V84, V94, SGT-1000, SGT-2000, SGT-3000 and SGT-4000 series gas turbine fleets. Founded in 1997 by industry veterans, Precision Gas Turbine is currently the only qualified non-OEM service provider that can supply a full array of support services on the Siemens SGT and V-series gas turbine fleets.
Experienced SGT and V-series gas turbine personnel
Precision Gas Turbine personnel collectively have over 50 years of experience working with Siemens SGT and V-series gas turbines. Our staff are former OEM personnel, who are trained to and improve upon the processes and methodologies intended by the OEM.
Gas-turbine inspection, overhaul, repair, upgrade, parts and failure investigation
Our capabilities include minor inspections, major overhauls, lifetime extension programs, NDE and boroscopic inspection services, project management, repair and upgrade engineering, parts procurement, failure investigations, training, controls support, and owner's representation.
Precision Gas Turbine's mission is to provide a true independent alternative, focused exclusively on advice and services designed to reduce operations and maintenance costs while maximizing the lifespan of the equipment.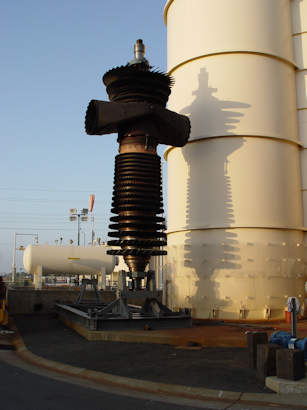 V84.2 rotor upended for lifetime extension overhaul in April 2009.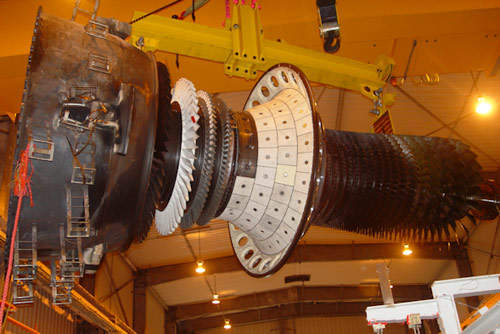 V64.3A rotor installation after major overhaul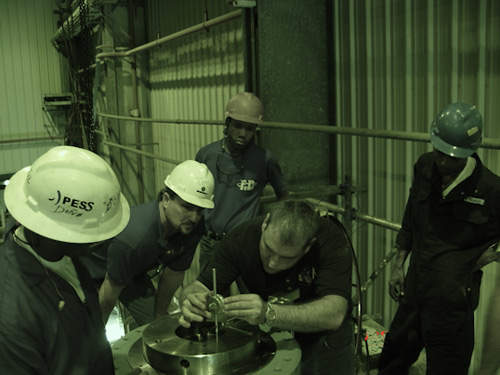 V64.3A rotor de-tensioning.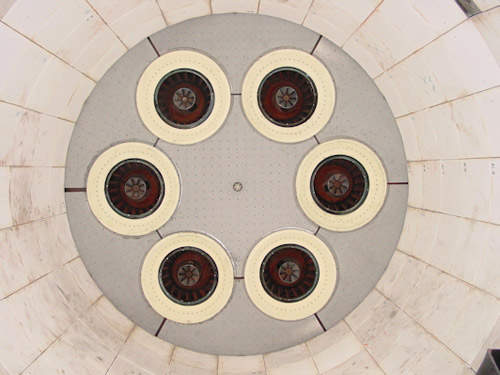 Upgrade of V84.3 combustion chamber components.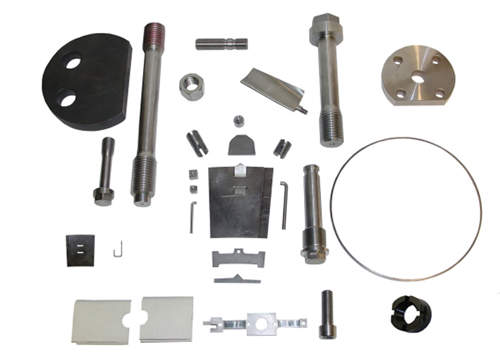 Aftermarket consumable parts are available for gas turbines.
Gas-turbine maintenance and inspection services
Our engineering and technical staff can provide full minor and major inspections on flange-to-flange gas turbines and generators in accordance with OEM maintenance procedures, as well as additional checks based on our extensive experience and detailed knowledge of common unit failures. Based on the results of the inspection, Precision Gas Turbine provides recommendations for repair as well as future inspection intervals to monitor pertinent findings.
Gas-turbine outage planning and management services
Our numerous outage planning and management services help our customers plan their outages well in advance, providing work-scope development cultivated on condition based unit assessments, level three scheduling, spare parts recommendations, tooling requirements and audits, cost estimates, and full electronic documentation packages.
Gas-turbine repair and upgrade engineering
Unexpected findings are common when performing maintenance on any gas turbine. We view these findings as an opportunity to not just replace the damaged component with an expensive, long lead-time part, but to review the failure mechanism, analyze whether the component can be repaired or refurbished, and try to develop upgrades on the component to prevent similar damage in the future.
Installed equipment is constantly being looked at and assessed for possible enhancements. Such enhancements are recommended to improve overall plant safety, operability, and maintainability. Included with all such recommendations are detailed cost/benefit and risk analyses for cost justification. Precision Gas Turbine takes these ideas from the conceptual stage to final completion.
Gas-turbine parts procurement
With a long-standing industry presence, Precision Gas Turbine has developed relationships with various aftermarket suppliers of consumable parts for the fleets we maintain. Between this network of suppliers and our close relationships with the fleet users around the world, we can quickly find outage parts at significantly reduced pricing for maintenance or forced outages. We have access to a wide range of parts for the V64, V84, V94, SGT5, SGT6 and 501F fleets.
Gas-turbine control system troubleshooting
Be it Teleperm or T3000, Precision Gas Turbine is ready to assist with troubleshooting and other technical needs with regards to your engine's control system.
Industry trust
The Precision Gas Turbine team is able to bring the entire breadth of their expertise to your projects, with a focus on techniques and advice proven to extend the lifespan of your equipment. Our existing customers include Public Service Gas and Electric, Duke Energy, Oglethorpe Power Corporation, the Sacramento Power Authority, Progress Energy, Associated Electric Cooperative, Basic Energy, and others — leading voices in the industry who trust and rely on Precision Gas Turbine for their most time-sensitive projects.