Reliable Turbine Services, Inc. has been providing a broad range of services, both in-shop and on-site for the power industry, for over 24 years. Our senior staff have over 100 years of experience with GE, BBC, ABB, Siemens and Westinghouse as well as many other leading manufacturers. We specialize in repairing power turbine designs from 5MW to over 1000MW.
Turbine repair services for the power industry
Our turbine repair services include:
Removal and installation of blading
Steam and gas path component refurbishing
Certified weld repairs
Rotor repairs
A variety of machining operations
We manufacture steam turbine after market replacement blades, seals and many other components for most OEM equipment to customer supplied drawings or reverse engineered from actual samples. Replacement components are manufactured in-shop or by a qualified subcontractor to meet RTS quality specifications.
We also perform component and parts inspection on behalf of the customer prior to shipment from the manufacturer. These include QC package verification, dimensional checks, etc.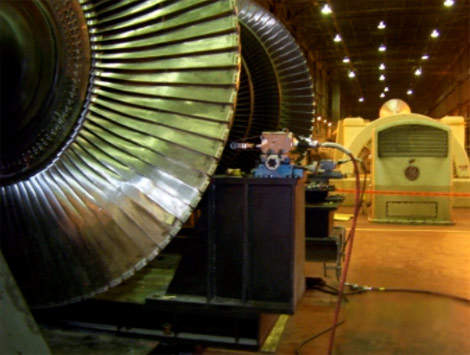 Final cover machining after removal and installation of two rows of GE 33in last stage buckets.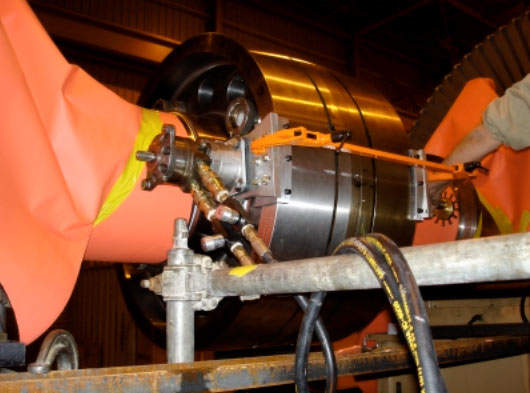 Line boring a coupler to facilitate installation of retrofit hydraulic bolts.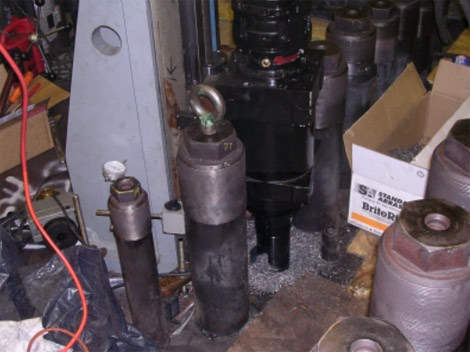 Drilling and removal of 5in diameter stud.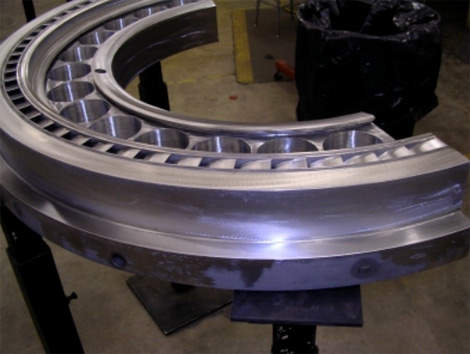 Complete refurbishment of GE nozzle plate.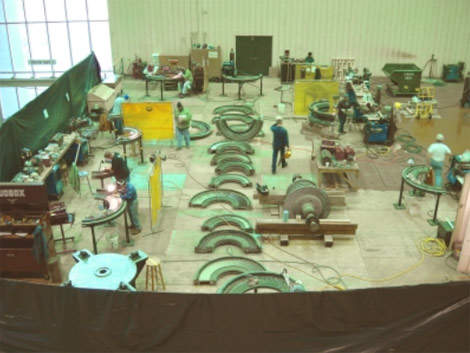 Large steam turbine repair project in progress.
Our services also include turbine rotor and casing repairs, reverse engineering, retrofitting and rotor straightening.
We provide technical manuals for blade removal and installations. We offer them for BBC, ABB, GE, Siemens, Westinghouse, Alstom, Toshiba, and most industrial turbine manufacturers
Turbine consulting and solutions
Whether you are faced with planned repairs or surprises during an outage, Reliable Turbine Services, Inc. delivers quick consulting and repair solutions for your turbine. It means having the right company when you need it, where you need it.
We offer major and minor repairs done on:
Nozzles
Diaphragms
Blade rings
Curtis and reversing rings
We can recommend any suitable repairs or carry out your individual specifications, including:
Complete partition repair
Visual inspections
Complete area checks
T.I.R's, flatness, roundness, drop, horizontal, and dishing checks
Expert installation of seals, spill strips and shaft packing
Bucket removal and installation
Tenon welding and repair
Shroud cover repairs and replacement
Tie wire repairs and replacement
Lashing lug weld and repair
Installation of erosion shields
We also provide weld build-up, machining and refurbishment of:
Steam seal faces, joint faces
Appendages and set-back faces
Packing and spill strip fits
Radial and axial seals and crush pins
Turbine shells and casings
Technical services
Our technical services include:
Technical direction
Laser alignment
Steam path audits
Reverse engineering
Outage planning
Scheduling
Job management
We can assist you with other parts and services you may require, such as:
Packing
Spill strips
Blades
Seals
Valve parts
Special coatings, etc
We provide steam path repair and replacement procedures that are proven to enable nozzle, diaphragm and rotating blades to perform reliably and efficiently over today's longer operating cycles.