Since the company was founded in 1983, simatec's motivated staff have been developing and producing innovative products for the maintenance of roller bearings. Globally known brand names such as simatherm, simatool and simalube originate from simatec.
Induction heaters for roller bearings
simatherm induction heaters allow fast heating of roller bearings and other circular metal parts. simatool tools facilitate the assembly and dismantling of roller bearings.
Lubricators for bearings
With the simalube lubricator, the Swiss company has opened up another successful sector, and ranks among the leading providers in the global market.
Development of the patented gas-producing dry cell enabled the launch of the single-point automatic grease and oil dispenser, which allows clean, safe and maintenance-free long-term lubrication of bearings. Thanks to this innovative technology, complex processes can be simplified and maintenance costs considerably reduced for thousands of machines worldwide.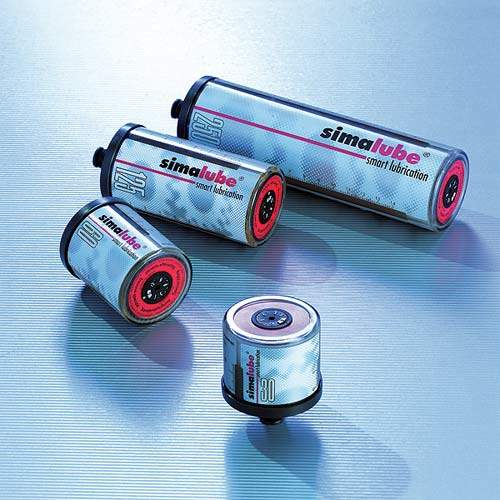 The automatic single-point lubricator simalube can be adjusted from one to 12 months using the unique gas-producing drycell.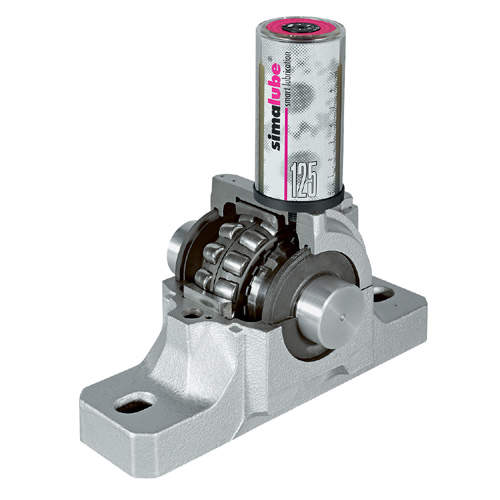 Using simalube, the lubricant can be applied directly to the lubrication point.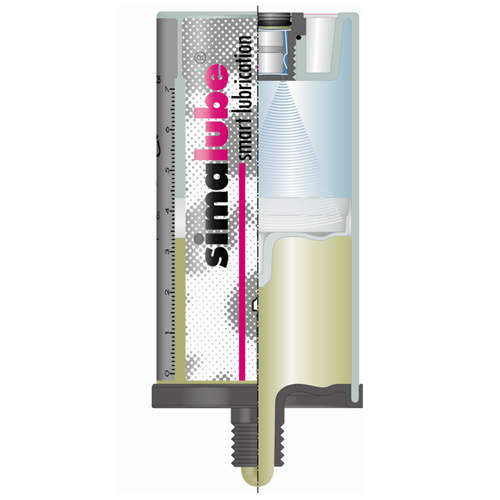 simalube, powered by the worldwide-patented gas-generating drycell, lubricates automatically and reliably.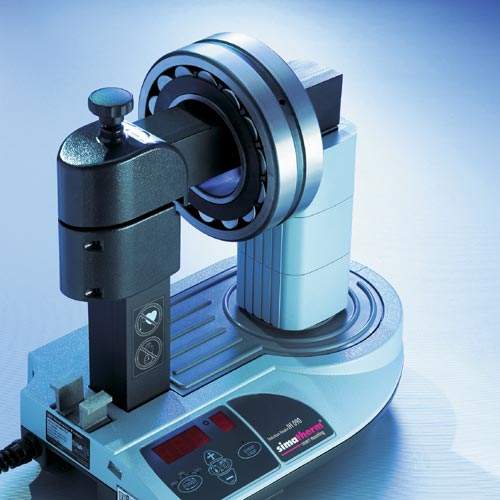 simatherm induction heaters provide fast warm-up of circular metal parts, such as bearings, for hot-mounting parts with an interference fit.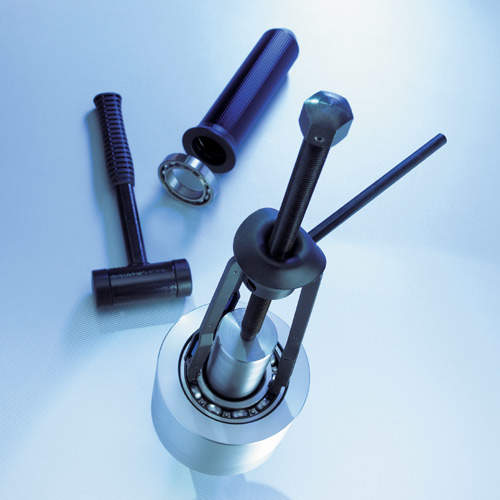 The simatool product range is designed for quick, precise and safe mounting and dismounting of bearings and seals.
Automatic lubricators for bearings
Using simalube pays off in so many ways, including the fact that manual lubrication is no longer required. As a result of the time saving alone, costs are considerably reduced and manpower resources are freed up for profitable tasks in the value chain. With manual lubrication, moreover, bearings are often over-lubricated, which causes them to overheat, resulting in mechanical failure and unplanned downtime.
Similar problems occur with insufficient lubrication. The simalube automatic lubricator ensures reliable and even application of lubricant, resulting in less damage to bearings and longer machine operating times. The simalube closed system prevents any penetration of dirt. This extends the service life of the lubricated components and ensures reliable operation of the equipment. Last but not least, no lubrication points are overlooked.
Grease and oil dispensers
Our grease and oil dispenser can be used easily in all industry sectors. Water treatment plants, the automobile industry, chemical plants, foodstuffs manufacturers, underground mines and even hospitals and clinics trust in the Swiss lubricator. There is also a vast range of possible applications: conveyor belts, fans, motors, pumps, cooling and heating units, chains and guides are all reliably supplied with grease or oil by the Swiss lubricators.
simalube works upside down and even under water. Its operating temperature range is from -20°C to +55°C.
The grease and oil dispenser is screwed in directly at the lubrication point instead of the grease nipple. The practical parts in the simatec range of accessories ensure that the simalube can easily be installed everywhere, in any position and 360° around its own axis.
Induction heaters
Investing in a simatherm induction heater pays off in a number of ways. Within seconds, a roller bearing is gently heated to the required mounting temperature, which results in a huge saving in time, energy and money compared with previous heating methods such as oil baths, heating plates or ovens.
A component is heated to the preselected temperature, where it is maintained using the keep-warm function, which means that it is never overheated and is ready for mounting at any time. A further advantage is that the temperature of the components is monitored using a temperature sensor and displayed on the unit.
Tools for mounting and dismounting of roller bearings
simatool tool sets enable fast mounting and dismounting of roller bearings and radial shaft seals. They are used successfully throughout the world in the mechanical engineering industry, in maintenance workshops and practically all other branches of industry. The fast, safe precision handling of the tools is particularly valued.
About simatec
simatec is an independent, globally active family business with its head office in Switzerland (Wangen an der Aare). At the end of 2007, the US branch of simatec successfully started operations in Charlotte, NC, US.