Pemamek has heavy welding know-how for the global energy sector.
Welding automation for power plant boiler and windmill tower suppliers
Pemamek has been investing for several years in the development of heavy welding robotics and automation. There are two main areas in the energy sector where Pemamek is a major, global production technology provider: the manufacturing of membrane wall panels of power plant boilers and manufacturing of windmill towers. Both require heavy welding and advanced material handling. Pemamek has expertise in the welding process, efficient material handling and material flow of heavy pieces with special equipment to boost productivity and ensure the highest quality work.
Boiler production automation
Pemamek provides turnkey deliveries for membrane wall panel production, tube and fin bar pre-fabrication.
Pemamek designs and manufactures production automation for the boiler industry, including efficient moving-tube stationary welding machines and gantry type welding machines, for material handling and prefabrication for membrane wall panel production. A very good example of this is a basic model of the welding station for membrane wall panels, equipped with six submerged arc welding machines and automatic material handling lines. This model is capable of welding up to 3km of quality seam in one eight-hour shift.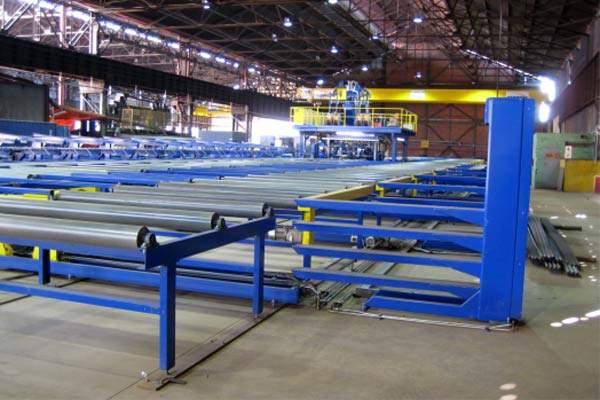 PEMA 2500/6 membrane wall panel welding line, Babcock Borsig Service, South-Africa.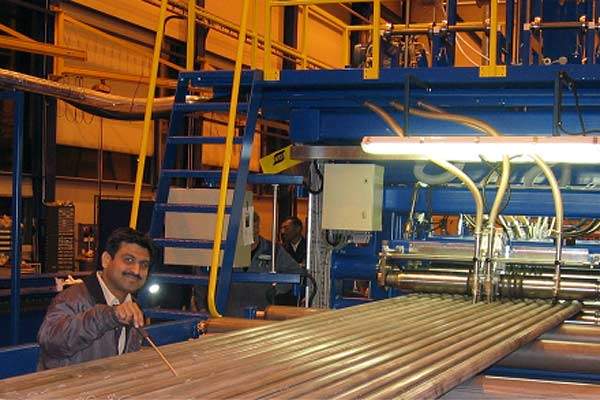 This PEMA stationary welding machine is equipped with sub-merged arc welding equipment which ensures quality welds and high productivity.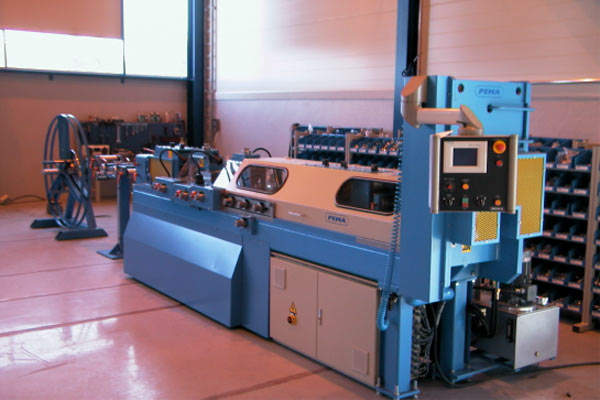 PEMA calibrating machine for fin bar width calibration and bevelling.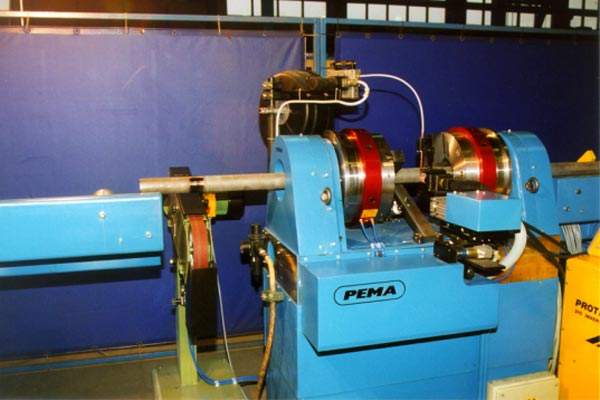 PEMA tube butt welding machine with grinder.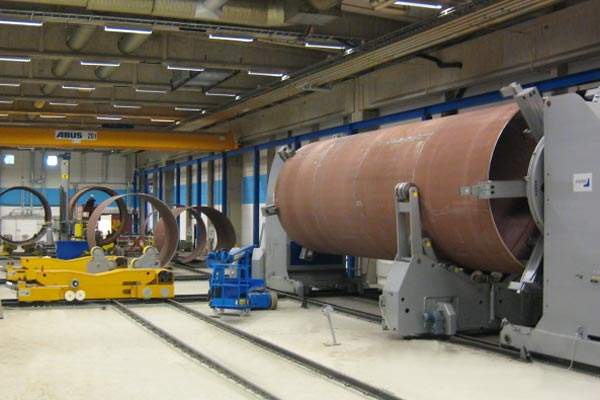 Highly advanced welding line of windmill towers with head and tailstock, roller bed and adjusting jig.
With efficient material handling, advanced pre-processing and flexible conveyor lines, high productivity and arc-time can be assured in the welding of industrial boilers. PEMA's well-proven fin bar calibration, bevelling and shot-blasting machines, together with tube processing systems, are normally also part of effective boiler production.
For more than 25 years Pemamek has delivered welding lines for industrial boiler manufacturers. Long experience and close cooperation with customers worldwide guarantee that PEMA products meet the strictest demands.
Windmill tower production automation
The company also offers turnkey deliveries for wind power tower production. Pemamek has developed special solutions that make it a key player in the supply of manufacturing technology for steel parts – especially towers – for wind turbines. Tower sections normally contain at least 50t – 100t of welded steel. The handling of such large work pieces requires specialised equipment, which Pemamek hcan provide.
Even though the actual welding process can be sped up by increasing the number of welding heads, productivity and the quality of the product are significantly improved with the specially designed hydraulic assembly jig combined with the unique head and tailstock system for the assembly and welding of cells of the tower. Smooth workflows and work safety can also be enhanced by using a well-defined, comprehensive manufacturing layout. For transportation of heavy tower parts, Pemamek has developed its own advanced systems to improve total productivity of any windmill tower production factory.
In addition, Pemamek has extensive experience and technical knowledge in the supply of heavy-duty roller beds specially designed for conical windmill towers.