Lamons is one of the largest gasket and bolt suppliers in the world, committed to quality and service.
Our major manufacturing facilities are in Houston, Texas, US; Hangzhou, China; Rotterdam, the Netherlands; and Faridabad, India. Lamons has sales and service facilities located throughout the US, Canada, Europe, South America and Asia. We also have many licensees and distributors strategically located worldwide to provide customers with the widest selection of gasket materials and fastener stock ready for prompt delivery.
Lamons's various locations feature leading technology and state-of-the-art manufacturing facilities capable of producing engineered products to meet exact specifications serving the refining, chemical, power generation, petrochemical (upstream and downstream), and pulp and paper industries.
Lamons CorruKamm™ gasket
The Lamons CorruKamm™ resembles a typical kammprofiled sealing element as it uses a heavy substrate capable of extreme load-bearing properties. The dramatic feature that this design incorporates is a precisely located corrugated pattern, which greatly enhances the ability to deflect and compress under load. This creates a scenario where a gasket will be more forgiving when perfect alignment and parallelism are not possible.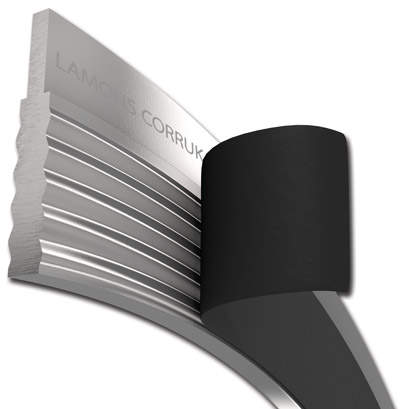 The technology used on a CorruKamm™ gasket produces geometry on the sealing surface that is machined instead of formed.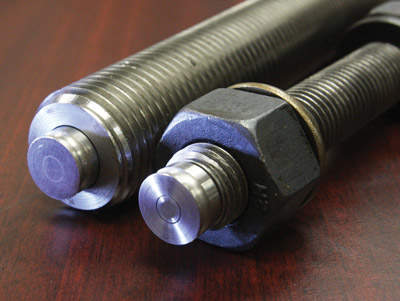 Confidence in bolted assembly can be ensured with the technology used for the SPC4™ load-indicating fastener.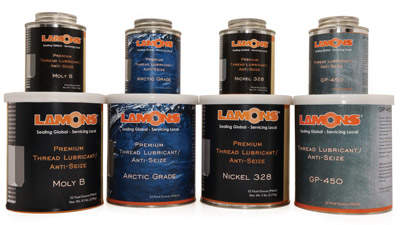 Lamons Thread Lubricant Line comprises four different lubricant types: Nickel 328, Moly B, GP-450 and Arctic Grade.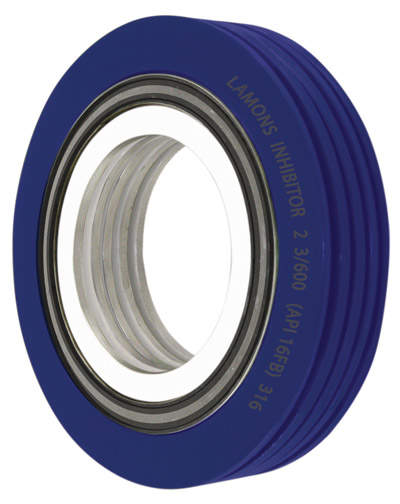 We developed our 'Inhibitor' gasket to meet the demand from the oil industry for improved performance in reducing crevice and galvanic flange face corrosion, surpassing the strict API 6FB fire test protocol, in addition to decreasing emissions and a tighter sealing profile.
The base core material is very thick and resembles what is used with traditional kammprofile technology. This added substrate thickness, with an exacting corrugated pattern allows the gasket to recover substantially and maintain very stable load-bearing characteristics. A kammprofile incorporates a specific serration pattern on both sealing surfaces that do not relate in any way to the opposing sides.
The CorruKamm technology uses a geometry on the sealing surface that is machined rather than formed. These corrugation profiles are strategically aligned so that deflection can occur and maximum resilience and recovery can be achieved.
Contact your Lamons branch or Lamons engineering department for more information on the CorruKamm family of sealing products.
Lamons SPC4™ intelligent bolting
SPC4™ load-indicating fastener technology allows installation of a bolted assembly with confidence. Users can monitor the clamp load of any SPC4 bolted joint, whether static or dynamic, by attaching an indicator datum disc located on the end of the fastener and reading the value with a user-friendly mechanical indicator.
A fastener is modified by machining a small hole into the head. Minimal modifications to the bolt ensure basic bolt design integrity. A gauge pin is inserted into the hole and secured at the bottom. A datum disk is fitted on the top of the bolt head and forms a flat surface with the top of the gauge pin when the bolt is unloaded.
When the bolt is tightened, it elongates and the gauge pin is drawn into the bolt away from the datum disk surface. This indicator is calibrated to detect the differential space between the indicating pin and datum head. This differential space is then translated into a gauge reading that precisely indicates the fastener's loading, related to ultimate yield strength.
The benefits of this concept allow the fastener to be loaded many times as long as the stress remains in the elastic range, meeting the criteria of ASTM F2482. An accurate assessment of loading can also be obtained after the joint has been put into service.
Lamons Premium Thread Lubricant line
Lamons Premium Thread Lubricant and Anti-Seize have advanced engineered compounds that are unsurpassed in the two most fundamental areas of concern to proper joint assembly: make-up torque and disassembly or break-out torque.
Where torque is produced, friction is present. Correct control of friction is critical when applying a proper bolt load. Proper and consistent bolt loads are essential to correct gasket stress and a good joint assembly. Premium Thread Lubricant will enhance and ensure easy assembly and a smooth disassembly.
What truly sets Lamons Premium Thread Lubricant apart is the distinctly high percentage of volume solids content. Over time, and with exposure to extreme temperatures and elements, our blends will remain primarily intact. In fact, in many cases, our lubricants can even condition the mating surfaces.
Lamons Thread Lubricant Line consists of four different kinds of lubricant: Moly B, Nickel 328, and its two new additions; Arctic Grade and GP-450.
Lamons Inhibitor gasket
The 'Inhibitor' gasket was developed in response to oil operators demanding an upgrade in performance to mitigate crevice and galvanic flange face corrosion, exceed the stringent API 6FB fire test protocol, while offering lower emissions and a tighter sealing profile.
The 'Inhibitor' range of sealing products have achieved this and been introduced into the UK offshore market through our distribution partner, Alba Gaskets, where the product was formally launched following the 2011 Offshore Europe exhibition in Aberdeen, Scotland.
Contact your Lamons branch or Lamons engineering department for more information on the Inhibitor range of sealing products.