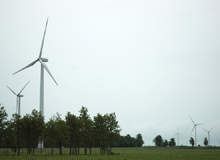 The potential for the offshore wind industry is huge, but top-down governmental policies need to change to make it more attractive for investors, says the 2008 Carbon Trust report 'Offshore wind power: big challenge, big opportunity'. In addition, connecting renewable power to the grid and ensuring a steady flow of expertise into the industry are issues that must be addressed to ensure the sector's success.
At the April 2009 VIB Wind Power Transmission and Distribution Conference held in Scotland, the issue of allowing wind farms to be built much closer to the shore will be high on the agenda. The Carbon Trust says these are needed to revitalise a sector that has almost stalled owing to obstructive regulation, competitive pressures and rising costs. The inaugural event will try to push forward these issues as it brings together transmission and distribution network owners, engineers and regulators.
For the UK to meet its EU 2020 renewable energy and carbon emission targets (15% of energy consumed to come from renewable sources by 2020) it would need at least 29GW of offshore wind power – to provide 25% of electricity consumption, the rest coming from onshore wind and other renewables – by that date. But without urgent action there is a risk that little additional offshore wind power will be built by 2020 beyond the 8GW already planned or in operation.
"Without urgent action there is a risk that little additional offshore wind power will be built by 2020."
The target is an immense deployment challenge and will require total investment of up to £75bn. But as the industry stands today, the risk / return balance is not sufficiently attractive and regulatory barriers will delay delivery well beyond 2020. However, the target is technically feasible: sufficient sea floor is available for deployment even allowing for severe constraints on where the wind farms can be sited; with some adjustments the grid can accommodate this amount of wind power and the technology is commercially available or in development.
Reaching the target
Government and industry need to work together to reduce the required investment by up to £30bn by 2020. The trust estimates that by making the most economical wind farm sites available for development, without negatively impacting other economic or environmental concerns, the required investment can be reduced by up to £16bn. A further £14bn could be cut by improving the technology, and thereby reducing technology costs, by spending up to £0.6bn of public and £1.2bn of private UK R&D funding.
In addition, developers should be provided with an attractive return from an efficient incentive mechanism. Capital costs have more than doubled over the past five years meaning that the sites available for future offshore wind farms will provide less-attractive risks and returns than those of today's developments. The level and duration of the UK Government's renewable obligation (RO) incentive mechanism is not sufficient to stimulate the scale of investment required.
The government has already proposed an expansion and extension of the incentive mechanism but, alternatively, new renewable capacity could be incentivised by a feed-in tariff. The required adjustments to the RO will bring it closer to a feed-in tariff in any case. If the regulatory barriers to deployment are removed the government can implement regulatory reform in grid planning. This will avoid the £2bn cost of transmission network upgrades and reduce lead time by two to five years.
Meeting the EU's renewable energy target could result in a net addition of 8% to retail electricity prices and close to 20% to wholesale electricity prices by 2020. But if this report's recommendations are followed, say its authors, the net addition to retail and wholesale prices could be kept to 1% and 3%. Indeed if gas prices remain above 90p a therm then wind power could even reduce electricity prices. In addition, carbon emission reductions of 14% can also be achieved.
Overcoming constraints
To complete the challenge, however, a number of complex technical obstacles will need to be overcome. And, although the marine environment will add new dimensions, inspiration should be drawn from existing methods already showing success in the onshore wind, electrical power and oil and gas sectors.
"Wind farms nearer to shore need not be in sight of beaches, just closer than areas such as the Dogger Bank."
As it stands the UK's electricity system can incorporate 40GW of wind power, peaking and balancing load, without compromising security of supply. And 29GW of offshore wind farms only need 0.5% of the total UK seabed so there is easily sufficient space, even with all the constraints on where offshore wind farms can be located. And despite the variability of wind, 40GW would contribute to the long-term reliability of the network, reducing the need for conventional capacity by 6GW but reducing the load factor of the system.
The 'net load factor cost' is equivalent to increasing the cost of wind power by 8% while the short-term balancing requirement would increase it by 7%.
Wind farms nearer to shore need not be in sight of beaches, just closer than areas such as the Dogger Bank, which typifies the kind of locations earmarked for the next round of licensing and is more than 60 miles out to sea. Inshore areas have calmer weather and permit smaller structures, making them cheaper to build and operate. If this approach is followed in conjunction with the breakdown of needless regulatory barriers, offshore wind could just prove to the UK's energy saviour.
A version of this article first appeared in our sister publication Modern Power Systems.