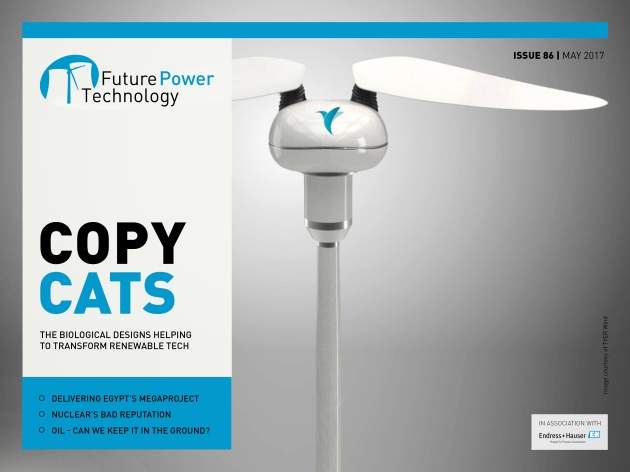 Biomimicry has yielded a dearth of advancements across every industry, and here we throw a spotlight on how imitating nature has brought about bold, new renewable technologies.
In other news, we speak to NuScale Power about the first-ever small modular reactor power plant design to be accepted by the US Nuclear Regulatory Commission for approval. With an estimated 40-month wait for a decision, we hear the challenges so far and details of the plans.
And while nuclear is considered the cheapest and most reliable renewable energy source, we ask why public perception is so low, hold a special roundtable to get expert insight into the impact of the UK's industrial strategy on the clean energy sector, and discover how Siemens managed to deliver a 4 .8GW electricity generation system to Egypt in record time.
Lastly, we explore the likelihood of harvesting energy from oil while keeping it in the ground.
You can read Future Power on your iPad via our app or in using the web viewer. It's free to read and you can join the conversation on Twitter.
In this issue
A Shot in the Arm for Clean Energy
The UK's new industrial strategy has a strong emphasis on the energy sector, including a £4.7bn fund for R&D into smart energy tech. But will the government put its money where its mouth is when it comes to encouraging renewables and smart energy? We get expert advice in this special roundtable.
Read the article
Egypt's Electricity Megaproject
Siemens set a new worldwide benchmark for delivering fast-track power projects, connecting 4 .8GW of power generation capacity to the Egyptian grid only 18 months after signing the contract. How was it done? We talk turnkey with Siemens.
Read the article
Mimicking Nature
Biomimicry is the inspiration behind a number of new technologies throughout the energy sector, such as wind power turbine bodies, solar cells and battery storage units. We look over the green technologies taking a leaf out of nature's book.
Read the article
A Nu Design in Nuclear
NuScale Power has submitted the first-ever small modular reactor (SMR) power plant design that's been accepted for review by the US Nuclear Regulatory Commission. With an estimated 40 months to wait for a decision, we hear how NuScale's application got this far.
Read the article
Is Public Opinion Shutting Down Nuclear?
The latest Lloyd's Register report into renewable energy indicates that nuclear power is consistently the cheapest and most reliable renewable resource but consumer attitudes are still prohibitive. People overwhelmingly view nuclear power as both dangerous and expensive – but can opinions be changed?
Read the article
Oil Platforms as Offshore Power Stations?
With fossil fuel divestment campaigns imploring oil companies to "keep it in the ground", is there a way to capture the energy potential of offshore oil and gas deposits without extracting the hydrocarbons? We profile a pioneering project to find out.
Read the article
Next issue
There's a spotlight on solar as researchers at Caltech and Berkeley Lab have found a glut of materials that could potentially be used with solar fuels. Are we on the verge of an energy process that's a simple as splitting water molecules? We find out plans for a prototype. Meanwhile, UK organisations are working with universities in South Africa, Nigeria and Mauritius to develop concentrated solar power projects and expertise in Africa. We talk progress with the project team.
Also, we examine a study which suggests that the Middle East and North African countries could ditch oil to run lucrative businesses by exploiting their abundant renewable resources, and ask what the future holds for the post-Brexit European Atomic Energy Community.
On the consumer side, we examine why the UK's electricity has dropped so much in a decade and hear about trials of games that could help consumers learn to cut and control their energy consumption.
Digital magazine FAQ
You can read Future Power for free on the iPad. Download our app from the App Store to read the latest issue and browse the back issues in our archive. Sign up for a free subscription in the app and never miss a new issue.
You can also continue to read the desktop version for free on our web viewer. (Browser compatibility: The web viewer works in the latest two version of Chrome, Firefox and Safari, as well as in Internet Explorer 9 and 10. Some features may not be compatible with older browser versions).