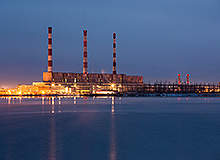 At 5,597MW installed capacity, Surgutskaya GRES-2 (Sugrut-2), a combined cycle power plant located in the Russian city of Surgut, is the world's biggest gas-fired power station. The facility is owned and operated by E.ON Russia.
The Surgut-2 power station consists of six 800MW units commissioned between 1985 and 1988, and two advanced gas-fired combined cycle units with a combined capacity of 797.1MW commissioned in July 2011. The latest units added to the power station are based on GE 9FA gas turbines and have an efficiency rate of 55.9%.
Surgutskaya GRES-2 consumes approximately 10 billion m3 of gas annually, which mostly comes from the oilfields in the Tyumen Region of Russia. The power plant generated 39.85 billion kWh of electricity in 2013.
The 5,040MW Futtsu liquefied natural gas (LNG)-based thermal power station located in Chiba, Japan, is currently the world's seventh biggest thermal power plant. Owned and operated by Tokyo Electric Power Company (TEPCO), it consists of four combined cycle power plants commissioned between 1985 and 2010.
The first two plants, with 1,000MW installed capacity each, were commissioned in 1986 and 1988. They comprise of 14 combined cycle units based on GE's 9E gas turbines. The third plant, Futtsu-3 comprising four 380MW GE 109FA+e combined cycle systems with 55.3% design thermal efficiency, was commissioned in 2003. The 1,520MW Futtsu-4 was commissioned between 2008 and 2010, and consists of three GE 109H combined cycle systems with 58.6% design thermal efficiency.
The LNG fuel for the Futtsu thermal power plant is supplied through an underwater pipeline from the nearby Futtsu LNG terminal which has the capacity to handle nine million tonnes of LNG per annum.
Kawagoe power station, Japan – 4,802MW
Chubu Electric Power Company's Kawagoe thermal power station located in Kawagoe, Mie, Japan, with 4,802 MW installed capacity, ranks as the world's third biggest gas-fired power station. The plant consists of four generating units all running on LNG.
Kawagoe's first two LNG-fired units of 700MW capacity each were commissioned in 1989 and 1990. The boilers and steam turbines for these units were provided by Mitsubishi and Toshiba respectively. The third and fourth LNG-based combined cycle generating units comprised of Hitachi's MS7001FA gas turbines and Mitsubishi's 'F' series gas turbines respectively were commissioned in 1996 and 1997.
The power station uses six LNG tanks with total storage capacity of 840,000m3. The last two tanks with 180,000m3 capacity each were installed in March 2013.
Dah-Tarn (Tatan) power plant, Taiwan – 4,384MW
The 4,384MW Dah-Tarn (Tatan) power plant located in Guanyin, Taoyuan, in Northern Taiwan is the world's fourth biggest gas-fired power plant. The gas turbine combined cycle power station is owned and operated by Taiwan Power Company (Taipower).
The plant was developed in two stages between 2005 and 2009. The stage-1 consisted of two generating units based on three Mitsubishi's M501F gas turbines each. Stage-2 involved three generating units based on two Mitsubishi M501G gas turbines each.
The plant uses natural gas supplied by Taiwan's state-owned Chinese Petroleum Corporation (CPC) which committed in 2003 to supply gas to the power plant for 25 years.
Chita thermal power station, Japan – 3,996MW
At 3,996MW installed capacity, the Chita thermal power station located in Chita, Aichi, Japan, is the world's fifth biggest natural gas power plant. The plant, which began operations in 1968, is owned and operated by Chubu Electric Power Company.
The Chita power station currently consists of six LNG-fired units four of which operate in combined cycle mode. The first four units, which were commissioned between 1966 and 1974 and originally designed to generate power by burning heavy crude oil, were converted for LNG-based power generation in 1985. The fifth and sixth LNG-fired units that were commissioned in 1978 as well as the first and second units of the plant were converted into combined cycle operation between 1992 and 1996.
The power station's cumulative electricity generation reached 500 billion kWh mark in 2002. The Chita LNG terminal received its 3,000th tanker in November 2011.