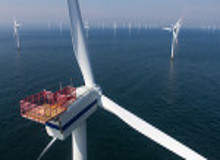 Indonesia will begin the $1.6bn Sarulla geothermal project development soon, following decades of delay, in Sarulla, North Sumatra.
The new geothermal power plant's operation will play a major role in the government's plan to boost power supply by about 60GW by 2022.
Due to problems related to land acquisition and permit issuance, at least 30 geothermal projects have been delayed, leaving most of the country's geothermal resources unused.
The US Bureau of Ocean Energy Management (BOEM) is considering a competitive lease process for wind energy development on the Outer Continental Shelf (OCS) in offshore New York.
The wind energy planning efforts are part of US President Obama's Climate Action Plan to develop domestic clean energy sources, cut carbon pollution and to create jobs.
In order to obtain nominations from companies for commercial wind energy leases, the bureau is publishing a Call for Information and Nominations (Call) within a proposed area offshore New York, located 11 nautical miles off south of Long Beach, New York.
Australia would loose thousands of jobs and billions of dollars in potential investment if it scraps its renewable energy target, global finance giant Bloomberg warned the federal government.
A report released by the media and financial data company's renewable energy research division suggest that renewable energy target scrapping would also put more than 10,000 jobs at risk.
Currently, an expert panel is reviewing the country's aim to use renewable energy sources to produce 20% of its power by 2020.
Russia-based Gazprom signed a contract worth $400bn (€292bn) with China National Petroleum Corp (CNPC) to supply natural gas.
Under the contract, Gazprom will supply 38 billion cubic metres of gas annually to CNPC for a period of 30 years.
The gas will be supplied through a pipeline from Russia to China via the eastern route, which is estimated to start in 2018.
Image: CNPC and Gazprom $400bn gas supply contract. Photo: courtesy of China National Petroleum Corporation.
50Hertz Offshore, a subsidiary of 50Hertz Transmission, awarded a new contract to Prysmian Group for offshore wind grid-connections in Germany.
The contract, worth €730m, covers designing, producing and installing power cable systems for the offshore wind park cluster West of Adlergrund in the German Baltic Sea.
The contract also includes options for grid connections in value of approximately €250m.
UK-based Nautricity deployed its first commercial scale contra rotating marine turbine (CoRMaT) tidal turbine at the European Marine Energy Centre's Shapinsay Sound test site , in Orkney.
The turbine was installed at the centre in Orkney this week after an extensive round of investment and up-scaling.
The company has spent 18 months developing its first commercial scale device, which has a rotor span of 10m, and is significantly bigger than early test models.
UK-based Rolls-Royce agreed to sell its energy gas turbine and compressor business to Siemens for £785m ($1.3bn).
The business that will be sold provides aero-derivative gas turbines, compressor systems and associated services to firms operating in the oil and gas and power generation sectors.
Following the transaction, Rolls-Royce will receive an additional £200m for a 25-year licensing agreement, allowing Siemens access to the relevant company's aero-derivative technology for use in the 4 to 85MW power output gas turbine range.
Berkshire Hathaway Energy agreed to acquire SNC-Lavalin's subsidiary AltaLink for about CAD3.2bn ($2.9bn).
Established in 2002, AltaLink owns over half of the transmission grid in the Canadian province of Alberta and serves 85% of its population.
The transaction adds about 12,000km of transmission lines and 280 substations to Berkshire Hathaway's portfolio, which currently includes around 284,000km of transmission and distribution lines in the US.