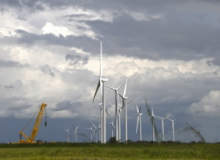 The municipal assembly of the Japanese town Satsumasendai approved the plan for restarting the Sendai nuclear plant.
This marks a step towards reviving the nuclear industry, which has been lying idle since the Fakushima disaster in 2011.
The approval comes even after tremors have been reported at nearby Mount Ioyama volcano, which has raised concerns of a probable nuclear disaster.
Germany announced plans to reduce energy generation from coal power plants to meet its greenhouse gas emission targets.
The government is considering a programme to increase energy efficiency and reduce coal generation, reports Reuters citing Rainer Baake, a Greens member serving under Social Democrat Economy Minister. It is claimed that this decision will be made on 3 December.
Germany has a goal to cut greenhouse gas emissions by 40% by 2020 from 1990 levels. The country's environment industry has warned that this target could be missed by approximately 5%-8%.
US-based energy firm MidAmerican Energy awarded a long-term service and maintenance contract to Siemens for 958 SWT-2.3 turbines at 12 wind projects in Iowa.
The 12 wind projects are expected to power around 665,000 average homes in the US.
Under the deal, Siemens will offer service and maintenance for eight MidAmerican Energy wind projects for around ten years. It will also be responsible for four other MidAmerican Energy projects, once those come into operation during the agreement term.
Renewable energy firms Samsung Renewable Energy and Pattern Energy Group started construction of the Armow wind power project in Ontario, Canada.
The two firms have secured loans of C$580m ($517m) for construction of the project from ten financial institutions.
The 180MW wind facility is situated at the township of Kincardine in Ontario, Canada. It will be equipped with 91 Siemens 2.3MW wind turbine towers and 273 blades.
UK's Office of Gas and Electricity Markets (Ofgem) proposed £1.1bn ($1.8bn) of funding for the new subsea electricity cable to connect the north of Scotland.
The Moray Firth subsea cable with be installed by Scottish-based firm SSE. The funding for the project however is £173.9m less than the £1.24bn estimate requested by SSE's Scottish Hydro Electricity Transmission (SHE Transmission) unit.
Talking about this, a company spokesman for SEE was quoted by Scotsman as saying: "While SHE Transmission is disappointed with the level of the allowances proposed today, the consultation does enable further engagement with Ofgem to take place on important issues, such as the best way for treating contingency and risk-related costs."
Construction of dams for hydropower generation, especially in developing countries, could pose a serious threat to freshwater biodiversity, according to a study presented at the University of Copenhagen.
The study was showcased at the international congress titled 'Global Challenges: Achieving Sustainability'.
Owing to the rising demand for renewable energy, there is an unprecedented boom in hydropower dam construction, which in turn is reducing the remaining large free-flowing rivers by almost 20%, researchers said.
A court in South Korea ruled in favour of a plaintiff, who claimed that there is a connection between radiation emitted by a nuclear power plant and cancer.
This ruling could lead to similar lawsuits in a country that depends on nuclear power for electricity.
A claim was made by 48-year-old Park Geum-sun that her thyroid cancer was triggered due to radiation emitted by six nuclear power plants located nearly 8km from her home in Ichon-ri, Kijang, a county in the south-eastern coast.
Lockheed Martin announced that it is working on a compact fusion reactor (CFR), which would be small enough to fit on the back of a truck, and could be ready for use within a decade.
The CFR is a power source based on nuclear fusion, and the first reactors.
Presently, several patents are pending on their approach.
The fusion in itself is not new, but Lockheed Martin's Skunk Works has improved on more than six decades of fusion research and investment to create an approach that could provide a huge reduction in size against other mainstream initiatives.
Installed wind power capacity could grow 530% to reach 2,000GW by 2030, supplying 17-19% of global electricity, according to a report published in 2014 edition of the Global Wind Energy Outlook by Global Wind Energy Council (GWEC) and Greenpeace International.
By 2050, the capacity can swell up to supply 25-30% of global electricity, the report reveals.
In 2013, the total wind energy capacity was at 318GW, which is likely to increase by another 45GW in 2014.
Beside the capacity increase, the industry is also expected to open up 2 million new job opportunities worldwide and reduce more than 3 billion tonnes of CO2 emissions annually by 2030.
ScottishPower Renewables, a subsidiary of Iberdrola, and Dong Energy opened the 389MW West of Duddon Sands offshore wind farm, which is a major renewable project for the UK.
The new facility is located in the Irish Sea.
UK Energy Secretary Edward Davey cut the ribbon for the €2bn facility, which is equipped with 108 of Siemens' 3.6MW wind turbines and has more than 200km of undersea cable installations.