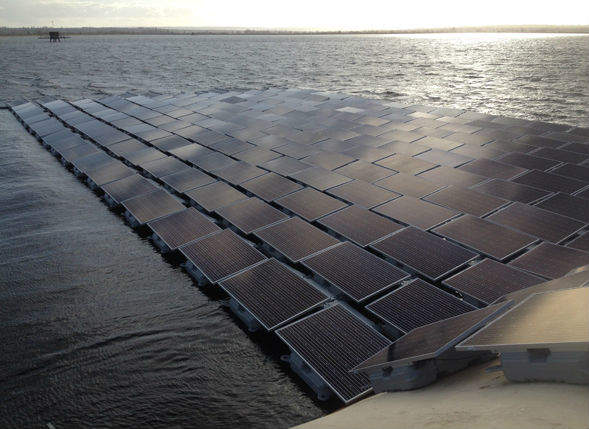 'Fields of photovoltaic panels are taking up space that would be better used for growing food,' so the well-worn argument goes. It has been voiced at the highest level, with UK Environment Secretary Liz Truss telling a group of farmers that it "Makes [my] heart sink to see row upon row of solar panels where once there was a field of wheat or grassland, or livestock to graze".
Little serious study has been done on the threat solar panels pose to food production, and Truss's argument is disputed by the solar industry and many farmers. But a novel approach to the deployment of solar panels could help neutralise this argument before it becomes detrimental to the future of the industry.
March saw the completion of Europe's (and until ongoing projects come to fruition, the world's) largest floating solar farm. Sitting atop the Queen Elizabeth II reservoir in Walton-on-Thames on the outskirts of London are 23,000 photovoltaic panels, which cost around £6m to deploy, to be used to power the onsite water treatment facilities. The array has total installed capacity of 6.3MW and is planned to generate 5.8 million kilowatt hours in its first year, equivalent to the annual consumption of 1,800 houses, according to estimates from the plant's owner Thames Water. The project is part of the company's attempts to generate 33% of its own energy through renewable sources by 2020.
"Becoming a more sustainable business is integral to our long-term strategy and this innovative new project brings us one step closer to achieving our goal," says Thames Water's energy manager Angus Berry in writing. "This is the right thing for our customers, the right thing for our stakeholders and most importantly the right thing for the environment."
Cool conditions better for floating solar
Floating photovoltaic (PV) plants are fairly straightforward to put together as they combine a number of existing systems: a floating system which, in the case of the Queen Elizabeth II, means the deployment of 61,000 buoyant panels; a mooring system that helps the plant adjust to the movements of the water while maintaining a southerly direction (there are 177 anchors on the plant); and PV generation equipment and underwater cables, which transfer the power to the land.
"The advantages of floating systems go beyond just freeing up field space."
The advantages of floating systems go beyond just freeing up field space. For a start, it is not necessary to get multiple permissions from local residents, meaning quicker implementation times. The Queen Elizabeth II array can only be seen by a handful of residents as well as passengers flying in and out of Heathrow airport. There are a number of technical advantages too. For instance, natural evaporation from the water helps cool the panels, making them more efficient than many ground-based equivalents, and water from the reservoir can be used to wash the panels, eradicating the problem of dirt and dust accumulation. For a water company there is the added benefit of reduced evaporation from areas of the reservoir covered by solar panels, which helps maintain the reservoir levels.
In 2014, South Korean utility K-water carried out a study comparing its own 100kw and 500kw floating solar systems with its land-based counterparts. The company also measured wind speed and wave strength to ascertain the environment's impact on the efficiency of floating PV systems. The study concluded that the floating system was around 11% more efficient, though it acknowledged that strong winds had a considerable impact on efficiency.
"Research on a mooring system that can completely fix the buoyant structure of the floating PV system on the water surface is continually needed," says Young-Kwan Choi, the K-water engineer who led the experiment. "Also, in order to enlarge the generating efficiency, development of a solar-tracking floating PV system that can change its azimuth and tilt angles is required. Currently, K-water is researching and developing a 100kW solar-tracking floating PV system, which has superior generating efficiency compared to the stationary floating PV system."
Ecological upside and downside
Such a responsive system would be groundbreaking, but there are other obstacles to overcome before floating solar can reach its full potential. No-one yet knows how robust these floating arrays are and if they start to corrode, it could have a serious negative effect on water quality in the reservoir, and by extension, supply to local residents. Some floating PV panel manufacturers, such as France's Ciel et Terre, claim that their high-density polyethylene systems are 100% resistant to corrosion and UV rays, but more research is needed to convince sceptics.
Floating solar arrays prevent sunlight from penetrating large areas of water causing it to become cooler and darker under the surface, conditions that make it difficult for algae to grow. In a way this is a good thing, as algae can be toxic and solar panel coverage would lessen the need to use herbicides and algaecides, which could have a harmful affect on drinking water. But at the same time, any creatures accustomed to living in algae-dense water could be under threat.
"It is really important for the operator to have a good idea of what kind of species can be found in the water body."
"It is really important for the operator to have a good idea of what kind of species can be found in the water body," said Lis Mesnager, project manager of Ciel et Terre, in an interview with National Geographic magazine. It also might lead to projects being based primarily in man-made reservoirs, where the range of flora and fauna species is likely to be much lower.
Solar on the high seas
This year has seen ground broken on number of significant floating PV projects, with March marking the start-up of Brazil's first; a 10MW array at the Balbina hydropower plant in the Amazon region. On a reservoir in Japan's Chibu prefecture, electronics company Kyocera started working on what is thought to be the world's largest floating solar plant, once finished – a 13.7MW project designed to power around 5,000 households, which is scheduled for completion in early 2018.
Compared with the largest land-based solar plants, the Queen Elizabeth II is small fry, but if such projects prove successful and the technology is able to develop to the point where floating PV panels can perform well, even when high winds blow them off-course, the potential is huge. There is, after all, plenty of room for solar panels on our seas and oceans.