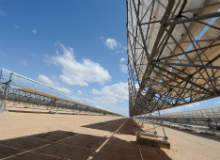 Solar energy is responsible for around only 1% of total electricity generation in the US, and it has had a rocky history. Historical federal policy has been unpredictable, meaning manufacturers and consumers have been unable to rely on the incentives to build solar energy systems.
However, the American solar industry could be turning around and the country expects to install 14.5GW of solar power this year. This is a 94% increase over the 7.5GW achieved last year.
With this comes new initiatives to make the sector more reliable and easier to manage. SunShot Initiative, for example, has set up a new programme to reduce the financial risk of solar energy project development by standardising industry data and making transactions of it easier.
The true costs of solar
SunShot was launched in 2011 as a presidential initiative with the goal of bringing down the cost of US grid-tied solar electricity 75% by 2020.
"We work on basically reducing both the soft costs as well as the planning barriers to help encourage deployment of solar in the US," says SunShot programme manager Elaine Ulrich. "Typically the way that we do that is by focusing on connecting people to the information they need to make decisions or do their jobs."
There are four key areas of the initiative: data and information assets and analysis; working on workforce and training to help provide workers with the skills and tools they need; working on finance and business models; and working with state and local jurisdictions to help them with permitting and zoning requirements to help get solar deployed in different communities.
"Currently, the solar community relies on fragmented data sets."
In April, SunShot launched a new programme called the Orange Button initiative, which aims to create a standardised data landscape in the hope of helping grow and expand the distributed solar industry.
Currently, the solar community relies on fragmented data sets that are released by state energy offices of a limited number of private organisations. This isn't very efficient or useful for the wider industry because the data sets vary enormously in format, quality and content, making them difficult to integrate.
Ulrich says that for one financing company they worked with, it took 6,000 hours to do adequate research on a solar project they were backing, which shutdown all its solar lending for six months.
Other initiatives in the US such as the Green Button and Blue Button have worked on standardising energy use data and health record data respectively, and the Orange Button programme has the same goal; to simplify and standardise data so that government, customers, utilities, financiers, solar companies, entrepreneurs, and other stakeholders can exchange quality data.
Varied technologies and goals
The solar power industry includes many different companies with diverse technologies. Organising so many varied players will be a challenge, so to address this the Orange Button team has awarded about $4m to four groups that are working together to create a widely adoptable, unified data standard.
"The phases of this are to convene, then to define and to integrate," says Ulrich. "So far, over 200 organisations have signed on to participate in those working groups, and those are related to finance, real estate, deployment operations, and maintenance, and grid operation."
In the near future, Ulrich says the team wants a clear data standard to be established, for starters. Additionally, she says they want the Orange Button initiative to become the "de facto standard that is used".
"For it to be essentially a de facto standard, you would have a wide array of transactions that are depending on it, and that can rely on it," Ulrich says. "Essentially we've made these kinds of transactions much easier and less costly and we're able to reduce the cost of capital for solar, as that actually constitutes one of the largest proportions of soft cost in a project."
Ulrich believes these benefits of the programme will be hard to turn down. The team says that right now, a lot of data sits behind the closed doors of companies, so essentially they will need to create a marketplace for this information. This doesn't mean that all companies will have to sign up to the initiative though.
"We don't have the kind of regulatory authority where we would say everybody needs to use this standard once it's been established," Ulrich says. "But essentially we'd like some of the major players to have taken it up."
Different sources of data are of interest to different people and companies. For example, for a solar developer data that demonstrates what a risk portfolio looks like, or how its product might compare with a broader national average would be useful.
Whereas financing companies are more interested in finding out if a system is producing what it should be, and whether companies are making their payments. An estate agent or property company might be interested in how effective solar panels on a building are, and whether they are adding value to a home.
"We're working with a lot of players whose job it is not to monetise data, and make it easier for them to do that," says Ulrich. "It's a side output of the work that they're already doing, in a way that helps to benefit everyone."
The US sector and beyond
Since April, Orange Button initiative already has some of the leading solar utilities involved in the programme, including two of the largest financial institutions in the US. Also, there are many small businesses participating and making their voices heard.
The initiative could boost the solar sector by making transactions easier, as well as speeding up processes. The team is helping installers get a larger range of systems financed, with the hope that consumers will now have a clearer understanding of transactions around the systems, as sometimes these costs are not fully transparent.
"Access to high-quality data impacts about 54% of the total price of a residential PV system."
"When we were putting this programme together, we realised that access to high-quality data impacts about 54% of the total price of a residential PV system," Ulrich says. "That was one of the big drivers on why we felt we needed this robust data infrastructure to reduce the soft costs.
"We really feel like this kind of rapid and seamless exchange of data is definitely going to make a big difference on the financing transactions, which can be over half the cost of, half the soft costs of a project."
The team says that soft costs have always been an invisible barrier in the solar industry, and that the sector has been calling for data transparency for a long time.
"We've only had work going on since April, so we're really excited to see the industry coming together around this," Ulrich says. "For a $4m award this is potentially impacting billions of dollars of capital deployed, and we think that's a really great investment."
It's looking to be a success story in the US, and Ulrich thinks the same principles could soon be applied to other countries too.
"Hopefully we'll discover that other countries are able to take some of the lessons that we've learned here and potentially give them value out of it as well," she says.