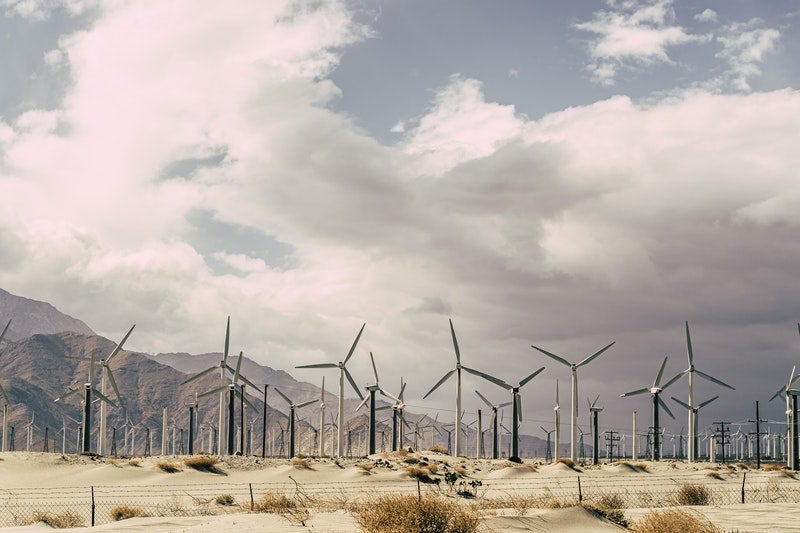 Our poll asked 'Would a global recession slow down or speed up the roll-out of renewables?' 54.1% of respondents said that a recession would slow it down, whereas 33.7% said it would speed it up. A further 12.2% think that there would not be any significant change in the growth of renewables.
According to a report published in April by the International Renewable Energy Alliance (IRENA), renewable energy capacity at the end of 2019 reached 2,537GW, increasing by 176GW – slightly less compared with the 178GW increase recorded at the end of 2018.
As a result of the Covid-19 coronavirus outbreak, renewable energy growth is expected to slow down, as the pandemic has hit the global chain of production and single companies alike, with projects consistently being delayed or cancelled.
Research firm Aurora Energy Research found that solar and wind projects could be significantly impacted as a result of the drop in European prices, with 34GW at risk across several countries.
Danish wind turbine manufacturer Vestas has laid off 400 employees as the company has decided to focus on short-term projects, deferring some research and development (R&D) projects with immediate effect.
Siemens Gamesa Renewable Energy (SGRE) has withdrawn its financial guidance for the 2020 financial year due to the pandemic. The company also said that the onshore sector will likely be the most hit.
A new analysis published on 15 April by the American Council on Renewable Energy (ACORE) revealed that more than 106,000 jobs in the renewable energy sector were lost because of the economic fallout caused by the coronavirus.
ACORE president and CEO Gregory Wetstone said: "This analysis quantifies in stark terms the damage Covid-19 is already doing to the renewable energy workforce, and the devastating trajectory we're facing absent help from Congress.
"The renewable sector is being hit hard by supply chain disruptions, shelter-in-place orders and other significant pandemic-related delays.
"In the end, we're all in this together, and the renewable energy industry wants to be a key economic driver to help the nation through this downturn, as well as an effective climate solution over the long haul."
On the other hand, IRENA director-general Francesco La Camera stressed the importance for governments to focus on renewable energy sources as a solution to revive the economy.
"Governments can turn to a renewables-based energy transition to bring a range of solutions at this difficult moment. Many renewable technologies can be ramped up relatively quickly, helping to revive industries and create new jobs.
"These should be major considerations as policymakers put together recovery measures. A purely market-driven approach will not be adequate, either to respond to the immediate crisis or to mobilise longer-term investments.
"Governments will have to consider innovative approaches to secure financing at the required scale and speed. Clear long-term objectives, combined with targeted public investment and appropriate market incentives, will also enable the private sector to act swiftly and confidently."
In the UK, renewable energy association Renewable UK does not see a huge impact on investments as a result of the outbreak.
Clarke said: "We're not seeing an impact on investment as a result of Covid-19 at this stage. We don't expect any delay to the next CfD [Contracts for Difference] auction round as a result of Covid-19.
"We are in regular contact with ministers in BEIS [UK Department for Business, Energy and Industrial Strategy] and those talks have been positive; we are working together to ensure we secure much-needed new capacity to keep the UK powered up in the years ahead."