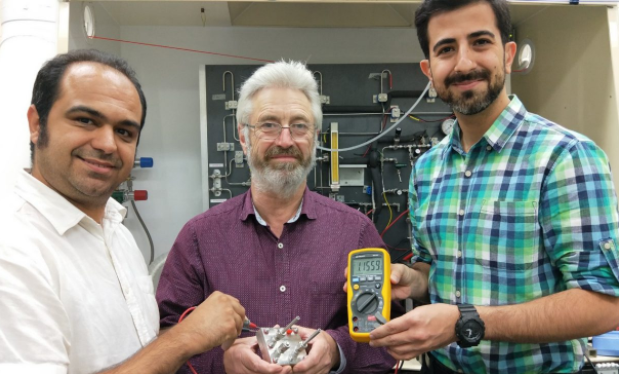 Researchers from the Royal Melbourne Institute of Technology (RMIT) have developed a proton-powered battery prototype that is more efficient and less environmentally damaging than existing lithium ion batteries.
Their paper, 'Technical feasibility of a proton battery with an activated carbon electrode', published in the International Journal of Hydrogen Energy, reports that a proton battery with a carbon-based electrode will contribute to 'meeting the gargantuan demand for electrical energy storage that will arise with the global shift to zero greenhouse emission'.
"The proton battery is one among many potential contributors towards meeting this enormous demand for energy storage. Powering batteries with protons has the potential to be more economical than using lithium ions, which are made from scare resources," said lead researcher Professor John Andrews.
"Carbon, which is the primary resource used in our proton battery, is abundant and cheap compared to both metal hydrogen-storage alloys, and the lithium needed for rechargeable lithium ion batteries."
The battery features a carbon electrode and a reversible fuel cell which enables the battery to be rechargeable.
When the battery is charged, water is split in the reversible fuel cell to produce hydrogen. The hydrogen is then conducted through a cell membrane to bond with storage material with the aid of electrons supplied by the applied voltage.
When the battery is supplying electricity, this process is reversed; hydrogen atoms are released from storage and lose an electron to become protons once more, where they pass through the cell membrane and combine with oxygen and electrons from the external circuit to re-form water.
This process does not burn carbon or produce greenhouse emissions, unlike fossil fuel-powered sources.
Carbon is also a more abundant and cheaply-available resource than metal, hydrogen and lithium-based battery materials.
The prototype battery was able to store as much energy per unit mass as commercially-available lithium ion batteries, despite having an active surface area of only 5.5cm2, smaller than an Australian 20 cent coin. This is before the battery had been optimised.
"Our latest advance is a crucial step towards cheap, sustainable proton batteries that can help meet our future energy needs without further damaging our already fragile environment," Andrews said. "As the world moves towards inherently-variable renewable energy to reduce greenhouse emissions and tackle climate change, requirements for electrical energy storage will be gargantuan."
The team named household storage from solar panels and larger-scale storage on electricity grids as potential uses for the technology, and Andrews quoted 1-10kWh as a possible scale for a commercial battery system. Yet he is also aware that scaling the technology could provide a challenge.
"A key challenge in scaling up the storage capacity will be the form the carbon electrode will take, either in a single cell or in a stack of cells," said Andrews.