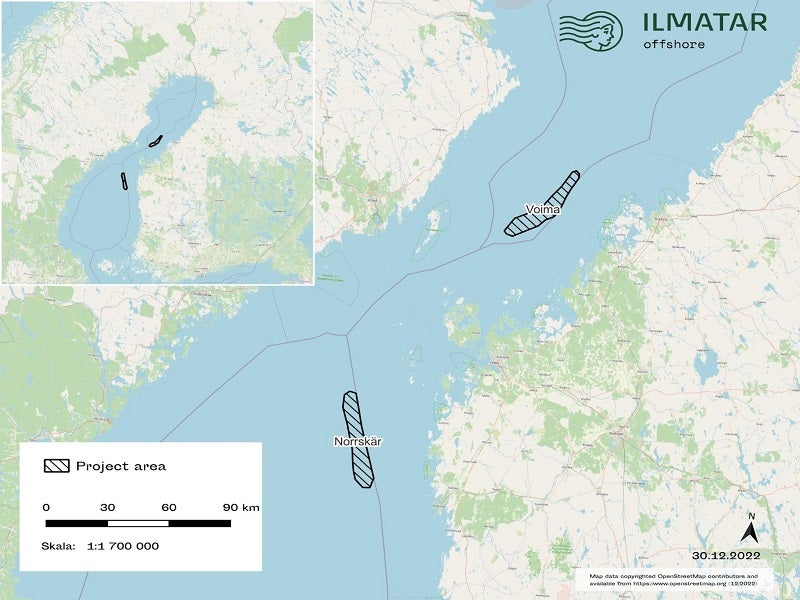 Finnish energy company Ilmatar Offshore has been awarded research permits by Finland's Ministry of Economic Affairs and Employment for two offshore wind sites in the country's exclusive economic zone (EEZ).
The first site is located nearly 30km from Jakobstad, while the other is about 70km south-west of Vaasa. The two sites cover approximately 700km² in total.
Ilmatar has named the projects Voima and Norrskär. These projects are in Ostrobothnia's coastal waters, covering 323km² and 389km² respectively.
Ilmatar CEO Juha-Pekka Weckström said: "In order to secure long-term value chains, domestic operators must be able to use offshore wind power developed in Finland's EEZ areas.
"It should be self-evident, and it is also in Finland's interest, that domestic operators operate in Finland's EEZ areas.
"That is the only way to ensure long-term value development and joint development work with the Finnish industry."
Ilmatar said that although it is too early to estimate the capacity and number of turbines that can be installed in the two areas, the preconditions were felt to be 'very good'.
The company previously suspended the Voima and Norrskär projects, but having secured the research permit, their development will now continue and receive official project status.
Ilmatar Offshore regional manager Anna Häger said: "These areas are absolutely still of interest to us.
"The permitting procedure in the EEZ areas is still unclear, but we know that the principle 'first come, first served' does not apply here.
"Obtaining a research permit or presenting a completed environmental impact assessment does not give priority.
"As a Finnish operator, we want to be involved in developing offshore wind power in our home country.
"We are now proceeding with tenders for seabed surveys and environmental impact assessments in these areas and plan to start work as soon as the sea conditions allow."