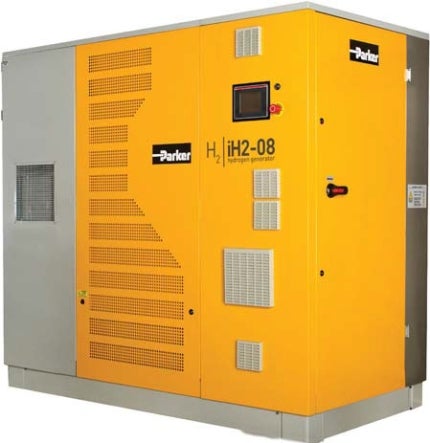 iH2 Hydrogen Generator (ATEX)
Producing hydrogen gas from DI water, the new Parker iH2 alkaline cell design offers a cost-effective, energy-efficient, reliable and safe alternative to traditional hydrogen gas supplies such as cylinder or liquid.
iH2 hydrogen generators provide an on-demand, continuous source of hydrogen gas in high volumes that can be used in a wide range of power generation and renewable energy applications.
Features and benefits:
Hydrogen gas with up to 99.9995% purity
Hydrogen flow rates of 8.6m³/hr and 10.6m³/hr
Complies with ATEX equipment directive 94/9/EC
Built-in hydrogen conditioning
Hydrogen pressures of 5bar, 12bar or 30bar
Applications:
Generator and alternator coolant gas
Alternator/gas compressor cooling
Hydrogen re-gas (make-up gas for leakage)
Purge of generator or alternator – commissioning or shutdown
Domnick hunter line of MaxiGas Nitrogen Generators
Need continuous nitrogen gas on demand? The domnick hunter line of MaxiGas Nitrogen Gas Generators produces this vital gas from compressed air.
A cost-effective, reliable and safe alternative to traditional cylinder or liquid nitrogen supplies, MaxiGas can be used in a wide range of power plant applications and can be multi-banked, if required.
Features and benefits:
Can operate from a standard factory compressed air supply
Delivers 5% down to 10ppm oxygen content, without the need for any additional purification
Built-in oxygen analyser for continuous purity monitoring
Digital and analogue outputs for remote monitoring
Alarm capabilities
Applications:
Boiler or HRSG wet or dry lay-up
CEMS line purging
DI water and condensate (sparging and blanketing of tanks)
Ammonia storage tanks
Oil reservoir blanketing
Nitrogen blanketing on transformers, load tap changers and circuit breakers
With 50,000 employees serving 500,000 customers in almost 50 countries, Parker is literally everywhere you...