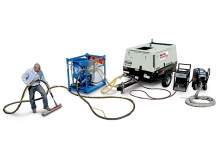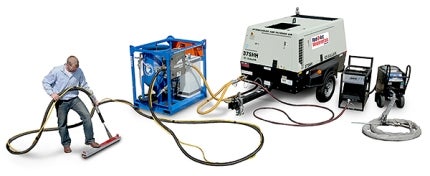 Equipment diversity sets Red-D-Arc apart in the industry. When clients require equipment found outside the typical welding equipment catalogue, the company offers a list of welding-related speciality equipment.
Available custom equipment includes plasma cutters, smoke extractors, electrode ovens, flux holding ovens, gas cylinder cages, heat treating systems, mobile welder certification trailers, compressors, oxy-fuel cutting equipment and air carbon arc gouging (CAC-A) equipment, as well as pipe bevelers, induction heating systems and blast cleaning equipment.
Induction heating systems (IHS) are available for rent, lease and sale. This highly efficient technology uses non-contact heating to induce heat electromagnetically rather than using a heating element in contact with the part. Red-D-Arc offers both the ProHeat 35 air-cooled system and ProHeat 35 liquid-cooled system.
Red-D-Arc offers Cold Jet dry ice blasting and FARROW blasting equipment for rent, lease and sale, which provide environmentally sustainable cleaning and advanced surface preparation.
Various capacity Cold Jet Aero units are available depending on ice-volume requirements and the application, as well as a selection of nozzles and accessories. FARROW's patented 'eco-friendly blasting' system uses heat and 100% recycled glass to speed the coating removal process.
With a blasting range of 30psi to 130psi, the FARROW system can effectively remove tough industrial coatings, as well as gently clean fragile historical artifacts.