Balcas' plan to build a bio fuel pellet CHP plant received a £1 million interest free loan through NIE's SMART programme.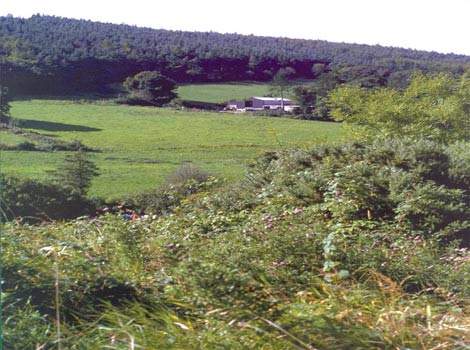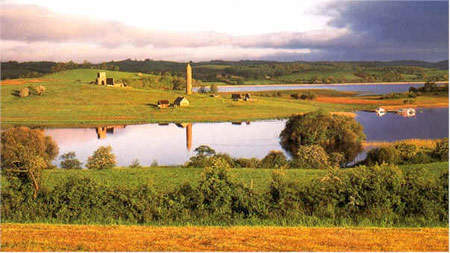 Most sawlog produced in County Mayo is transported to Balcas Timber.
Construction at a new bio fuel pellet plant at the Balcas timber processing facility outside Enniskillen, Fermanagh, in Northern Ireland was completed in 2005. It was officially opened on 15 November 2005. The £9m Balcas facility produces 50,000t of fuel pellets yearly, making it the UK's largest supplier. It is the world's first biomass facility to produce renewable heating fuel using wood pellets.
The wood pellets are made using sawdust and wood chips from Balcas' timber processing activities. The pellets feed an on-site Combined Heat and Power (CHP) plant that provides all Balcas' heating and electricity needs, as well as supplying 10,000 Northern Ireland homes.
Pellets help take advantage of the plentiful supply of wood from renewable forests in Northern Europe. Timber is renewable, cheap and readily available. The whole process is carbon dioxide neutral. The industry also brings well-paid jobs to the rural economy for growing and harvesting the wood, and producing and distributing the pellets.
Biofuel pellets are one of the fastest growing sources of renewable energy in Europe. Balcas claims that they could produce energy for 25% of new homes in rural Northern Ireland, in particular, ones that cannot rely on wind power.
Balcus Sawmill CHP project
Balcas produces a large surplus of sawdust and woodchips, which are converted by the plant into small (2cm) pellets. These are burned in domestic and industrial boilers.
Wood pellet boilers operate efficiently and with a convenience normally associated with oil and gas central heating boilers. The boilers can be used in an average single home or to heat small district heating systems. Wood pellet stoves have the added advantage of a living flame. They can also be used to heat the domestic hot water or to heat the whole building with a standard central heating system. These units can be easily installed within the home and are programmable, safe, convenient and clean.
Plant
"The plant saves £0.5m of energy cost and the surplus is provided to the National grid."
The Balcas plant generates 2.7MW of electricity and 10MW of heat, making the Enniskillen site energy self-sufficient. Processing the sawdust and wood chips on site eliminates 10,000 heavy truck journeys a year (1.5 million truck miles) from Northern Ireland's roads.
The plant also gives a secure customer for the forestry sector, and help protect over 1,000 jobs in rural Northern Ireland. The second Balcas plant makes high density wood pellets with a capacity of 50,000t/yr.
The plant saves £0.5m of energy cost and the surplus is provided to the National grid.
Financing
The project received £2m funding from the Department of Trade and Industry (DTI), with a £1m interest free loan through the SMART (Sustainable Management of Assets and Renewable Technology) programme from Northern Ireland Electricity (NIE). NIE's SMART Programme encourages alternative electricity supplies in Northern Ireland.
The UK Government's Energy White Paper commits to producing 10% of electricity from biomass and other renewable sources by 2010, and 60% CO2 reduction by 2050. The DTI's Bioenergy Capital Grants Scheme has provided nearly £350m over four years for projects like the Balcas CHP generator.
Balcas Timber
"A £15m investment at the company's Enniskillen head office site has made it one of the most advanced sawmills in Europe."
Balcas Timber expanded from a single site in 1988, when it acquired extra facilities. These included sawmills in Magherfelt, County Derry, Newtowngore, County Leitrim, and Tallin, Estonia, an MDF processing plant at Kill, County Kildare, and a pallet business near Belfast.
A £15m investment at the company's Enniskillen head office site has made it one of the most advanced sawmills in Europe. It has computer controlled log positioning and saw setting, with optical vision systems creating a 3D image of each incoming log. This achieves the highest possible yield, with a line speed of up to 120 linear metres per minute. An automatic stacker can handle 120 pieces of wood per minute, and an automatic 100-bin sorter can grade the different lengths, widths and thicknesses of wood.
Turnover has grown to £72m in 2004, and production to over 350,000m³ of sawn wood per year (a third of which goes to the construction industry).