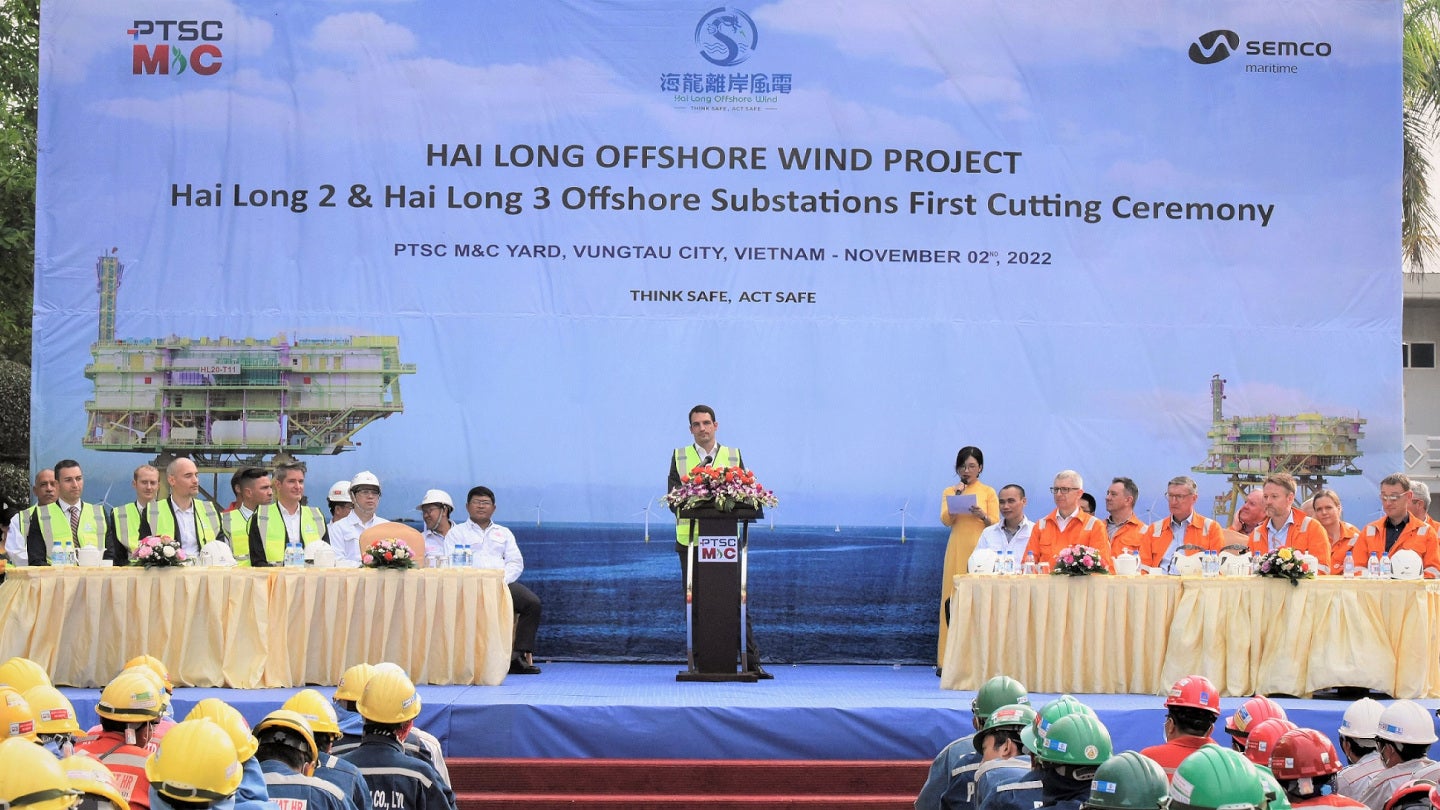 Hailong offshore wind power will be one of the largest offshore wind farms in Taiwan, with a total installed capacity of 1,044MW. It will be located about 50km off the coast of Changhua County in water depths of up to 55m.
The project will consist of Hai Long 2 and Hai Long 3 wind farms. It will align with the Taiwan Government's effort to promote renewable energy development and support local industries.
Offshore installation for the project is expected to begin in 2024 while commissioning will be completed in 2026. The project will power more than one million households in the country.
Ownership details
The development of the Hailong offshore wind power project was jointly initiated by the Canadian power producer Northland Power with a 60% stake and Yushan Energy, an offshore wind project developer based in Taiwan, with the remaining 40% stake in 2016.
In August 2018, Mitsui & Co, an investment company based in Japan, acquired a 20% stake in the project by buying a 50% stake in Yushan Energy Taiwan.
Northland Power sold 49% of its total stake in the project to Gentari International Renewables, a Malaysian clean energy company, in December 2022. Northland currently leads the construction and operation activities with a 30.6% stake, while Gentari holds a 29.4% stake, Yushan Energy Taiwan holds a 20% stake and Mitsui & Co holds 20% in the project.
Hailong offshore wind power project details
The 1,044MW Hailong power project includes Hailong 2A wind farm with 300MW capacity, Hailong 2B with 232MW capacity, and Hailong 3 with 512MW capacity.
The wind farms passed the environmental impact assessment by Environmental Protection Administration (EPA) in December 2017 and the final version of the environmental impact assessment report received approval for submission in July 2018. The EPA approved the second amendment to the reports' final version submission in July 2022.
The wind farms will be installed with 73 SG 14-222 DD offshore wind turbines on a tripod casing-type underwater foundation. The foundation will be 94m high, and the weight of the single seat will be 2,000t. The construction of the foundations is expected to commence in April 2023.
Two offshore substations will be built for the project, fabricated at PTSC M&C's yard in Vungtau City, Vietnam. The groundbreaking ceremony for the offshore substations was held in November 2022, and their installation is scheduled for 2024.
The onshore substation for the project will be developed in Changhua Binhai Industrial Zone in Changhua County. The substation will be equipped with four transformers, which will be connected to all three wind farms between 2024 and 2025. The substation system will comprise high-voltage gas-insulated switchgear, air conditioning equipment, diesel generator, and other heavy electrical equipment.
Turbine details
Based on IntegralBlade® technology, each SG 14-222 DD wind turbine has 14MW capacity. It features 222m diameter rotor with a swept area of 39,000m² (419,792ft²), and a blade length of 108m.
Power purchase agreements
Northland Power entered a 20-year power purchase agreement (PPA) with Taiwan Power Company (Taipower) for Hai Long 2A offshore wind project in February 2019.
In July 2022, the company signed a corporate PPA with an investment-grade counterparty to supply 100% of its power generated from Hailong 2B and 3 with a combined capacity of 744MW. It will be supplied at a fixed rate for 20 years.
Contractors involved
CSBC-DEME Wind Engineering (CDWE), a marine engineering company based in Taiwan and a joint venture between DEME and CSBC, signed the first large-scale balance of plant (BOP) preferred supplier agreement (PSA) for the project in October 2019. The agreement includes engineering, procurement, construction and installation (EPCI) of the foundations, and cable works, as well as transportation and installation of the turbines. The agreement was followed by the receipt of large contracts covering the transportation and installation of the foundations, turbines and offshore substation in November 2022.
CDWE will use its offshore marine installation vessel, Green Jade as one of its main working vessels for the project activities. CDWE signed an exclusivity capacity agreement with CSBC to fabricate and supply pin piles for the 300MW Hai Long 2A offshore wind project in May 2021.
Samkang M&T, a shipbuilding and repairing company based in South Korea, was contracted for the fabrication of jackets for foundations in August 2022. The company will supply 52 jacket foundations for the project by December 2024.
The contract to manufacture and supply the tripod casing-type underwater jacket foundations was awarded to Century Wind Power, a subsidiary of Century Iron and Steel Industrial, in December 2022.
TECO, an industrial electrical components manufacturer based in Taiwan, secured the EPC contract for the construction of an onshore substation in the Zhangbin Industrial Zone in October 2021.
Siemens Gamesa Renewable Energy, a subsidiary of Siemens Energy, was contracted for the supply of 73 SG14-222 DD wind turbines for the project in October 2022. The contract includes 15 years of service, with an option to extend it for another five years.
In August 2022, a consortium of Semco Maritime with PTSC M&C secured an EPC contract for offshore substations for the project. The project will also be supported by the primary sub-contractor ISC Consulting Engineers, an engineering consulting company.
The consortium appointed Gavin & Doherty Geosolutions, an offshore engineering and design consultancy that is a subsidiary of Venterra group, to perform the basic and detailed engineering for the geotechnical and seismic design of the project.
Taichuan Huanhai Wind Power Engineering agreed to provide services such as transportation and installation of the underwater foundation, wind turbines, and offshore substations for the project. Ranhai Emerald Ship, a working ship, will be used for the same.
LS Cable & System, a cable manufacturer based in Korea, will supply the cables for the project including ultra-high voltage submarine cables. Hellenic Cables, a cable segment of Cenergy Holdings based in Europe, will provide approximately 140km 66kV XLPE insulated inter-array cables and accessories for the project.
Mitsubishi UFJ Bank (Mitsubishi UFJ Financial Group, MUFG) and Cathay United Bank (Cathay United Bank) were selected as financial advisors for the project.
Fugro IOVTEC, a Taiwanese entity of Fugro, was appointed to conduct the geotechnical site investigation for the project.
Doris, an engineering, advisory, and project management company, was selected to provide pre-financial investment decision (FID) project management and conceptual engineering and front-end engineering design (FEED) design services for the project.