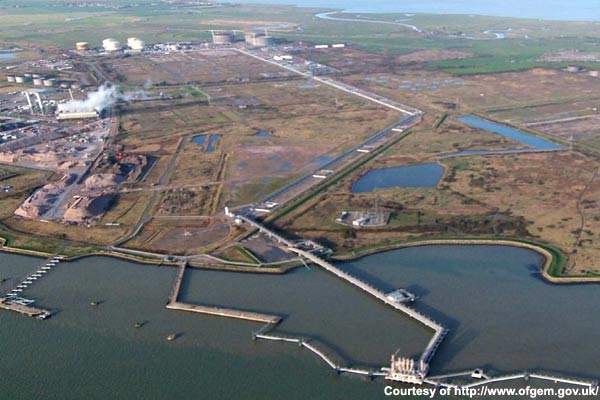 E.ON has built a 1,275MW gas-fired combined heat and power (CHP) station on the Isle of Grain in Kent, UK. The £500m station has three combined-cycle units that burn natural gas and supply waste heat in the form of hot water to the nearby liquefied natural gas (LNG) terminal. The first firing of the plant (Unit 6) took place on 2 June 2010. This makes Grain one of the world's largest CHP plants, and will take its overall efficiency to an expected 72%.
The new Grain power station is built under a turnkey contract by Alstom for £580m, and is powered by three Alstom GT26 gas turbines. Alstom also has a 12-year service agreement with Grain.
Work started in May 2007. Construction and commissioning activities on site were completed by May 2010, with commercial operation expected to start in the last quarter of 2010.
Then, it will produce enough electricity to supply around a million homes and will also supply 340MW of heat energy to the National Grid LNG terminal, resulting in emissions of up to 350,000t of carbon dioxide each year.
CHP transfers 340MW to LNG Vapourisers
National Grid's Grain LNG terminal uses natural gas to heat the liquefied natural gas into a usable form. LNG is unloaded at National Grid's importation terminal from ships and stored in cryogenic tanks at -162ºC.
When gas is needed, LNG is warmed into its gaseous form and delivered into the national transmission system to meet gas demand.
"The plant will produce enough electricity to supply around a million homes."
The terminal was expanded in 2008 to £355m to triple the capacity and enable up to 12% of UK gas demand to be imported through it by the winter of 2008.
The new CHP scheme will transfer up to 340MW of heat energy recovered from the steam condensation process within the CCGT to the LNG vaporisers, allowing for a reduction in carbon emissions of up to 350,000t a year.
A pipeline will be built between the two sites to convey warm water from the power station to the importation terminal through new pipelines.
Isle of Grain CHP project
The Grain plant will be at the same site as the existing oil-fired station. This 30-year-old oil-fired plant develops 1,355MW and is used infrequently, but must close for environmental reasons by late 2015.
E.ON UK's other investment plans include a new CCGT at Drakelow in Derbyshire, £1bn for coal-fired units at nearby Kingsnorth in Kent, £300m on the world's biggest offshore wind farm (Robin Rigg in the Solway Firth), £90m on building the UK's largest dedicated biomass power station at Steven's Croft in Lockerbie, and the multi-million pound Lunar Energy tidal stream project.
Alstom's GT26 has a low-NOx EnVironmental (EV) burner, a compact annular combustor and a robust, maintenance-free, welded rotor design. It uses established mechanical and electrical auxiliary systems and Egatrol GT controls.
The GT24/GT26 gas turbines are optimised for combined-cycle applications. They burn natural gas as a primary fuel and fuel oil as backup. The Combustion System allows a wide range of natural gas compositions to burn with high Wobbe index fluctuations. In addition, the GT24/GT26 can burn natural gases with high hydrocarbon content.
Plant details
"The Grain plant will be at the same site as the existing oil-fired station."
With three rows of variable guide vanes on the compressor, the engine has a high turn down ratio. The design maintains the exhaust gas temperature going to the Heat Recovery Steam Generator (HRSG), giving part load efficiencies higher than normal for this class of engine. The combination of sequential combustion and the EV burner also give the engine low emissions across a wide load range.
The GT24/GT26 can operate in all three major modes: base load, intermediate duty and daily start and stop. They can take single- and multi-shaft arrangements. Engines have also been successfully used for repowering.
E.ON is also planning to fire up units 7 and 8 in near future.