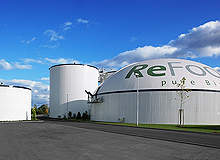 UK-based food waste recycling company PDM Group has constructed a new biogas plant at its headquarters in Doncaster, South Yorkshire, UK, at an investment of £12m.
The plant will convert 45,000t of food waste into renewable energy each year. It is being operated under the European organic disposal brand named ReFood.
The plant broke ground in September 2010 and was officially opened in September 2011. The biogas plant will produce 2.8MW of power an hour, sufficient to power 5,000 homes.
"Power from renewable sources form 5.5% of the UK's total supply."
ReFood recycles food waste from PDM's customers including retail chain Sainsbury and commercial caterer Baxter Storey. The power generated from the plant will be used for domestic consumption by PDM Group while excess power will be supplied to the national grid.
In addition, it will produce 40,000t of nutrient-rich liquid fertiliser which will be supplied to local farms under the brand name Dynagro.
The UK generates 20 million tons of food waste each year as landfill. The nation is finding more solutions to limit climate change caused due to the excessive use of fossil fuels in power generation.
The ReFood biogas plant will help in reducing landfill, carbon emissions and reliance on fossil fuels, thus contributing to the government's strategy of producing 50% energy from renewable sources by 2050.
Development
ReFood was developed by a joint venture of Germany-based SARIA Bio Industries (10%) and PDM Group (90%). Scunthorpe-based building, civil engineering and structural steelwork contractor Britcon was chosen as the principal contractor.
Design and construction was undertaken by Doncaster-based architectural firm John Hill Associates.
There are already four ReFood Plants in Germany which collect waste from 60,000 points across the country through 14 logistics centres. Five more plants are being developed in Germany. The new AD plant is the first such facility in the UK. It created 35 jobs.
Project
The UK produces more than 100 million tons of organic material annually, of which 12 million to 20 million tons is food waste, 90 million tons is agricultural material such as slurry and manure, and 1.73 million tons is sewage sludge.
The project provides a sustainable solution for all the waste producers opting for a safe method to reduce landfill. It provides a closed-loop recycling service by collecting waste from the adjacent food factories of PDM and, in turn, supplying heat to generate power.
PDM collects unsold or unusable food products from retail chains, households or kerbside. These are recycled at the existing integrated processing plants to produce renewable energy with the help of a new anaerobic digester (AD) plant.
Plant details
The plant has a food waste reception area and houses a de-packaging plant, anaerobic digester and a combined heat and power (CHP) plant.
The de-packaging plant handles waste from across the food chain, including food manufacturers, retailers, restaurants, hotels and households to separate all types of waste for recycling.
The AD converts the food waste into biogas. The CHP plant generates heat and energy.
Technology
The AD uses a natural degrading process in controlled conditions to generate biogas. Generation of power through this process takes about eight weeks – three weeks for digestion of food waste and five weeks for composting.
Similar to the process of composting, the AD breaks down the organic material into a combination of methane and carbon dioxide gases in the absence of oxygen.
"The ReFood biogas plant will help in reducing landfill and carbon emissions."
Instead of being lost in the atmosphere, methane is captured and used as biogas to fuel the CHP engines to generate power.
This technology is more environmentally friendly as it generates 80% less odour and occupies just 50% of the space compared to composting.
The liquid produced in the process contains two thirds of the nutrients that can be used as fertiliser.
UK power market
Power from renewable sources form 5.5% of the UK's total supply. The sources include offshore and onshore wind energy and biomass.
As of 2008, 399.6TWh was supplied, of which 117.8TWh was consumed by the domestic sector and 113.6TWh by the industry. There was around 4% increase in the capacity of the plants that were fuelled by biomass.