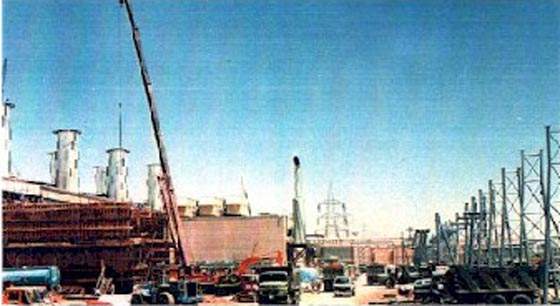 A $960m, 1,200MW expansion of the PP 9 combined-cycle plant in Riyadh has taken the unit to 3,000MW in total. The combined cycle plant (PP 9) has been built on a site of 3.2 million m² about 54km east of Riyadh. This construction, together with an expansion of the existing PP 8 facility, made Riyadh the largest crude oil-fired power plant in the world.
PP 9 was fully online from August 2008. It consists of blocks A, B, C, D, E & F with overall capacity of 5,980MW. A new contract has also been awarded for an additional 1,725MW PP 10 unit. Apart from PP9 and PP10, a new plant, PP11, is planned keeping Saudi Arabia's power demand in view. The construction of PP11 is in progress and is scheduled for completion by March 2013.
Saudi Consolidated Electricity Company – Central Region (SCECO Central) serves the Saudi capital Riyadh and the surrounding region. SCECO has been consolidated, together with the other regional power companies, into a single joint-stock company. This has been privatised to streamline operations.
With one of the highest electricity rates in the world, the Kingdom is increasing production to 70,000MW by 2020. The expected cost of this increase is $117bn between 1995 and 2020. In recent years it has invested in more than 2,000MW of additions to its power plant outside Riyadh. PP 7 and PP 8 have been expanded by 300MW and 500MW, respectively. All the units burn Saudi crude as a primary fuel.
Riyadh crude oil-fired power plant details
"The PP 9 construction, together with an expansion of the existing PP 8 facility, made Riyadh the largest crude oil-fired power plant in the world."
At the start of 1994, the Riyadh site comprised twenty simple-cycle ABB gas turbines. PP 7, PP 8 and PP 9 commitments for a total of 2,000MW were made in stages, starting in early 1994 when GE reached an agreement for the supply of six gas turbines to expand PP 7 by 300MW.
In November 1994, GE signed a contract for a 350MW extension of PP 8 worth $164m. Each of the six gas turbines ordered has a capacity of 59MW, and is used in simple-cycle mode. The expansion took unit seven capacity up to 1,150MW. Crude oil is the primary fuel, with distillate as a backup.
In June 1995, GE announced that it had won a $1.4bn turnkey contract to further extend PP 8, and to build a new combined-cycle power plant (PP 9). The expansion to PP 8 called for four more MS7001EA gas turbines.
PP 9 was originally a 1,200MW, oil-fired, four-block, combined-cycle unit. The plant operates on a closed cycle, so there is minimal consumption of water, which is drawn from ground wells. The first PP 9 gas turbine was completed in mid-1997, and the first combined-cycle block was commissioned in the same year. The original plant was completed in 2002.
PP 9 and PP 10 CCGT power plants
The main contractor on the original PP 9 project was Saudi American General Electric (Samge), the local affiliate of GE. Almost half of the plant was constructed in Saudi Arabia with a peak labour force of 2,500. This included the civil works and fabrication of the heat recovery boilers and condensers.
PP 9 comprised four GE STAG 407EA combined-cycle units. Each unit consists of four MS7001EA gas turbines, each rated at 83.5MW at ISO conditions, four heat recovery units, one 100MW steam turbine, five generators and one air-cooled condenser. The gas turbines were manufactured in GE's gas turbine plant in Greenville, South Carolina, while the steam turbines and generators were manufactured in GE's Schenectady, New York, facility.
Three local companies have been prequalified to bid for the PP 10 EPC contract. The plant is expected on line between 2014 and 2016.
Riyadh power plant construction contracts
The UK office of Switzerland's Electrowatt Engineering Services supervised construction. The Jeddah-based Saudi Binladin Group (GE's local partner) carried out civil and electrical installation work.
Raytheon Engineers & Constructors won the $300m contract to supply and install the 16 main boilers, four condensers, fuel tanks and a fuel pipeline link to the planned multi-products pipeline from Dhahran to Riyadh.
This contract had originally been allocated to Jubail-based Saudi Belleli Heavy Industries but they were unable to provide $36m-worth of performance bonds because of the financial problems within the Italian parent company. A 50-50 joint venture of international contractors Agra and the Saudi Binladin group won the sub-contract for the fuel line. Foxboro provided process control on the project.
"With one of the highest electricity rates in the world, the Kingdom is increasing production to 70,000MW by 2020."
Reyrolle Power, part of the UK's Rolls-Royce Industrial Power Group, won the $300m contract to supply and install the 380kV substation that links PP 9 to the SCECO Central / SCECO East grid.
The substation has 30 bays of 380kV gas-insulated switchgear, plus control and protection systems and other plant and equipment, including 132kV switchgear.
ABB won a $175m contract to provide electrical equipment for the Reyrolle substation. ABB Contracting supplied the substation's 132kV gas-insulated switchgear, the static compensator to regulate network voltages and auxiliary services.
Al-Bawardi Consulting Engineers supervised civil construction of both the substation and the 132kV overhead lines which link the substation to the grid. Sadelmi Technical Construction Company carried out the civil engineering work on the scheme and was also responsible for constructing the overhead lines, which were sourced from Sadelmi's Italian affiliate.
A contract worth $3bn was awarded to Arabian Bemco in June 2008. The contractor will install 3,000MW in PP10. Initially, 36 GTG turbines will be installed. Completion of PP10 increases installed capacity of Riyadh up to 20%.
Independent Power Projects (IPP) not integrated with desalination facilities were tendered by the SEC, mainly to local contractors. In 2006, an estimated 2,500MW of new generation capacity was tendered via IPPs. The upgrades/construction include Al- Qurayyah -I (850MW, Phase II – 1,900MW), the Faras facilities (509MW), Riyadh, and the crude-powered al- Jauf (60MW, online in 2008).
GE also supplied a further four gas turbine generators for PP 8. These units were added to the six existing gas turbines.
Plant finance
The $2bn PP 9 project was set up to be self-financing. A special project fund was set up by the Saudi Arabian Monetary Agency (SAMA) to collect extra revenues raised by the electricity tariff increases for large consumers introduced in the 1995 budget.
The US Export-Import Bank insured equipment imports totalling $595m for PP 9 against political risk.