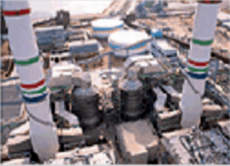 Unit three of the Ulchin power plant, the first based on KSNP design.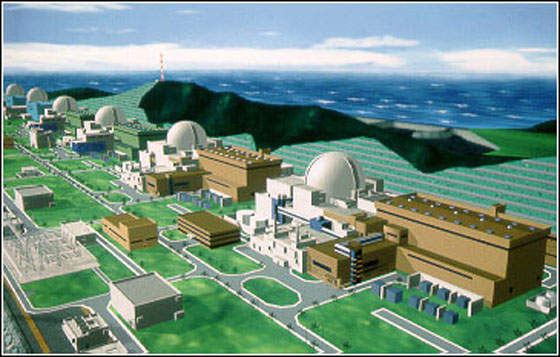 Yonggwang power plant units five and six. Completion was in 2002.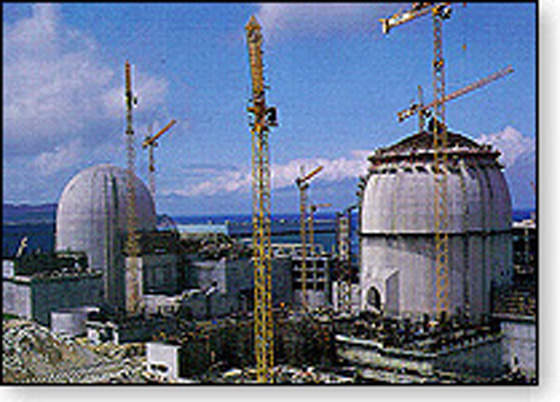 Yonggwang plant comprising 2x1,000MW steam units.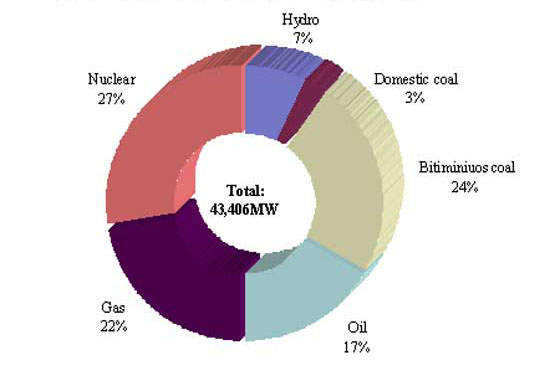 KEPCO generation capacity by technology, 1999.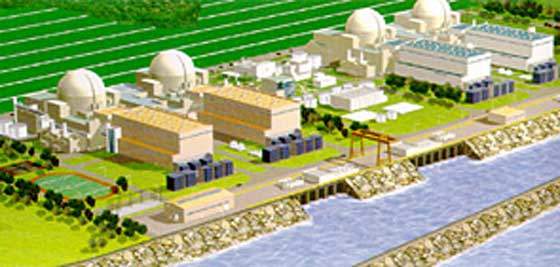 Unit three of the Ulchin power plant, the first based on the KSNP design.

The KSNP nuclear design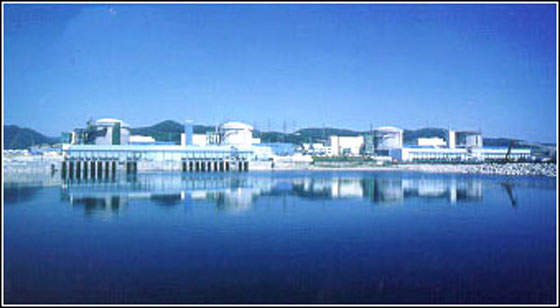 Wolsung nuclear plant units three and four.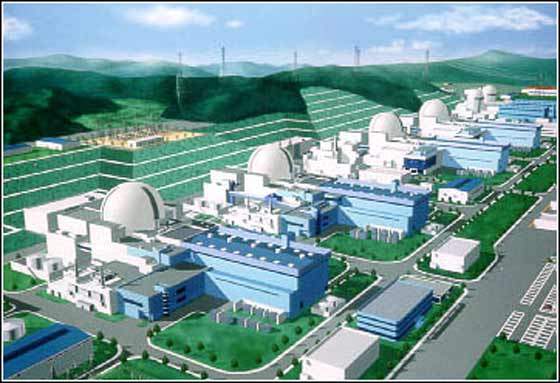 Ulchin units five and six.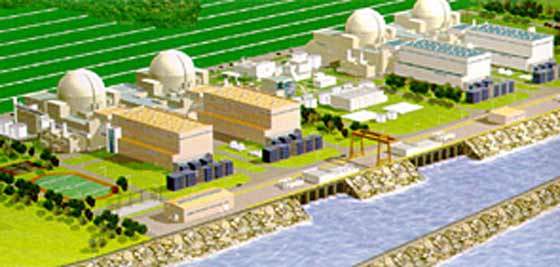 New KSNP design.
Yonggwang units 5 and 6 are on line. They spring from the standardised Korea nuclear power plant design, and are similar to those used at the Ulchin project, which is now nearing completion. Two 1,000MW block orders were placed in 1995, just after completion of Yonggwang units 3 and 4.
Units 5 and 6were completed in 2002. Total investment was an estimated $4bn. Korea's economic crisis increased the cost of its dollar obligations for Yonggwang by as much as 350bn won (€303m).
South Korea has eight reactors planned for 2015. Korea hopes to have a total capacity of nuclear energy production of 13,000MW by that point.
YONGGWANG OPPOSITION AND DELAY
Yonggwang was one of the first of the state-owned utility (Korea Electric Power Co – KEPCO) projects to attract serious local opposition. Political reform in South Korea has devolved some power from the centre. Local politicians in Yonggwang used their new strength to slow down construction.
Hanjung (Korea Heavy Industries and Construction) was due to begin construction in December 1995, but a delay was brought on by the cancellation of construction permits for the site by Yonggwang County, South Cholla Province.
"South Korea has eight reactors planned for 2015."
PROJECT FINANCE ISSUES
Hyundai Construction Co and KEPCO agreed to extend the construction period by about ten months to have the project completed by the end of 2002. Hyundai Construction agreed to forgo claims on some several billion wons worth of damages resulting from the delay. Instead it negotiated with KEPCO to reflect these damages in wages and materials costs and other project costs.
Another potential hold-up occurred after the Korean won lost about 40% of its value in foreign exchange markets. KEPCO's was forced to suspend dollar payments to ABB-Combustion Engineering in 1998 because of the lack of hard currency. But throughout 1998, work continued as KEPCO and ABB-CE were able to agree interim financial arrangements.
NUCLEAR POWER PLANT MAKE-UP
KEPCO subsidiary, Korea Power Engineering Company, Inc. (KOPEC), has participated in all the nation's nuclear power plant construction projects since it was founded in 1975. In 1987 it became the prime engineer for Yonggwang nuclear units three and four. This led to the development of the Korean Standard Nuclear Plant (KSNP) a 1,000MWe pressurised water reactor system first used for Ulchin nuclear units five and six.
CONTRACTS AND SUPPLIERS
KOPEC supervised the overall Yonggwang project. Hanjung worked in partnership with ABB Combustion Engineering Nuclear Systems under a $200m contract. The contract specified engineering design and components for the two 1,000MW light water nuclear steam supply systems and associated nuclear technology.
Hanjung also supplied the turbine generators in partnership with GE. Sargent & Lundy won a design consultancy contract following its earlier work on Ulchin and Yonggwang units 3 and 4. Construction work worth $688m went to Hyundai and its joint venture partner Daelim (73% and 27% respectively).
KOREA'S NUCLEAR SECTOR
KEPCO operates twelve nuclear reactors, many of which boast some of the world's highest operational ratios. The total energy generated by the nuclear power plants accounts for more than one-third of total electricity consumption. A key benefit for Korea is seen as the savings in foreign currency as a result of cutting imported energy sources. KEPCO calculated that when all its nuclear power plants reached commercial operation, the foreign exchange savings would be nearly $6m per annum.
STANDARDS FOR SAFE AND EFFICIENT OPERATION
Developing the Korean standard system from the ABB System 80 design means the KSPN has a pedigree of safe and efficient operation. The three Palo Verde units in the US have had a successful operational record since their start-up in the 1980s.
"The Yonggwang units 3 and 4 feature in the top ten in world nuclear plant performance."
The Yonggwang units 3 and 4, which went into commercial operation in 1995 and 1996, feature in the top ten in world nuclear plant performance.
KEPCO has reported that Yonggwang unit 4 achieved "One Cycle Trouble Free" operation after 387 days of continuous operation. During this third fuel cycle, the unit achieved 102%, with no shutdowns.
The Ulchin 3 and 4 units, which were the first KSPNs, have also achieved good performance to date. Unit 3 achieved a 103% capacity factor and a 100 % availability factor during its first cycle of operation.