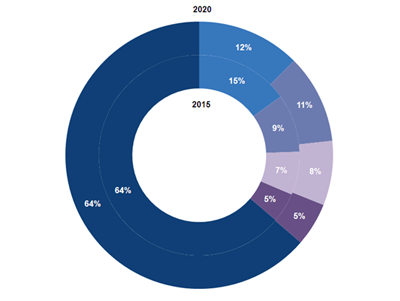 The global gas insulated switchgear (GIS) market is expected to show steady growth in the future and reach $8.61 billion in 2020 from $5.23 billion in 2015 according to GlobalData's recent report on the global GIS market. In the emerging economies of Asia-Pacific and the Middle East, extensive power plant capacity additions, economic growth, and the need to improve access to electricity are driving grid expansion and the GIS market.
On the other hand, in developed economies such as North America and Europe, the key driver for the GIS market is the need to upgrade the existing aging transmission network. Globally, countries are establishing cross-border networks and renewable installations to have a secure and reliable power, leading to increasing demand for GIS, especially in the high voltage segment.
The US, the biggest GIS market in the world, accounted for a 15% market value share in 2015, growing at a CAGR of 7.2% during the period 2010–2015. The US GIS market is forecast to witness steady growth at a CAGR of 6.2% between 2015 and 2020, accounting for a 12% share in 2020. Saudi Arabia stands second in the global GIS market with a share of 9% in 2015 and has the highest market value in the Middle East region. China and India are a distant third and fourth place with shares of 7% and 5%, respectively, in 2015.
The advent of the modern smart grid and the aging infrastructure of the US are expected to drive the growth of the GIS market. Saudi Arabia's shift from an oil-based economy into other sectors has supported the growth of the Transmission and Distribution (T&D) sector. In emerging nations such as India and China, new capacity additions mainly through renewable energy sources and expansion of transmission infrastructure are driving the GIS market. The increase in share of renewable energy will lead to increased investment in the global T&D networks. The upgrading of old T&D networks is expected to lead to a high demand for GIS in the future.
Related research
Gas Insulated Switchgear Market, Update 2016 – Global Market Size, Competitive Landscape, Key Country Analysis and Forecasts to 2020 GlobalData's latest report "Gas Insulated Switchgear Market, Update 2016 – Global Market Size, Competitive Landscape, Key Country Analysis and Forecasts to 2020" provides comprehensive information and understanding of the GIS market. The report offers in-depth analysis of GIS market at global, regional (Asia-Pacific, Americas, Europe, and Middle East and Africa) and key countries (the US, Canada, Germany, the UK, France, Saudi Arabia, China, India, Japan and Australia) level