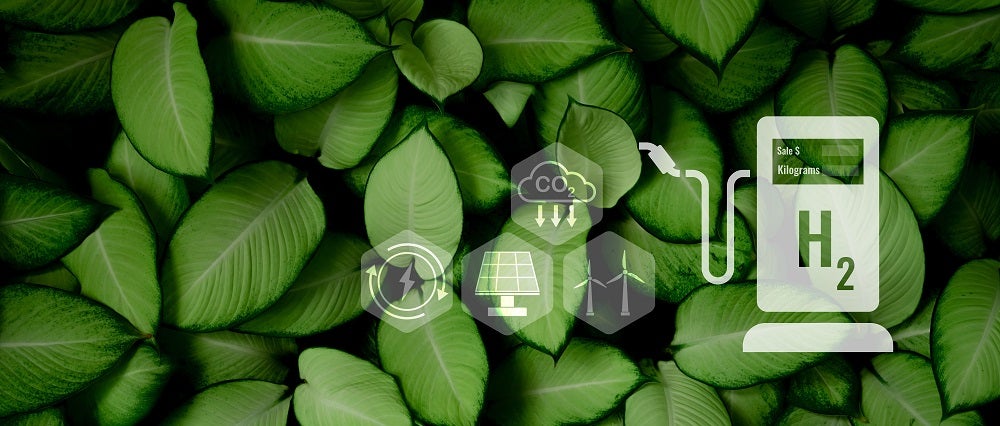 Decarbonising heavy industry used to seem like an impossible task. For sectors such as chemicals production, steelmaking, and long-haul transport, their energy needs are too great to be met by electrification alone.
But Power-to-X could be the game changer the industry has been waiting for. Joachim Meister, Group Senior Vice President, Low-carbon Energy, Worley, explains: "Power-to-X is a term we use for a range of technologies that convert electricity into a different fuel source ['X'], such as renewable hydrogen, methanol, ammonia or even sustainable aviation fuel," he says. The electricity comes from a low-carbon source, typically solar, wind or hydroelectric, but could also come from nuclear reactors. The low-carbon electron is used to power an electrolyser to produce green/renewable or pink hydrogen. From there, renewable hydrogen can be an energy source itself, or enable the production of other low-carbon fuels such as green ammonia."
According to Andrea Buetler, director Power-to-X, the solution has the potential to set even the biggest emitters of carbon on the path to net zero. "Power-to-X is an evolving term. You can look at it just from a chemicals process view, but what differentiates Power-to-X as a concept is being inclusive of not just the flow of the electron into a molecule and then into an end-use, but also looking into its enabling elements. The way we look at Power-to-X is ensuring we take an integrated viewpoint of what enables, inhibits, or challenges that process. That includes social, water, environmental, safety risk etc. To make a project successful, it is key to de-risk them and understand that risks can come from many areas."
For Buetler, risk includes assessing the "social licence" to operate of an energy project and getting the acceptance of the local community as well as analysing the environmental and safety impact, plus the long-term implications on the community overall. "It's much broader than just saying, 'We have a piece of land; we have electrons; we will make low carbon fuel.' It's the various elements required to make it happen. You can have a business case, the land, and everything to make the project work, but if a community feels they're not benefiting enough from it or their voices are not being heard, the project will likely be challenged and there's a good chance it's not going to happen."
Buetler states that one primary reason energy projects fail, including renewables, is because of challenges with social acceptance and how a project has been implemented in a specific community. To build social licence, we need to engage respectfully and share benefits with communities and Indigenous peoples and manage potential social impacts.
Another debated reason relates to water – a hugely contested resource in the world. "Business models must make sure that water is available long-term in a sustainable way. Water is critical to Power-to-X processes as the electrolyser splits water into hydrogen and oxygen molecules," says Buetler.
"It is important that hydrogen is adopted as the backbone of our energy systems, that's been acknowledged. Power-to-X can be viewed as a car that builds the wrap around the hydrogen molecule as an engine and decides the origin and end destination of the end-product. Looking at it from that way, the number of variables is enormous, and that gives optionality and choices to the producers. There are technology constraints and economic rationales, but when considering the element of electrolysis, a Power-to-X approach gives us a playbook," says Buetler.
Power-to-X, Y, Z: the many uses of renewable hydrogen
The most straightforward Power-to-X solution is Power-to-Hydrogen. In place of CO2-intensive grey hydrogen made from natural gas, renewable hydrogen, also commonly known as green hydrogen, can be used as a feedstock in refining processes to produce e-fuels.
Another use for renewable hydrogen is in the production of ammonia, which is needed in a variety of industrial processes, for example as a feedstock to manufacture fertilisers and other chemicals.
In steelmaking, it can be used instead of coal or natural gas to generate the intense heat required in the manufacturing process.
Alternatively, renewable hydrogen can be turned into synthetic methanol, which has a range of industrial applications, from use as a feedstock in the chemicals industry to the manufacture of consumer products such as textiles, glues, and plastics.
Methanol is also used as a fuel, and green methanol is seen as a promising means of decarbonising marine transportation, currently responsible for 3% of global carbon emissions.
Renewable hydrogen itself can be used as a fuel. "Hydrogen can be a clean energy carrier in long-haul transport," says Meister. "The IEA estimates hydrogen-based fuels will meet 28% of our transport energy needs by 2050, powering trucks and trains over long distances that exceed the capacity of batteries."
Long-haul flights are most likely beyond the range of electrification, but sustainable aviation fuel (SAF) offers a potential pathway to net zero. Together with captured CO2, renewable hydrogen can be used to make synthetic kerosene, which offers enormous opportunity to be produced at scale as a sustainable alternative.
Collaboration is key to success of Power-to-X projects
None of these pathways are without their challenges, though.
The amount of electricity required to produce the green fuel or feedstock is enormous, for one thing. "We're working on some of the largest Power-to-X projects in the world, including a green ammonia project in Oman," says Meister. "Its electricity demand exceeds the total installed capacity of Denmark."
Renewable power sources are inevitably variable as well when they rely on the weather. As turning hydrogen into fuels, ammonia or methanol requires an uninterrupted supply of hydrogen, plants will need to integrate adequate energy storage to maintain production, while keeping the costs of it viable.
Striking this balance often requires Power-to-X to be a collaborative effort, involving partnerships not just between renewable power producers and industrial energy consumers but also third parties such as Worley.
"These projects require the expertise to bring solutions together in a new way at scale, and that's often outside the core business of both the power generator and the [industrial] customer," says Meister. "Power generators know what it takes to produce renewable energy, and energy customers know their core processes inside out. Power-to-X is about putting all the pieces together."
Collaboration is key, agrees Buetler. "Over the last few months, we have engaged with a large variety of organisations in the Power-to-X ecosystem. And we specifically asked those question, 'What does this collaboration mean to your business? What does this partnership mean for you? And what do you want to achieve through increased collaboration?' There is a recognition that to be successful, in this space – because of the scale and complexity – you can't do it alone."
Organisations, even those with seemingly similar skills, says Buetler, are now increasingly open to collaborate. Aspects such as determining water resources for large-scale projects and the impact the projects will have on a social and environmental level are "redefining how we engage with a community. We need to rethink how we approach that."
This collaboration, she says, can help drive innovation. It also reinforces the acknowledgement of a common goal. "We must decarbonise. People no longer debate that," she says. "There is a recognition that the world has moved to the point of no return. But things are not set in stone. How projects are going to be incentivised and subsidised at scale is still not clear. That creates a positive tension. Organisations have the fear of losing out. I have found, consequently, a very positive environment has been created."
New dynamics
Buetler also feels the relationships between the private and public sectors will continue to be redefined. "Governments are expected to make tremendous effort for the industry to take-off. That naturally comes with a re-definition of the role a government plays in the energy sectors. In Power-to-X, most players are from within the private sector; oil and gas companies, renewable energy companies and emerging new players. Because of direct and indirect support mechanisms the government is inherently increasing its presence and role in the sector, which is creating a different set of dynamics," she says.
"Suddenly a government is not just a regulator, issuing permits and licences and ensuring environmental and social engagement process is in place, they themselves are a stakeholder, or in some countries they are even becoming shareholders. I expect that relationships between governments and the private sector will drastically change."
So, what does the future look like for this space? "Power-to-X is an integrated part of our overall energy system," says Buetler. "It has a lot of potential but it's not the only solution. Rather than us just looking at the creation of a hydrogen molecule, Power-to-X will be a vehicle to accelerate that process. If we're smart, it can also be a vehicle to help us de-risk projects. If you do that, you can accelerate the journey towards delivering a sustainable future."
Further details:
In their From Ambition to Reality series, Worley proposes five key shifts in thinking about and approaching projects on the road to net zero. Download the white paper below to find out more.