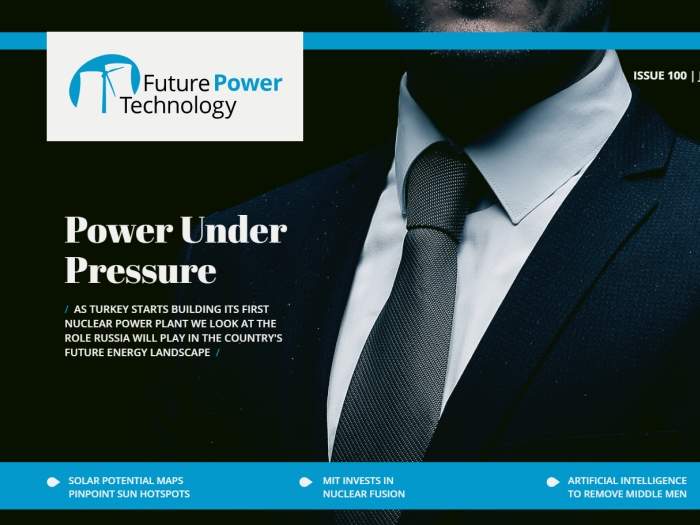 Turkey has been celebrating breaking ground on the country's first nuclear power plant, brining hope for dependable, low-carbon energy for the people – but critics are concerned about the wider implications. Rosatom, Russia's state-owned new firm, is managing the construction, which some fear will give Russia even greater influence over Turkey's political leanings via its energy supplies. We explore what the nuclear plant means for Turkey and its volatile international relationships.
Also in nuclear, we ask whether fusion technology is now providing a good reward for its high risks as Italian oil company Eni reportedly considers doubling down on its investment, we discover what solar potential maps can bring to the sector, assess what net metering of batteries could mean for the rooftop solar market, and find out how artificial intelligence could replace third-party intermediaries between energy providers and their customers.
Elsewhere, Atlantis Resources announced in March that construction had been completed on Phase 1A of the MeyGen project, the world's largest tidal power plant. Now formally entering a 25-year operations phase, we examine just what MeyGen will do and whether we should expect similar projects to soon follow.
Click here to read the latest energy industry news and analysis, and join the conversation on Twitter.
In this issue
Sun Traps: Mapping Areas of Solar Potential Solar potential mapping projects are underway around the world, including Google's Project Sunroof, which has just been rolled out in the UK. We take a look at how solar potential maps work and what they hope to achieve. Click here to read
Tidal Barrels Ahead as MeyGen Kicks into Gear Atlantis Resources has announced the completion of Phase 1A of the world's largest tidal power plant, MeyGen, as the project formally enters its 25-year operations phase. So what can we expect from MeyGen, and will similar tidal projects follow? Click here to read
Can MIT Make Fusion Power a Reality? Italian oil company Eni is investing $50m in an MIT spinout that's collaborating on the development of superconducting magnets to produce zero-carbon energy in a fusion power experiment called SPARC. We get the lowdown from Commonwealth Fusion Systems CEO.   Click here to read
Russia's Hand in Turkey's First Nuclear Power Plant As Russia's state atomic corporation Rosatom starts work on Turkey's first nuclear power plant, critics caution that the project will further increase Russia's influence over the country. We examine what the project means for Turkey and its international relationships. Click here to read
Could Artificial Intelligence Replace Energy Industry Intermediaries? AI offers disruptive potential in many areas, including the role currently performed by third-party intermediaries that connect utilities and customers. We speak to tech start-up Open Energy Market CEO to find out how AI could impact these relationships. Click here to read
Selling Solar: Using Net Metering to Unlock Household Solar A proposal to enable solar battery users to sell their stored energy to the grid has gained local utility approval in California, US. Could battery net metering satisfy all parties, and what would it mean for rooftop solar? We find out. Click here to read
Preview – Future Power August
A small, lightweight fission reactor that can generate 10KW of electricity, Kilopower is the first successful test of a new nuclear design for a power plant in space for more than 40 years. NASA has been developing the design since 2012 and expects the reactor's inaugural space flight to take place in the 2020s, with the intent to have Kilopower hopefully serve as the energy source for a lunar space station.
We ask what the challenges of developing nuclear for space are, and whether the technology could also be used terrestrially. Ørsted abandoned the oil and gas market last year to refocus on becoming a major player in the global wind turbine market. We speak to the company to find out how it is adjusting to the green energy market.
Elsewhere in renewables, we find out if excess solar and wind power could be a promising source of hydrogen, and find out from technology group Voith what they hope to achieve with their newly established hub for hydropower projects in Addis Ababa.
We find out about the green credentials of a newly developed gas that could reduce the environmental impact of electrical transmission systems by as much as 99%, and investigate whether the SolarTogether London scheme could help kickstart a solar boom.
About Future Power
You can now read Future Power Technology for free across all devices, including mobile. It is still free to read and you can subscribe to get all the latest news, analysis and insight on the global energy industry delivered straight to your phone.
You can also browse our back issues in our archive, available on desktop and on iPad.