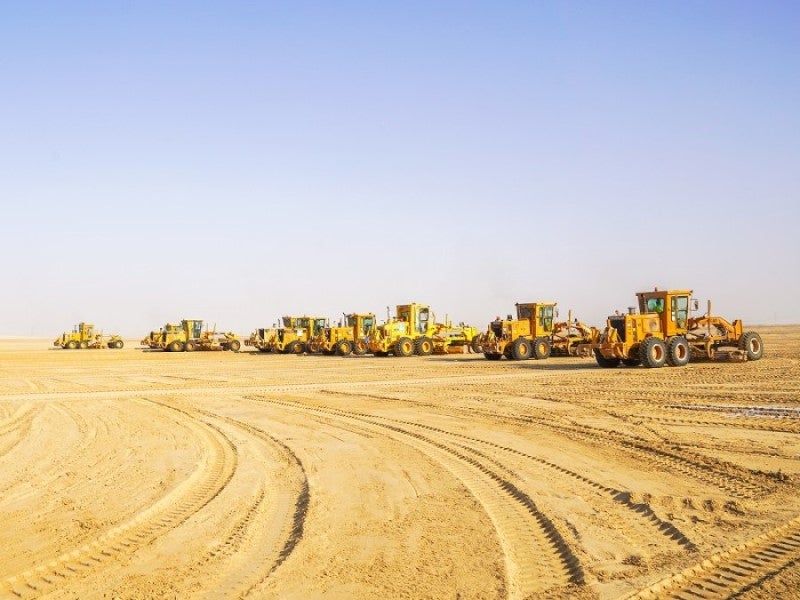 China Energy Engineering Group Hunan Thermal Power has signed a construction contract for the 2,000MW Al-Dhafra solar photovoltaic (PV) independent power project (IPP) in Abu Dhabi.
China Machinery Engineering Corporation (CMEC), the project's $1bn engineering, procurement and construction (EPC) contractor, said Hunan Thermal Power will undertake sub-contracting work on the project.
CMEC announced winning the project's $1bn EPC contract in January last year.
It broke ground on the site of the project in July. The project involves deploying 4 million bifacial solar PV modules mounted on 30,000 single-axis sun trackers.
In September, CMEC appointed Arctech and Sungrow, both of China, for the supply of solar trackers and inverter equipment to the project, respectively. The same month, Hitachi ABB Power Grids said it will supply CMEC with large generator step-up transformers, protection and telecommunications systems for the project.
Project milestones
State utility Emirates Water and Electricity Company (Ewec) signed the power-purchase agreement (PPA) and shareholders agreement with the developer consortium that will implement the project in July 2020.
The consortium comprises Abu Dhabi National Energy (Taqa), which will own 40% of the project; and Masdar, France's EDF and China's Jinko Power, which will each own 20%.
The project reached financial close in December 2020, with seven international banks providing project financing.
Ewec received five initial bids for the contract to develop the scheme in November 2019.
The EDF/Jinko Power team submitted a levelised cost of electricity of AED4.97 fils a kilowatt-hour (kWh) (1.35 $cents/kWh).
Ewec had previously said it expects initial power generation from the plant in the first half of 2022 and full generation by the second half of the year.
Once fully operational, the plant will increase Abu Dhabi's total installed solar power capacity to about 3.2GW.
The consultancy team advising the client includes the UK's Alderbook, the US' White & Case and Austria's ILF Consulting.
The project will involve the financing, construction, operation and maintenance of the solar plant under a 30-year PPA.
According to Ewec, the planned solar plant will cover an area of 20 square kilometres and provide electricity to up to 110,000 households.
Upon completion, the project is expected to reduce Abu Dhabi's carbon emissions by more than 2.4 million metric tonnes a year, equivalent to removing about 470,000 cars from the roads.
---
This article is published by MEED, the world's leading source of business intelligence about the Middle East. MEED provides exclusive news, data and analysis on the Middle East every day. For access to MEED's Middle East business intelligence, subscribe here.