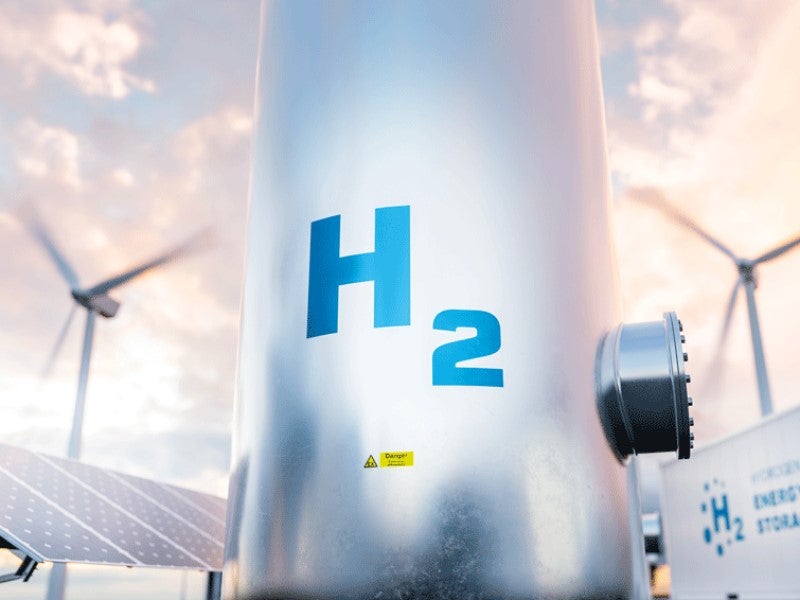 United Arab Emirates (UAE)-based clean energy firm Masdar and local Hassan Allam Utilities (HAU) have signed agreements to develop hydrogen production plants in Egypt with an annual output of 480,000 tonnes of green hydrogen a year.
The planned facilities will be located in the Suez Canal Economic Zone and on the Mediterranean coast. The firms said that the two plants will target an electrolyser capacity of 4GW by 2030.
This planned electrolyser capacity exceeds by 100% the current planned initial phase of the $6.5bn Neom green hydrogen project in Saudi Arabia.
Masdar and HAU signed the memorandums of understanding (MoUs) for the two projects on 24 April with The General Authority for Suez Canal Economic Zone (SCZone), New and Renewable Energy Authority, Egyptian Electricity Transmission Company and The Sovereign Fund of Egypt.
"The agreements will contribute to strengthening the strategic partnership between the UAE and Egypt in renewable energy and green hydrogen," the firms said.
The UN Framework Convention on Climate Change (Cop 27) will be held this year in Egypt and in the UAE (Cop 28) next year.
Projects such as these are expected to boost the two countries' active role in climate action and carbon emissions reduction.
Hydrogen rush
Several green hydrogen schemes have been announced in Egypt since the start of the year. On 22 April, Green Fuel Alliance, a consortium led by France's EDF Renewables and the UAE-based Zero Waste, signed an MOU with Egyptian authorities to develop a green hydrogen-based ammonia facility in the Suez Canal Economic Zone.
The planned facility is expected to produce 390,000 tonnes a year of green ammonia to be used as bunkering fuel for ships, vessels and tankers crossing the Suez Canal.
The project's first phase is planned to be operational in 2026, with the second phase expansion expected to be fully functional by 2030. The team will pair the facility with wind and solar power plants with a combined capacity of 650MW.
On 21 April, Dubai-based clean energy developer and investor Amea Power signed an MoU with Egyptian authorities for a green hydrogen project that aims to produce 390,000 tonnes of green ammonia a year.
In February, Egypt's General Authority for SCZone granted preliminary approval to US-headquartered H2-Industries to develop a 1GW liquid organic hydrogen carrier (LOHC) hub at Egypt's East Port Said.
The planned waste-to-hydrogen scheme is expected to produce 300,000 tonnes of green hydrogen annually using four million tonnes of organic waste and non-recyclable plastic secured at the Mediterranean entrance of the Suez Canal.
---
This article is published by MEED, the world's leading source of business intelligence about the Middle East. MEED provides exclusive news, data and analysis on the Middle East every day. For access to MEED's Middle East business intelligence, subscribe here.