GlobalData's latest report, 'Laos Power Market Outlook to 2035, Update 2022 – Market Trends, Regulations, and Competitive Landscape' discusses the power market structure of Laos and provides historical and forecast numbers for capacity, generation and consumption up to 2035. Detailed analysis of the country's power market regulatory structure, competitive landscape and a list of major power plants are provided. The report also gives a snapshot of the power sector in the country on broad parameters of macroeconomics, supply security, generation infrastructure, transmission and distribution infrastructure, electricity import and export scenario, degree of competition, regulatory scenario, and future potential. An analysis of the deals in the country's power sector is also included in the report.
With supply security through hydropower and being a net exporter of electricity, Laos has the capacity to expedite renewables development depending on funding support from developed countries, as it targets to achieve 30% of its energy consumption from renewable sources by 2025.
Laos' total annual generation was recorded at 36.8TWh in 2021, with 27.5TWh of that capacity exported to neighbouring countries and only 8TWh consumed domestically. Due to its positioning within the Mekong River, Laos has a huge hydropower potential of 23GW, according to government estimates. Currently, hydropower capacity in the country is 9.6GW. There are several upcoming hydropower projects aimed at electricity exports.
Laos is diversifying its power mix through renewable expansion, particularly hydro, solar and wind. The country also has set a conditional target to achieve 1GW of total solar and wind capacity and 300MW of biopower capacity by 2030, depending on the level of support it receives from developed countries. According to current estimates, the country is expected to achieve 0.6GW solar PV capacity and 150MW biopower capacity by 2030, falling short of its targets.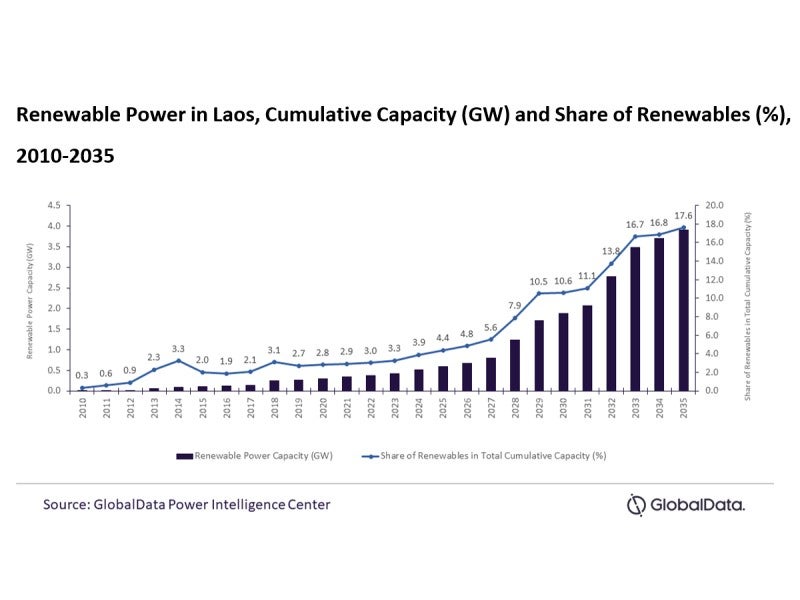 However, Laos has shifted towards coal power in recent years, as it struggles with a massive sovereign debt of $12.6bn that makes it difficult for the country to avoid the expansion of coal-powered plants. In March 2021, the government signed a $2bn agreement with Electricite du Laos Transmission Company (EDLT), a Chinese-owned company, to manage a significant part of Lao's power grid for the next 25 years.
Laos is looking towards foreign investments for renewable power development to avoid coal-power expansion. The country currently has a project pipeline of 3.4GW of wind capacity, more than 1GW utility-scale solar PV capacity and over 9.1GW hydropower capacity.
Laos' GDP (at constant prices) increased from $7.1bn in 2010 to $13.7bn in 2021, at a CAGR of 6.1%. The GDP of the country underperformed in 2020 due to lockdowns imposed to curb the Covid-19 pandemic. GDP growth was only 0.5% in 2020 from 2019 as compared to 5.5% in 2019 from 2018. In 2021, the GDP grew by 2.5% after the resumption of trade activities. Between 2021 and 2030, the economy is expected to grow at a CAGR of 3.1%, reaching $18.1bn in 2030.