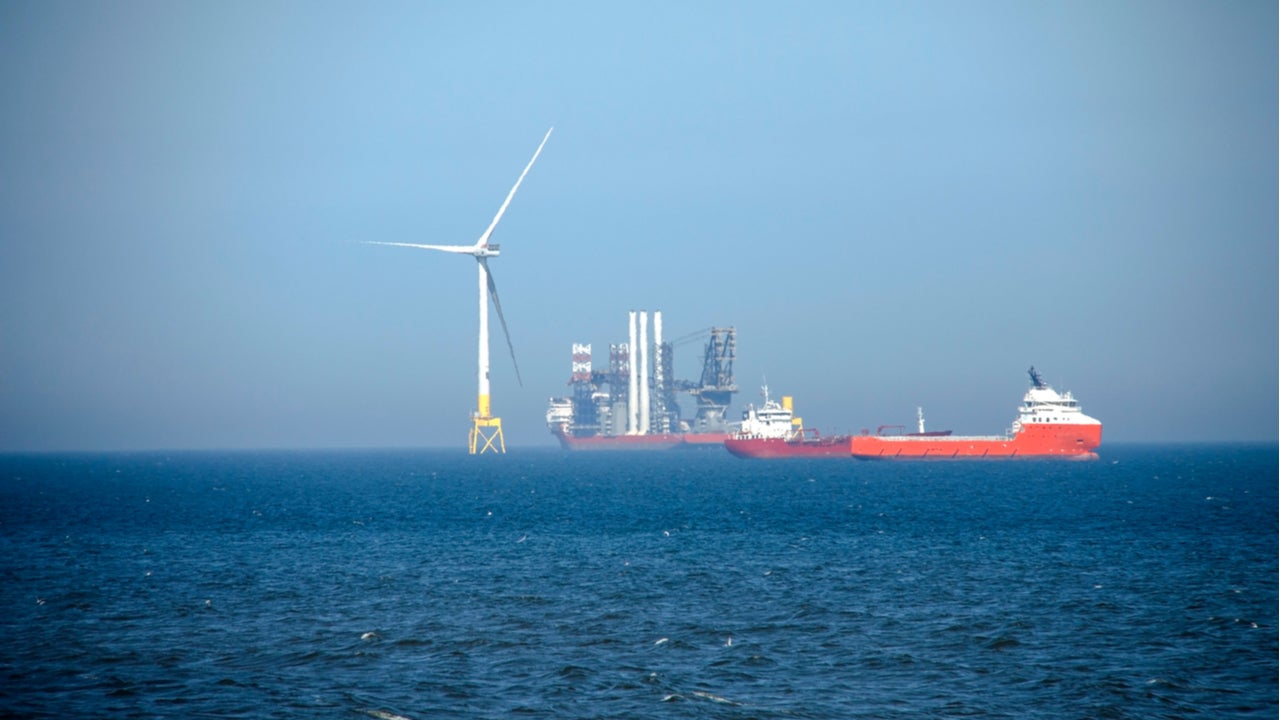 The top tweets were chosen from influencers as tracked by GlobalData's Influencer Platform, which is based on a scientific process that works on pre-defined parameters. Influencers are selected after a deep analysis of the influencer's relevance, network strength, engagement, and leading discussions on new and emerging trends.
Top tweets on power in May 2021
1. Mike Hudema's tweet on Scotland creating new wind energy records
Mike Hudema, a climate campaigner with Greenpeace Canada, shared a video on how Scotland set new wind energy records by generating sufficient electricity from wind energy to power approximately 4.4 million homes in the country in the first six months of 2021. Scotland is aiming at producing half of its energy through renewable sources by 2030 and decarbonise its entire economy by 2050 as part of its plan to fight climate change.
The video detailed how wind is the second largest source of power in Europe and is home to some of the largest renewable energy projects in the world including the world's largest offshore wind farm capable of powering nearly 600,000 homes in the UK. Wind power constitutes 7% of the world's electricity and is being aggressively harnessed by Asia and Europe.
Wind turbines in Scotland now generated almost twice the entire country's domestic power requirements.

We have the solutions. Let's implement them. #ActOnClimate #ClimateAction #Renewables #climate #energy #GreenNewDeal pic.twitter.com/PFhaE4WnwH

— Mike Hudema (@MikeHudema) May 14, 2021
Username: Mike Hudema
Twitter handle: @MikeHudema
Retweets: 144
Likes: 269
2. Bill McKibben's tweet on impact of biomass industry on the climate
Bill McKibben, an environmentalist and founder of 350.org, an organisation addressing climate change issues, shared an article on how the biomass industry is warming up the climate. The Scientists and environmentalists state the felling of trees and burning them causes the emission of greenhouse gases that can heat up the climate. However, governments across the world including the US and Europe maintain that burning wood is not a climate threat but a green climate solution.
Biomass power is now regarded as a renewable energy source with tonnes of wood being transported from the US to European power plants every year to generate electricity. As a result, Europe is producing more energy from burning wood than wind or solar, the article detailed. The biomass industry is now estimated to be worth $50bn and continues to grow at a fast pace. As climate change and green transition take centre stage, it is uncertain whether the US will encourage, discourage or completely ignore the climate issue caused by the biomass industry.
So glad that burning trees for electricity is finally starting to get more attention–it's going to be a key test for the Biden administrationhttps://t.co/2uuhQ3fvrJ

— Bill McKibben (@billmckibben) May 24, 2021
Username: Bill McKibben
Twitter handle: @billmckibben
Retweets: 83
Likes: 249
3. Mark Z Jacobson's tweet on UK's ability to manage with renewables as nuclear power declines
Mark Z Jacobson, a professor of civil and environmental engineering at Stanford University, shared an article on how the UK will have to find ways to manage with renewable energy sources as nuclear power in the country declines. The nuclear industry enthusiasts believe that  nuclear power was the main source of power generation in the country, while wind and solar energy were not dependable.
Experts, however, believe that this may not be true since there are other ways of increasing electricity supply including pumped storage hydro and battery storage, which eliminates the need for the baseload power offered by nuclear reactors. In addition, power generation from nuclear power plants is declining, while output from renewables is increasing.
Nuclear power generation in 2020 was 50.3 terawatt hours (TWh), which is 13TWh less than that generated in 1989 when nuclear energy accounted for 20% of the electricity generated in the UK. Power generation from renewable sources, however, reached 120.3TWh during the same year.
"Nuclear industry is fond of telling us sun doesn't always shine and wind doesn't always blow, as if people in Britain didn't already know that"

But, batteries, other storage mean "baseload power by nuclear is no longer needed"https://t.co/Bkb8lWeOlH @guardianeco @ProfStrachan

— Mark Z. Jacobson (@mzjacobson) May 15, 2021
Username: Mark Z Jacobson
Twitter handle: @mzjacobson
Retweets: 43
Likes: 111
4. Justin Gerdes' tweet on the comparison between DERs and utility-scale energy sources
Justin Gerdes, an energy correspondent, shared an article on rooftop solar panels and home batteries making distribution grids more stable and affordable. The article detailed the misguided comparison between distributed energy resources (DERs) and utility-scale power plants, on which one adds more value. While some advocate DERs to add more value to the overall electricity system, others argue that utility-scale energy is cheaper and is capable of powering more energy-dense modern economies.
New modelling, however, proves that DERs if properly comprehended and deployed can be more valuable. For instance, they contribute towards low costs, greater workforce participation, reduce system costs and are more reliable. They also help in improving overall grid performance, while providing resilience against blackouts.
"Having flexible generation and storage infused throughout distribution grids offers a fantastic tool to help stabilize a grid with growing renewables and increasing electric loads and bring costs down for all ratepayers." @drvolts on @VibrantCE's research https://t.co/sICQ5Ykxyq

— Justin Gerdes (@JustinGerdes) May 29, 2021
Username: Justin Gerdes
Twitter handle: @JustinGerdes
Retweets: 12
Likes: 52
5. Simon Evans' tweet on green transition leading to climate catastrophe
Simon Evans, deputy editor and policy editor for Carbon Brief, a website dealing in climate change issues, tweeted on how the current global green transition wave is expected to lead to a climate catastrophe although it does not mean that countries should stop their efforts in transition to clean energy sources. He shared an article that points at a study on how new renewable energy plants contribute to negligible decline in greenhouse gas emissions when compared to the savings achieved by eliminating fossil fuels.
Evans added that this is true only when accounted for emissions during production, creation, and fuel supply. Some critics have suggested that solar, wind and nuclear power come with high hidden greenhouse gas emissions that add to the climate crisis. For example, factories manufacturing solar panels in China utilise electricity generated from coal-fired power plants, while wind turbines and nuclear power plants require huge amount of steel and concrete.
Hi Jeremy, thanks for engaging.

To your points, we don't need to wait ten years to know that your article is completely wrong about EVs – we already know now.

And since you asked, you're wrong about solar panels, too. I wrote this several years ago:https://t.co/8tGjUKNyrA

— Simon Evans (@DrSimEvans) May 14, 2021
Username: Simon Evans
Twitter handle: @DrSimEvans
Retweets: 5
Likes: 46