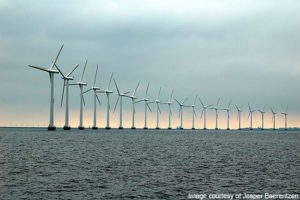 A sustainable green future looks closer as record renewable energy production in UK shows rapid progress is possible.
During the third quarter of 2019 renewable energy in UK provided more electricity to homes and business than fossil fuels.
Advances in technology and price reductions in the renewable energy industry have made such progress possible. Now governments across the world need to do more to help green energy replace fossil fuels entirely.
During Q3 renewables accounted for 40% of the UK energy mix and the National Grid expects green energy to overtake fossil fuel power generation.
Moreover, the UK is far from leading the way regarding widespread adoption of green energy. This suggests that progress around the world could easily speed up if provided with governmental assistance.
The renewable energy transition has a long way to go
According to the Institute of International Energy Agency, during 2018 investments worth $1.8tn were made in the energy sector globally. However, only approximately $300bn was invested into renewable energy. Most of the money went to fossil fuels such as coal.
The renewable segment has competitive advantages over fossil fuels which are behind the growth in the UK and other countries.
Low entry barriers mean everybody could be a supplier. This could be via solar panels or wind turbines installed on homes selling surplus energy back to the power system. This encourages both businesses and households to invest in micro-renewable energy.
While coal and gas remain the dominant suppliers in global energy, the transition will probably take more than 20 years unless more support is provided.
For international targets to be met further investment is needed, especially in developing economies. But so far this funding has yet to be secured.
Governments need to step in for a fast transition to renewable energies
A solution to a slow transition could be public sector investment. Governments could provide long-term capital which would balance the low rate of returns renewable projects currently yield.
It is possible that the model used in oil and gas of creating power companies via the public sector and then privatizing them could be repeated in renewable energy.
However, to achieve that with renewable energies, governments must understand that they have a greater value than short-term financial returns.
Renewable energy is growing swiftly but hydrocarbon fossil fuels continue to dominate the global energy mix.
Many countries around the world, including fast growing economies such as Poland and China, are building coal-fired power stations to take advantage of cheap and plentiful domestic supplies. China is doing this despite dominating the world in installations of solar panels.