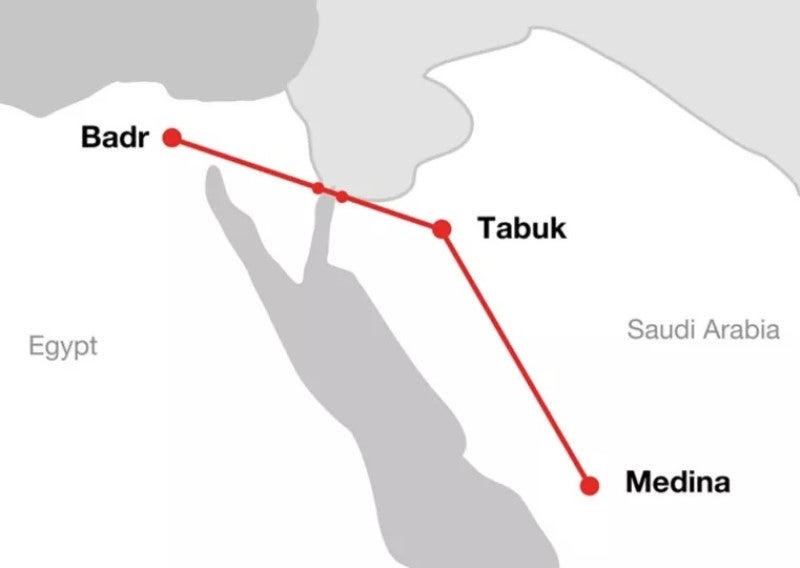 Egyptian Electricity Transmission Company (EETC) and Saudi Electricity Company (SEC) have confirmed the award of several contracts totalling $1.8bn for interconnecting the electricity grids of Saudi Arabia and Egypt.
The scheme is expected to facilitate the daily exchange of up to 3,000MW of electricity at peak times once completed.
It comprises one high-voltage, direct current (HVDC) converter station in Egypt and two in Saudi Arabia, which will be linked via overhead transmission lines and subsea cables.
A team led by Japan's Hitachi Energy, formerly Hitachi ABB Power Grids, won the contract to build three HVDC converter stations to enable the transfer of electricity between the region's two largest states.
Hitachi and Egypt's Orascom will build one HVDC converter station at Badr in north-east Cairo, as well as a transition station in Taba on the east coast of the Sinai Peninsula. From there the interconnector will transition from overhead lines to subsea cables. The Badr converter station is understood to have a capacity of 3,000MW. This contract is estimated to be worth $500m, according to media reports.
For the Saudi side of the interconnector, Hitachi and Saudi Arabia's Saudi Services for Electromechanic Works (SSEM) will build the HVDC converter stations in Tabuk and Medina, which have a capacity of 1,500MW and 3,000MW, respectively.
Italy's Prysmian Group won a $256m (€221m) contract for a 500-kilovolt (kV) HVDC submarine and land cable system between the Badr substation in Cairo and the Medina East substation.
The cable route will cross the Gulf of Aqaba, spanning the territorial waters of Egypt and Saudi Arabia with a route length of approximately 20km and deep-water installation at around 1,000m.
A team comprising China Energy Engineering Corporation, Xian Electric Engineering Company and Egyptian firm Giza Cable Industries won a $130m contract to build a 335km overhead power transmission line between the converter station in Badr to the converter station in the Gulf of Aqaba.
South Korea's Hyundai E&C, Saudi Arabia-based National Contracting Company and Saudi Services for Electro Mechanic Works each won OHTL packages for the 900km, 500kV overhead transmission network passing through Saudi Arabia's Medina and Tabuk regions, then on to the Gulf of Aqaba.
The 1,500MW first phase of the project is expected to be completed in late 2024, with the full capacity expected to be available the following year.
---
Energy Transition in the Middle East    
A major new report from MEED looks at how the global shift away from fossil fuels is reshaping energy policy in the Middle East and North Africa, and its impact on business and project investment.
Learn more about the report here
---
This article is published by MEED, the world's leading source of business intelligence about the Middle East. MEED provides exclusive news, data and analysis on the Middle East every day. For access to MEED's Middle East business intelligence, subscribe here.