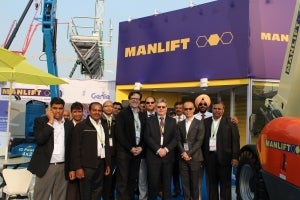 Manlift, the access equipment rental and sales specialist, has signed an agreement with Genie for an official dealership of the Genie brand in India.
The dealership was officially launched this week at the Bauma Conexpo, India. The signing of the agreement between Manlift and Genie took place at Manlift's stand.
Manlift managing director David King said: "By awarding the dealership to us, Genie has shown strong confidence in Manlift to lead the development of the access equipment market in India.
"Our highly motivated team will be able to offer our customers a full range of quality access equipment for a wide variety of applications."
Terex AWP Asia regional vice-president Daniel Ho said: "We consider India as an important growth market for the Genie product range and we are pleased that a progressive company such as Manlift will be representing our brand."
Manlift, the UAE's largest supplier of access platforms and power generators, has signed a strategic...