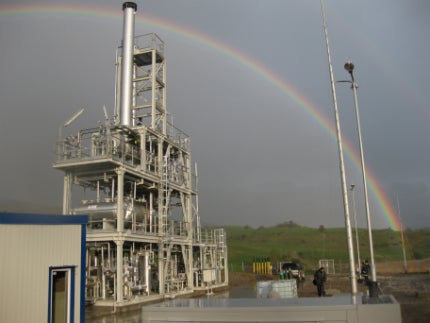 We have developed our engineering expertise in the following types of plants and systems:
Co-generation plants (condensation cycles, back pressure, or recovery)
Downstream and fermentation plants for the chemical or pharmaceutical industry
Wastewater treatment plants
Flue gas or smokes treatment plants
Potable water distribution and pumping plants
Gas extraction, treatment and distributions plants
Pulp and paper preparation and production plants
Industrial furnaces and boiler plants
We are currently developing in the field of renewable energy.
Mechanical, instrumentation and electrical engineering
Our mechanical, instrumental and electrical engineering capabilities include:
Vessels, pressure devices and structural engineering
Racks and supporting engineering
Devices and apparatus data sheets
Pipe dimensioning
Sketches with cross interference
Bill of materials for purchasing or manufacturing
Dimensioning and calculations on vessels, valves or carpentry
Site assistance and start up
Development services
We offer a wide range of development services, including:
Preparation of tender documents or works
Plants and devices certifications or documentation
Related assistance or supervision
Instrument specification development
Cables lists, specification and routing development
Wiring diagram development
JB specifications and wiring diagram
Loop diagram development
MTO electrical and instrumentation development
Specification about control systems
Control strategy and narrative development
Turnkey project management
In addition to our services, we can manage turnkey jobs. Our project managing structure can provide, install and run the following types of systems or facilities:
Control cabinets and systems
Analysis cabinets and systems (liquids or gases)
BMS control cabinets and systems
Skid-mounted systems for liquids or gases
Field electronic or pneumatic instrumentation
Manual, on/off, control and safety valves
Voltage regulators
Speed controllers for water or steam turbines
For all the supplied equipment, we can provide after-sales service and contracts for both scheduled or emergency maintenance.
Control systems for thermoelectric power plants
TNC Tecnoconsulting supplies control systems for thermoelectric power plants with steam turbine and gas turbines, as well as for plants using energy-steam combined cycles.
The plant supervision system implemented by TNC Tecnoconsulting covers turbo-generators, heaters, heat recovery systems, super-heaters, cooling towers, auxiliary plants, fume analysis, electricity and gas cabinets.
PLC systems
We develop automation and control systems based on programmable logic controllers (PLC) of the main manufacturer. TNC Tecnoconsulting has developed applications with PLC systems ranging from the simplest to the most complex, PC-based PLC and soft-PLC, suitable to work also in aggressive environments or in explosion-risk areas.
DCS systems
TNC Tecnoconsulting is always updating its knowledge and applications. Through state-of-the-art, last generational DCS systems (built by the main world manufacturer) we can manage: diagnostic systems, managing interface systems, optimisation and process control systems.
TNC Tecnoconsulting can realise distributed control systems with a continuous presence on the site, until the start-up is complete and final customer acceptance.
About us
For more than ten years we can proudly state that we have offered our customers knowledge, flexibility, timeliness, competitiveness and reliability. Our goal and philosophy is to be always in direct contact with our international customers.
TNC Tecnoconsulting SRL
Via Industria, 31/14 30010
Camponogara
Venezia
Italy