Bodycote Plasma & Thermal is a leading contractor for the supply of coating services to the power generation industry. These services include the provision of:
Engineered thermal spray ceramic coatings
Chromium and tungsten carbide coatings
Highly alloyed nickel based MCrAlY coatings
The technology focuses on the hot sections of the gas turbine, where coatings are applied to OEM specifications for the protection of both new and refurbished components.
HVOF and plasma spray coating services
Located in a modern, well-equipped, coating services facility in Newport, South Wales; Bodycote Plasma & Thermal utilises the most sophisticated plant and equipment, offering plasma spraying, high velocity oxy-fuel spraying (HVOF), flame spraying, automated surface activation, advanced robotic work handling and specialist diamond grinding and wire erosion finishing techniques. Our coating services facility is designed to accommodate a wide and varied range of components for processing, such as:
Combustors and transition pieces – zirconia based thermal barrier coatings (TBCs)
Turbine nozzle guide vanes and blades – high-temperature oxidation resistance (overlay coatings and bond coats) and thermal barrier coatings
A full team of coating technologists and application engineers are on hand to offer expert advice on all aspects of our thermal spray coating technology. Utilising our fully equipped metallurgical laboratory; support services include material selection, coating and application development, coating evaluation and qualification.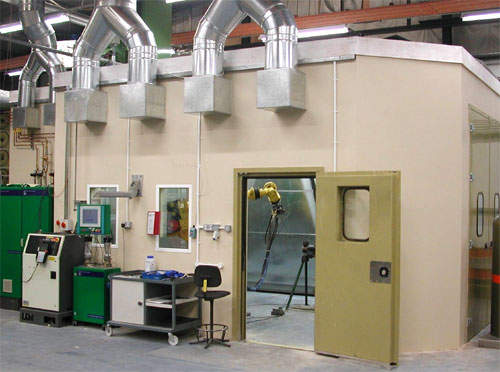 The most technically advanced FST MP100 multi-process coating centre combining HVOF and plasma spray coating technologies.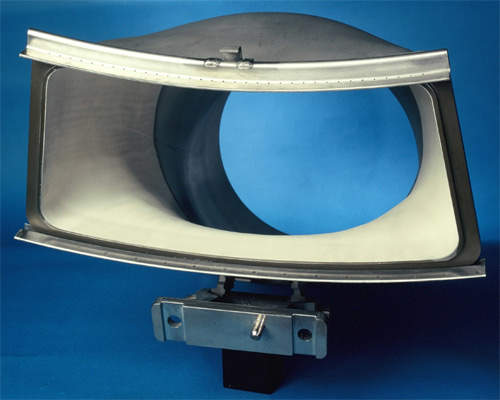 Thermal barrier coating applied to a land based gas turbine transition, typical thicknesses range from 0.2mm to 0.5mm.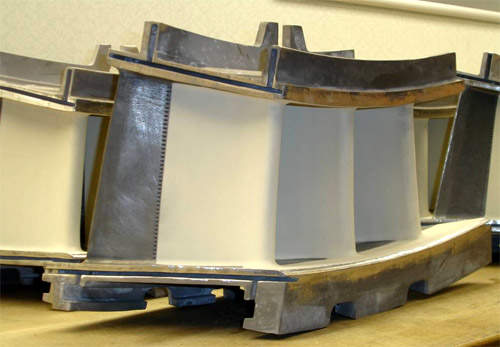 A refurbished Row 2 triplex nozzle guide vane; with an HVOF MCrAlY overlay coating on all gas washed surfaces, and partial ceramic coating of zirconia on the platform and leading edge.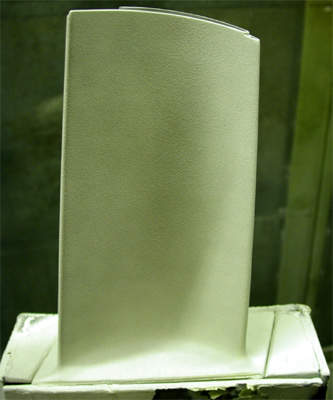 A typical LBGT blade with a zirconia based ceramic coating applied to the foil and platforms before finishing.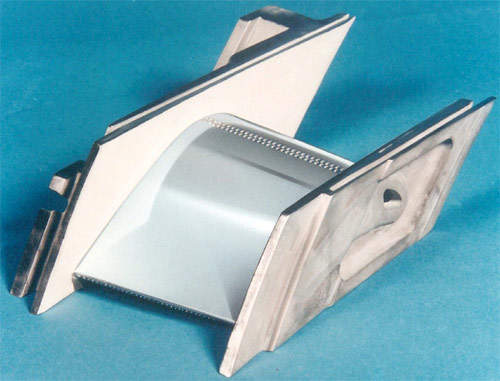 A refurbished Row 1 nozzle guide vane with HVOF MCrAlY overlay coating on all gas washed surfaces.
Overlay coatings for corrosion control
Turbine blades and nozzle guide vanes are exposed to high mechanical loads at elevated temperatures and have to contend with hot corrosion, erosion and oxidation. Bodycote Plasma & Thermal employs the latest integrated HVOF coating equipment to apply its range of MCrAlY overlay coatings to alleviate these problems.
These coatings are specifically designed for applications where resistance to oxidation and corrosion in a high temperature environment is required. This group of coatings may be iron based (FeCrAlY); nickel based (NiCrAlY); cobalt based (CoCrAlY) or combinations thereof (NiCoCrAlY, CoNiCrAlY etc.)
Thermal barrier coatings
Thermal barrier protection is required where turbine and combustor related components operate in temperatures approaching the maximum for either the overlay coating or the component material.
Bodycote Plasma & Thermal applies a plasma sprayed, zirconia based ceramic coating to provide a temperature gradient between the gas stream and the substrate. The thickness of the ceramic coating depends on the gas stream temperatures and the degree of cooling available.
Typical thicknesses range from 0.2mm to 0.5mm. In response to current industry needs Bodycote Plasma & Thermal has developed thermal barrier coatings in excess of 1mm thickness for transition pieces and combustion liners.
Bodycote Plasma & Thermal's TBC coating systems are designed to operate at temperatures up to 1,400°C and are applied to combustors and airfoils to meet the requirements of the following OEMs: Pratt & Whitney Aircraft, Rolls Royce, General Electric, Siemens Westinghouse and Alstom.
Wear control coatings
Bodycote Plasma & Thermal offers a full range of HVOF and plasma applied tungsten carbide, chromium carbide, cobalt based alloys and ceramic coatings to provide wear resistance against high and low temperature abrasion and erosion.
Other coating technologies available
Bodycote Plasma & Thermal is part of the Bodycote Metallurgical Coatings business. This allows us to offer other coating technologies which can be used in a wide range of surface engineering technologies for example K-TECH, Thin Film, Sheradizing and Kolsterising coatings.
Commitment to quality, service and environment
Bodycote Plasma & Thermal is an industry leading supplier of specialist coatings which meet the demanding requirements of its LBGT customers.
Our commitment to this sector is reinforced by our ISO 9001:2000, ISO 14001, OHSAS 18001 and Investors in People (IIP) accreditations. We hold Rolls Royce SABRe 9000, Siemens Westinghouse, SNECMA and NADCAP programme accreditations.