Since the early 1970s Curran International has been involved in the sand blasting (grit blasting) of power plant turbine components for inspection. With a high degree of surface preparation under its belt, Curran International entered the condenser coating application business in the early 1990s. Curran International, along with the Electric Power Research Institute (EPRI), performed the initial tests on applying a tube lining (coating) to the ID of condenser tubes that were failing after being in service for only one year. Curran International offers solutions for protecting or repairing condenser tubesheets, tubes and tube ends, and water boxes / circulating pipes.
Today Curran International coats over four million linear feet of exchanger (refinery) / condenser (power plants) tubes per year. Applications are continually performed in our shop in Houston, Texas, and in the field across the globe. No destination is too far.
Tube ID (full-length tube lining) coating
Over time, exchanger and condenser tubes will begin to lose efficiencies due to corrosion or fouling. This can cause large unanticipated costs to the end user and can force unplanned outages. This usually leads to the following actions taking place:
Retube (expensive and time-consuming)
Run as is (inefficient and wasteful)
Plugging or saw dusting of tubes (begins to eat away at design and efficiencies)
Exchanger and condenser tube coating system
Curran's patented tube coating system gives the client another option that is less costly and time-consuming when compared with a condenser retube. The tube lining can also eliminate further corrosion and fouling, and can recover leaking condenser tubes (returning plugged tubes to operational).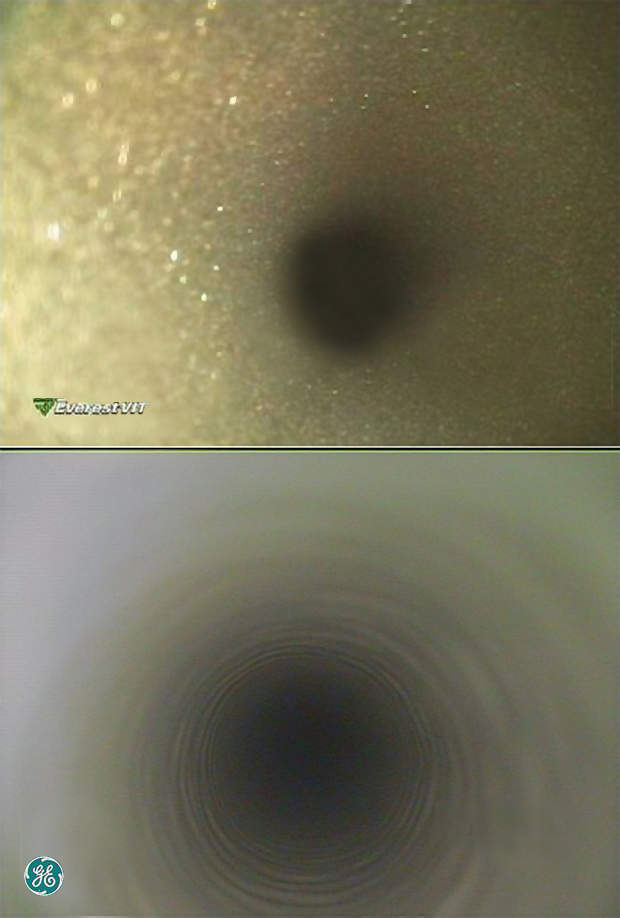 Condenser tube after surface preparation (above) and after coating (below).<br><br><br><br><br><br>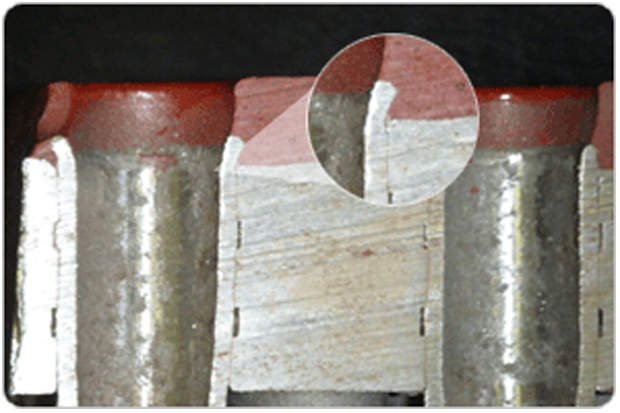 Note how the coating penetrates the tube to tube sheet joint. The tube sheet cladding system rebuilds and repairs the tube sheet, offering 20 plus years of worry-free service, elimination of tube to tube sheet leaks, and better cooling water flow.<br><br><br><br><br><br>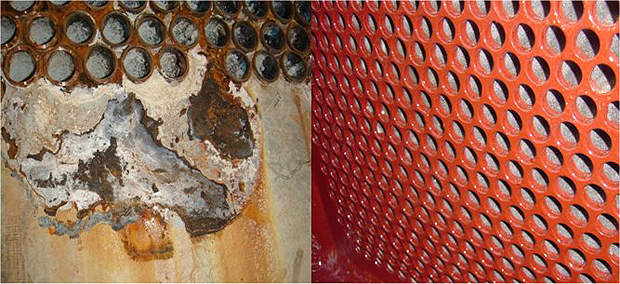 Tube sheet repair: tube sheet before and after Curran thick film cladding (coating) application.
Curran International will apply a small layer of coating 1mils-3mils (25µm-76µm) along the full length of the tube ID. Curran has on-site experience in coating exchanger and condenser tubes ranging from 300 tubes by 16ft long to 56,000 tubes that are 60ft long.
Curran's tube coating system is perfect for:
Eliminating corrosion and fouling
Recovering leaking tubes
Reduction of copper ion discharge
Getting you to your next scheduled outage or retube opportunity
Tube end coating
Tube end coating can also be done where corrosion or erosion is found only near the tube ends. Tube end coating will take care of step erosion, often found when inserts are used. Tube end coating is quick and much less costly then a re-tube. Contact Curran International today to solve your issues with cooling water.
Condenser tubesheet coating / repair
A properly functioning tube to tubesheet joint is essential to a condenser or exchanger's performance. Tube to tubesheet leaks or deterioration can cause serious condenser, boiler and turbine problems, leading to unscheduled maintenance and repair costs. Tube sheet degradation can be caused by heat excursions, erosion / corrosion, galvanic attack of dissimilar metals, and mechanical impacts.
Curran International offers a solution to deteriorating tube sheets with a thick film tube sheet repair cladding system. This tube sheet coating (thick film epoxy coating), when applied, will encapsulate the tube to tube sheet joint, rebuild the tube sheet, eliminate tube to tubesheet leaks and prevent further tube sheet corrosion or erosion. It will return your condenser tube sheet to better than new. Curran's total turnkey tubesheet cladding services includes: labor, supervision, material, and equipment to completely restore your tubesheets by applying a 3mm-5mm thick film epoxy cladding.
Water box coating / repair
Curran International's epoxy coating system for coating carbon steel and water boxes utilizes a high-performance 100% solids epoxy lining formulated with years of service for cooling water applications. This system is generally installed at a thickness of 30mils-125mils. The thicker applications are usually installed where higher abrasion resistance from shells, barnacles, etc. is needed or where heavily corroded steel needs rebuilding.