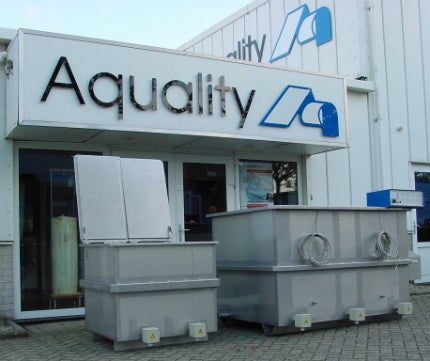 Aquality is your specialised partner for the supply of industrial or marine ultrasonic cleaning equipment.
We have extensive experience of chemical products, make-up water production units, waste water handling and also power supply and control equipment.
Our ultrasonic cleaning equipment series ranges from small units for filter and engine parts cleaning, to large units for process heaters, main engine or power plant engine cylinder heads, air cooler and turbo charger cleaning with a volume up to 42m³.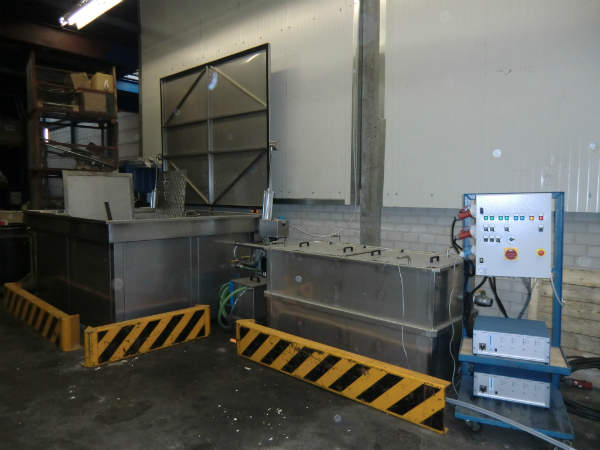 An example of the UST-3000 version, complete with oil recovery unit and postcleaning tank for aluminium parts at an engine recondition workshop.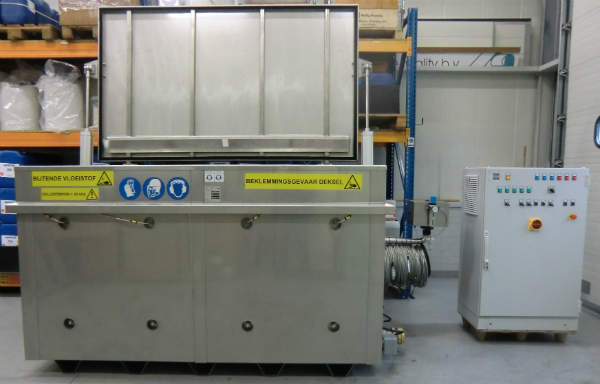 Our UST-3000, shown here with control panel used for large filter cleaning at a Dutch refinery.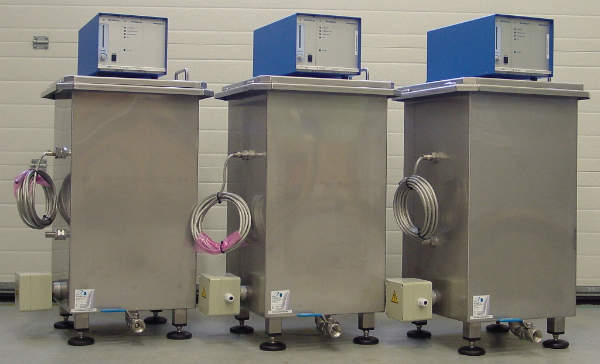 Specially designed series of small high-power units for the cleaning of automatic B & K fuel filters in a marine application.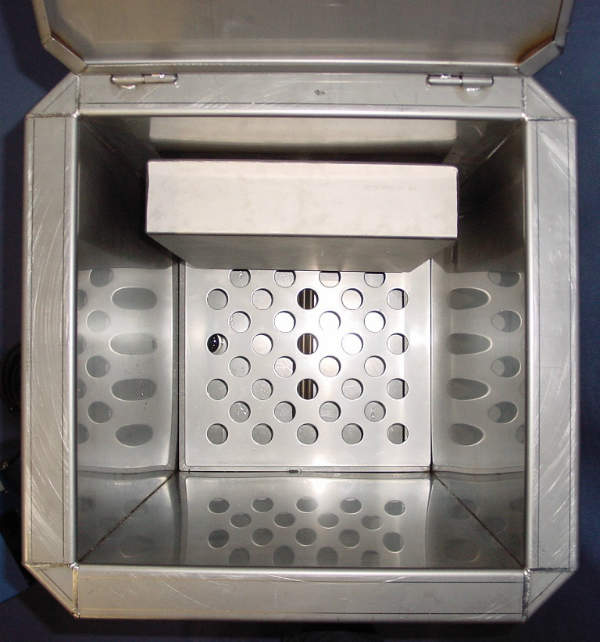 Internal view of a small high-power ultrasonic cleaning unit.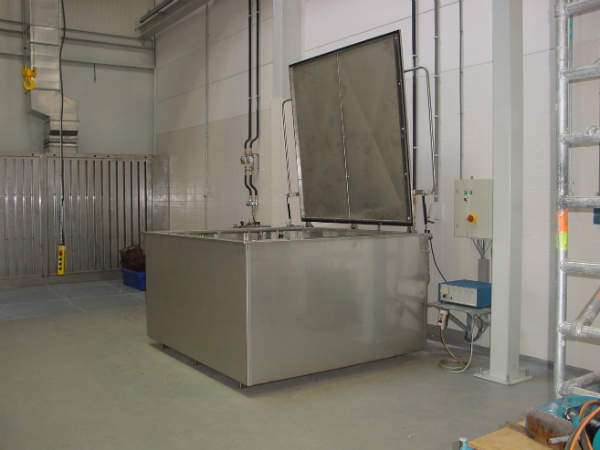 Ultrasonic cleaning unit for the cleaning of the largest turbo charger rotary parts, at one of the largest turbocharger repair workshops in the world.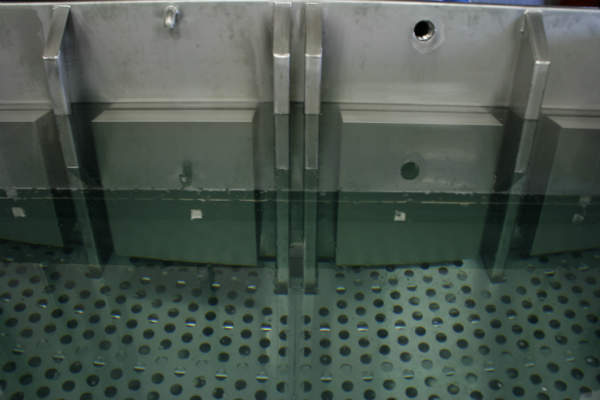 View of transducers inside an ultrasonic cleaning tank.
The BandelinLG6040F generator, built in a customised control panel which has been equipped with Airconditioning unit.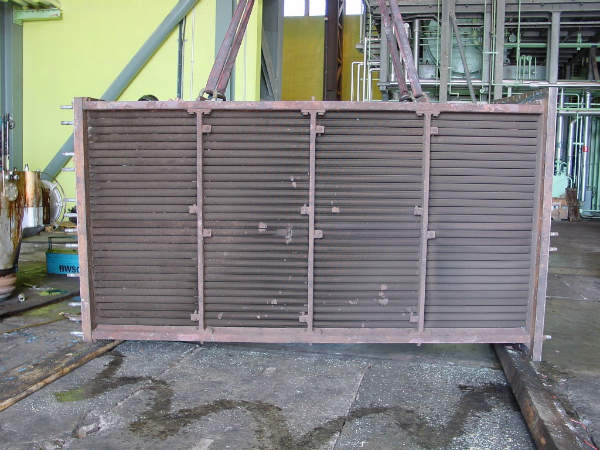 Dirty air cooler from a two-stroke diesel engine power plant at a Caribbean power plant.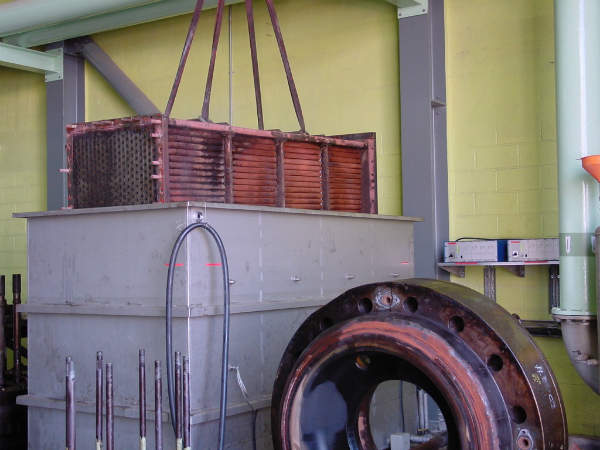 This ultrasonic bath equipped with 8kw x 1.5kw net ultrasonic power is capable of cleaning very dirty air coolers in short periods.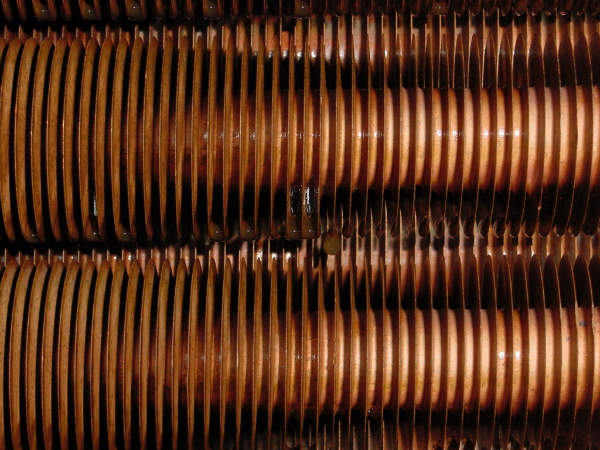 An aircooler after ultrasonic cleaning.
Ultrasonic cleaners for power plant maintenance
Aquality has vast experience in the design and production of standard and tailor-made ultrasonic cleaning units for the power and marine industry:
Standard units are as follows:
W-65 (internal dimensions: 500mm x 300mm x 450mm)
W300 (internal dimensions: 1,000mm x 500mm x 600mm)
RM110 UH (internal dimensions: 600mm x 450mm x 450mm), RM180 UH (internal dimensions: 1,000mm x 500mm x 400mm) and RM210 UH (internal dimensions: 750mm x 650mm x 500mm)
Above mentioned units all are equipped with sufficient heating and approximentally 11W/l net ultrasonic power, suitable for fast and efficient cleaning of smaller parts
UST-650 (internal dimensions: 1,000mm x 750mm x 700mm), complete with control cabinet and electric heating – extremely suitable for the cleaning of air coolers in several ranges of four stroke engines
UST-2000 (internal dimensions: 1,600mm x 1,200mm x 1,100mm), designed for larger components such as heaters, cylinder heads and larger air coolers. This unit can be executed with maximum ultrasonic power to be able to clean very dirty parts
UST-3000 (internal dimensions: 2,300mm x 1,100mm x 1,200mm), complete with pneumatic operated cover with condensate dip pan construction. This type of unit is often provided with an air conditioned control panel generator housing for enclosed operation in humid or severe atmospheres
Tailor-made ultrasonic cleaning units
For all other required sizes and applications we are available to discuss your tailor-made request regarding size, power intensity, manipulation constructions and cleaning agent usage and efficiency.
Our other products:
Dosing equipment for (boiler and cooling) water treatment
Measuring and control equipment for drinking and sea cooling water
Measuring and control equipment for boiler and cooling water
Reverse osmosis units and demineralisers
Fuel additives from Innospec marine specialties
About Aquality
Established in 1991, Aquality is a mid-sized privately owned company operating from the Dutch Rotterdam area, supplying its equipment world-wide to power plants, shipyards and fleet owners.
Aquality uses ultrasonic equipment from Bandelin Electronic, a family-owned mid-sized company located in Berlin, Germany. The company has 60 years' experience in ultrasound technology. Development and manufacture of ultrasonic devices and disinfectant and cleaning agents are carried out in Berlin. A high-vertical range of manufacturing, modern production lines and a highly-motivated staff guarantee the high quality of the products.
Adjustable and power-constant HF-generators were launched in 1992.
Aquality uses the SONOREX – ultrasonic cleaning transducers and generators for the fabrication of its tailor-made products.
Furthermore we have the availability of STAMMOPUR and TICKOPUR disinfection and cleaning agents.
All our products are CE marked.