Ax System
High-Pressure Cleaning Systems for Air-Cooled Condensers and Heat Exchangers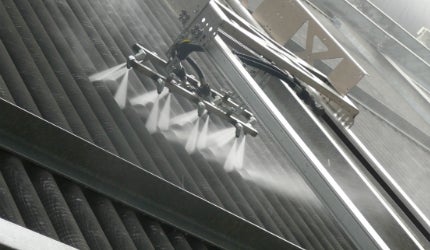 Ax System offers a range of services based on the maintenance and improvement in the performance of air-coolers and condensers for refineries, power plants and incineration facilities.
Our product line includes the Ax System, which is a semi-automatic high-pressure cleaning system for air-cooled heat exchangers and air-cooled condensers; in addition to fogging systems, custom-made high-pressure units adaptable to all uses and a wide range of high-pressure pistons pumps HPP (COMET).
Cleaning systems for finned tube heat exchangers
Given that heat exchangers have reached their maximum performance, the best way to continue optimising their efficiency remains high-pressure cleaning.
Ax System has developed a new semi-automatic bench, the Ax System, to allow the cleaning of heat exchanger bundles. The Ax System can be easily set or permanently fixed on bundles to clean without stopping the industrial process.
We offer cleaning services for finned tubes heat exchangers, and also design full cleaning package for clients, from the cleaning trolley, ladders, spooling devices, to high-pressure pumps units.
Ax System is custom-made by us to best meet the needs of our customers in terms of air-cooled condenser (ACC) and air-cooled heat exchanger (ACHE) cleaning.
Innovative and environmental high-pressure cleaning systems
Turnkey solution and adaptable to all uses, Ax System is a patented innovative process, consisting of a pump, a semi-automated system, ramps or ladders, and works with a low consumption of clean water without using any additives.
The hose drives the movement of the cleaning trolley. The hose reel channelling the hose enables the operator to work in total safety. Ax System is the only system that offers such a level of safety in high-pressure cleaning.
ACHE and ACC cleaning solutions
The new Ax System is specially designed for any type of ACHE or ACC cleaning. It allows trolley displacement in the ladder in any position: horizontally, vertically and upside down. The motor unit (electrical, air or hydraulic) is deployed from the ladder where the trolley is displacing.
The motion of roll pads directly on the hose offers a torque limiter for the system and does not require limit switches. The ladder in a vertical position does not require any safety brake for the trolley. Equipment setup is carried out in a short period of time.
Quick-lock connections have specially been studied and avoid any obstacles in the field to make installation easier. Automatic hose spooling and unspooling increases the safety for the operator to work with high-pressure.
The high-pressure hose is safety pointed through the ladder beam and the flexible stainless steel casing. The trolley can be unclipped easily from the ladder. It allows adaptation of all types of spraying systems. This semi-automated high-performance bench can be easily installed permanently on the beam, enabling cleaning without having to stop the industrial process.
Ax System is not only designed for finned tubes cleaning, it has also been used for many other cleaning applications. Ax System's new version is now equipped with a hydraulic water motor that allows removal of all electrical connections and makes the system compatible with ATEX environments.
Fogging systems
Bolstered by its own experience of high-pressure pumps, Ax System offers a fogging system for humidifying and environmental solutions for cooling issues.
Ax Systems' fogging solution uses special equipments combined to fogging nozzles for a high-efficiency evaporation of water and increasing the cooling effect.
Maintenance of moto-pumps
Ax Systems' engineering department is at your service for any type of high-pressure problem. We combine high-pressure pumps with diesel, hydraulic and electrical motors, turnkey or direct use. Installation can be carried out on a fixed or mobile frame.