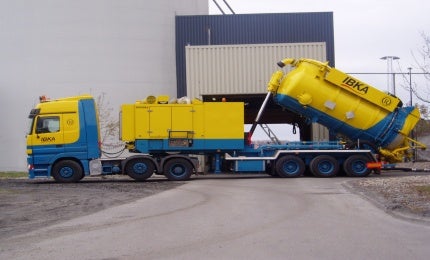 IBKA Industrial Services specialises in high-pressure water jetting (HPWJ), tank cleaning, boiler cleaning and sludge vacuuming services in oil refineries, and power and steel industries.
Established in 1965 in Nykøbing Falster, Denmark, IBKA is now recognised by customers and industry as a leading industrial cleaning company, providing services across northern Europe.
IBKA's head office is located in Vordingborg, Denmark, with service departments in Thorning and Fredericia in Denmark, as well as Kungälv, Sweden, and Cardiff, UK.
IBKA's vacuum cleaners can transport materials such as cement, sand, crushed stone, coal, ash, insulation products, oil and sludge.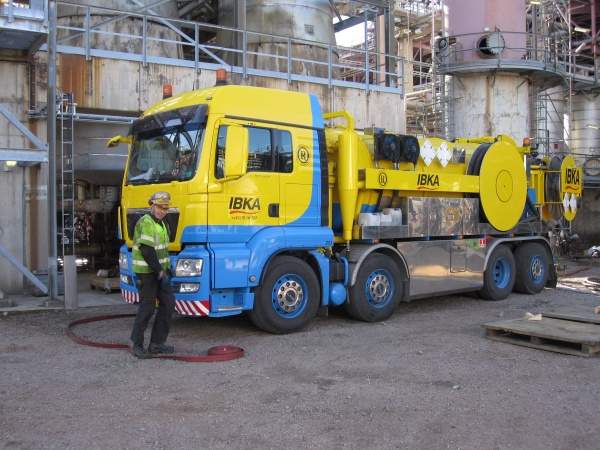 Our equipment covers a wide range of high-pressure pumps and units.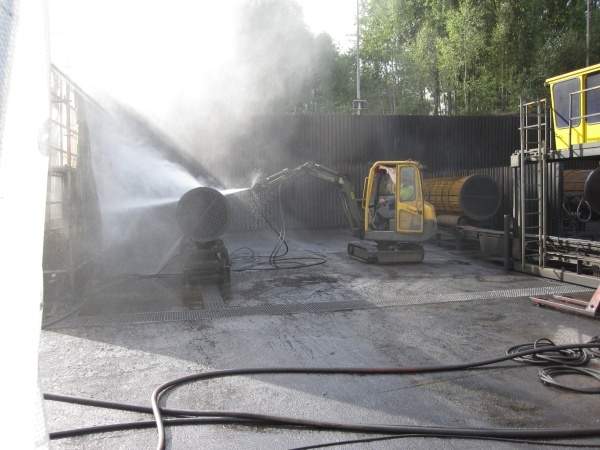 High-pressure cleaning removes deposits and contamination from surfaces and production units.
High-tech industrial cleaning
IBKA aims to be a high-tech service partner to specific customer groups in high-pressure cleaning, tank cleaning and industrial cleaning.
Our aim is to provide optimum results for our customers, employees and owners, while focusing on safety, quality and the environment.
NG Group, based in Norway, became the new owner in March 2013. This acquisition was a strategic milestone for NG, as it was able to gain a foothold outside of Norway in the industrial cleaning and TAR/shutdown activity businesses.
In June 2013, IBKA UK was re-established, and since October 2013, IBKA has been back in the UK market, working directly for refinery customers on HPWJ. The company also offers the full range of IBKA and NG services, including tank cleaning, catalyst handling and boiler cleaning.
High-pressure water jetting equipment
IBKA specialises in providing the following services:
Heat exchanger cleaning
Boiler cleaning
Vessel and column cleaning
Pipe line cleaning
Fin fan or air cooler cleaning
Tank cleaning, both man entry and non-man entry cleaning
Catalyst handling
Dry-ice blasting
Cleaning with explosives
Shutdown management
IBKA's fleet of specialised equipment includes high-pressure water jetting equipment that allows us to operate up to 3,000bar jetting pressure. In addition to this, we also have washing equipment, which can be used to clean pipes, boilers, heat exchangers, columns, vessels and more.
IBKA also has vacuuming equipment, which is often used in connection with our high-pressure jetting equipment, for wet and dry material. Among these are ADR-approved mammoth suction trucks with jetting machines enclosed on one truck.
Industrial cleaning in refineries
IBKA performs a range of tasks that range from the cleaning of private household sewers, to industrial cleaning jobs in refineries in Europe, which may last for several weeks and demand nearly all of our equipment. We handle jobs in the private, public and industrial sectors.
In April 1997, IBKA was awarded the ISO:9001 certificate as the first and only high-pressure company in Scandinavia. This ensures:
There will be a streamlined handling procedure in place to deal with everything from the receipt of an order to the completion of the job, so that all administrative tasks are firmly structured
We will be able to step in immediately in case of any departure or deviation from the agreed procedure
We will focus more on the maintenance of our equipment, which will be certified, improving safety
Certification has been extended to cover all of our service centres and work areas
Automated and mechanised cleaning
If possible in practical and technological terms, IBKA will automate and mechanise industrial cleaning tasks in order to achieve the maximum safety for our employees, as well as yours.
All of IBKA's service engineers are highly skilled and very experienced, and undergo continuous training in safety, the environment, IT, languages and other areas.
Our service engineers are our advanced line of defence and are crucial to our success.